We know it can be difficult navigating the roads with your family in tow – that's why we've pulled together a list of our favourite family-friendly cycle routes for you and your two (or four wheeled) tribe.
Tots on stabilizers – short and sweet distances, perfect if you have cyclists in tow that you need to walk (or run) beside.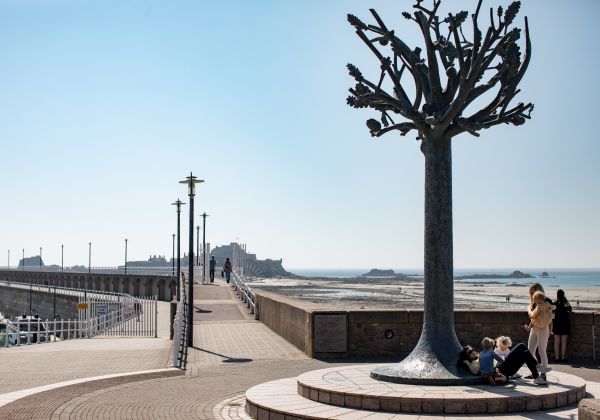 Route one - Albert Pier to Les Jardins de la Mer.
This easy route is perfect for little legs. You'll start at the top of Albert Pier and end at Les Jardins de la Mer passing by the Marina, the Jubilee Needle and the Freedom Tree.
Pit stops for busy peddlers.
In the summer months you can reward your little ones cycling accomplishment with a splash about in the fountains at Les Jardins de la Mer. Or treat them to an ice cream at La Frégate Café. And for the adults? We've got you covered too, as you'll find beautiful castle views here.
Route two - Sandybrook along Beaumont Perquage.
A Perquage is an historic safe passage from the parish church to the sea and are perfect little pathways that lead safely from inland locations to the coast. This one starts at Sandybrook (in front of the PaperClix shop) and it's from here that you can whizz straight onto St. Aubin's promenade via a pedestrian crossing. Turn right on the promenade and you'll be free-wheeling your way to the Gunsite Beach Café – open all year round with inside and outside seating, serving up a range of tasty treats, this is the promised land for all little ones in need of a final destination for their cycle challenge.
Route three - Gorey Pier to Grouville Common.
Park up at Gorey Harbour and make your way onto the pretty promenade cycling away from the castle – this is a very short promenade and perfect for little legs that need to burn off a bit of energy. Via a short roadside path, you can make it to Gorey Common, where you'll find toilets and a playground for those that still haven't yet run out of steam! On high days, holidays, and weekends you'll also find an ice cream van here – it's funny how an ice cream can be exactly what they need to give them the little incentive they need to cycle back to the harbour.
After something a little longer?
Depending how you choose to do the next routes, which can be broken down into shorter sections if required – these are perfect for slightly older children, that have their cycle legs but aren't quite yet ready for the road.
Route four - Through St. Peter's Valley.
Starting at Tesson Chapel and finishing at Le Dimerie, this 3km cycle and pedestrian path through St. Peter's valley is the perfect way to coast through rural Jersey. The pathway comes complete with all the delights of the countryside, including opportunities to spot red squirrels, grazing sheep, a duck pond and streams perfect for a little pooh stick action! You'll also come across Le Moulin de Quetivel owned by The National Trust for Jersey, home of the Climate Hub, the Red Squirrel Cam and is the only surviving working water mill in the island. The pathway really is the family cycle path of dreams with so much to explore!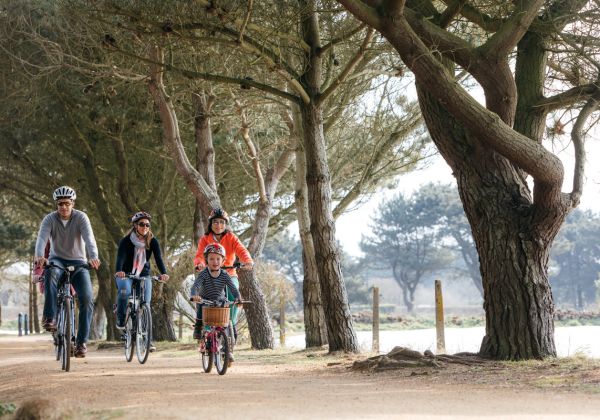 Route five - The old Railway track.
A cycle tour that takes place on an entirely traffic-free cycle track. This route really is action packed – 7.5km in total if you start in St. Helier on cycle route one and follow all the way to La Corbière, but you don't have to do it all…  just go with the flow of your family and do as much or as little as you like.
Pit stops for busy peddlers.
As you zip along St. Aubin's promenade, you'll pass numerous eateries (and toilets), until you reach St. Aubin. A bustling little harbour village, perfect for a pit stop (if you need one). If you don't then head up onto the gravel pathway all the way to La Corbière. It's definitely worth the combined family pedal power exerted to get you there!
An added extra along the way – Les Quennevais Cycle Track.
You'll spot this little leisure hub as you cycle along the cycle track – it's a 3km circuit, perfect spot for those a little wobbly on their wheels. It could work well for those of you that need somewhere for your younger family members to go while you take the older children for a burn, as it can be found midway along the cycle track.
For the family with road proficient children.
Route six - Family friendly cycle around St. Ouen's. 
The National Trust for Jersey take care of a lot of the beautiful locations in the most north westerly parish of the island of St. Ouen – and they have crafted a very cycle friendly route perfect for you bigger bike family cruisers. You'll come across Orchid fields, St. Ouen's Pond and the Wetland Centre, which is cleverly designed to fit in with the surrounding areas and is the perfect place to spot local birding wildlife.
You might also like...