Endless beach days, al fresco dining, countless swims in the sea, friendly faces, and lots of holiday smiles! That's a summer holiday in Jersey and we'd love to welcome you to dive in.
Holidays to Jersey are full of memories waiting to be made. Take time out to rediscover the pleasures of paddling in sun-warmed rock pools and building sandcastles or discover your own hidden bays where the shallow water is perfect for swimming. Explore medieval castles, visit the island's wildlife park at Jersey Zoo, have a beach picnic, or take the opportunity to try some of the watersports around Jersey's coast. In Jersey everything is within easy reach, leaving you free to do so much… or so little.
Get in the water – With more than 30 different swimming spots to experience, from wild swimming to barefoot paddling in the shallows, on an island with as many beaches as Jersey, it's easy to get into the water. From wide sandy bays and crystal-clear swimming spots to hidden coves and tidal seawater pools, which of our beaches will you choose?
Al fresco eating – Jersey's local produce, straight from land and sea, deserves to be enjoyed in the fresh island air. Whether your lunch spot is a beach picnic on the sea wall at St. Ouen's or a luxury restaurant terrace just a few steps from the sand, don't miss the chance to taste Jersey's local food and seafood as it should be eaten – with a view of the sea.
Try something new – Jersey's waters are an ideal setting for a range of activities based around the sea and the tide. From surfing to stand-up paddleboarding, kayaking to coasteering, try a new skill or just settle back and watch the island's coastline come to life from a sunny spot on the shore.
The beach is within reach – On the island of Jersey, the water's edge is never more than 10 minutes away, which means you can escape to the calm of the coast whenever you like. Make like a local and check the tide times and wind forecast so you can choose a sheltered spot in the sun, from the secluded bays of the north to the long stretches of sand to the west and east. Find your perfect spot on the sand.
Unique places to stay on your Jersey summer holiday.
Get the lowdown on all the hottest new places.
Jersey's summer scorchers.
This summer, it's not just temperatures that are hotting up here in Jersey. With a host of hot new places to stay, play, eat and drink, here in our Curiously Brit…(ish) island, there truly is something to keep the whole family entertained.
Let an expert plan your trip.
Tour operators.
Don't get hot under the collar planning your summer break. There are plenty of professionals on hand who can help make it a summer's breeze. They know all the best things to see and do, where to stay and how to get here – let them take the hassle out of creating your dream island holiday.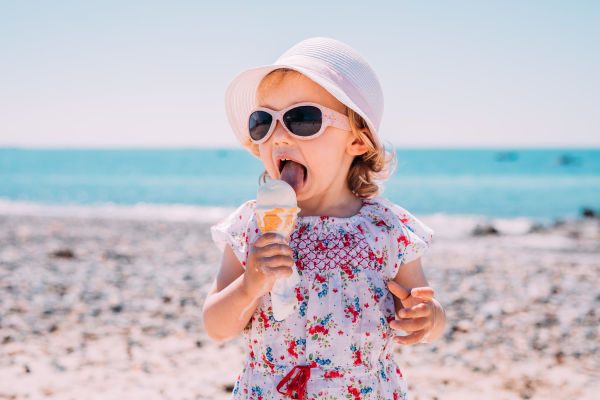 Top spots for Jersey ice cream.
A summer holiday wouldn't be complete without a generous serving of Jersey Dairy ice cream. Get the inside scoop on the top spots to take a lick out of island life this summer.
Take in iconic views while you dine al fresco.
Need some more inspo' for your summer vaycay?
We've got you covered.
Summer's swell in Jersey but don't just take our word for it.
Check out pictures taken by locals and visitors as they've been soaking up the island vibes on their summer getaways.