Whether you're after a relaxing, nurturing outdoor retreat or an adrenaline-fuelled escape, you can find it all in the Jersey outdoors. Pitch up at one of the island's campsites and you're in for a break to remember. Whether you're a seasoned camper arriving complete with kit, hiring a tent or going all out and glamping you're sure to have fun. Barbequed breakfasts enjoyed in pyjamas, splashing in the pool or playing in the park; dart boards, ping-pong tables and boules tournaments on the lawn, bingo and board games they're all part of the essential camping vibe.
Reconnect with nature…
… and sleep under the stars on your next island break.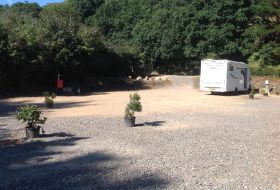 Situated in St. Peter, Hideaway Stopover is set in a peaceful country area, away from the hustle and bustle, yet only a short distance from beaches, shops, cafés and restaurants. Should you wish to cycle or walk, there are paths and tracks for both nearby. This site is for self-contained motorhomes only and is an adults only site.
from £21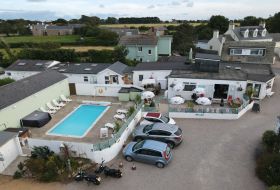 A small, family run, friendly site in beautiful surroundings which accepts motorhomes, campervans, caravans or tents. We do not have hire tents. Our Oasis Café is also open all day for delicious food and drinks. So sit back and relax, or enjoy exploring our beautiful island. The choice is yours.
from £22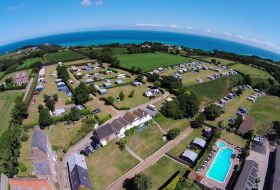 Rozel Camping Park is a well-established family owned and managed park offering exceptional value and service to our clients. It has been run by the Germain family for over 45 years and awarded with five Pennants by the AA with a very high quality score of 89%.
from £16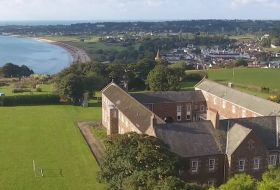 The Bay View Camping Field is part of the JAAC-Hostel based in rural St. Martin, just above the Port of Gorey. The site offers splendid views over the Royal Bay of Grouville and captures the sun most of the day. A quiet, back to basics camping experience you won't forget.
from £12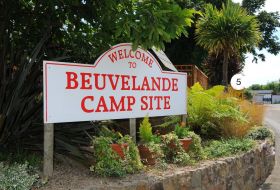 Beuvelande is a family-run AA5 Pennant Campsite based in St. Martin run by Danny and Alice Guillemot. As a well-established campground, our wonderful family team work incredibly hard to provide a friendly welcome and fantastic camping facilities. Beuvelande is a ten acre, level grass site offering Pitches and Glamping for all the family.
from £95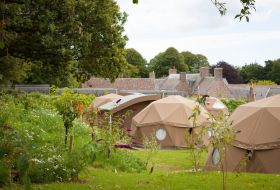 Stay in stunning five star luxury surrounded by some of the rarest animals on the planet. The ultimate luxury glamping getaway with a unique twist. Durrell Wildlife Camp is not your average Glamping site. The camp quickly become a standout in the Glamping world by winning the prestigious AA inaugural Glamp Site of the year award in 2017.
from £190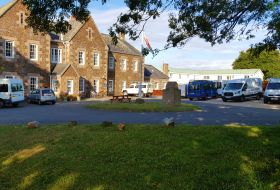 Based in the east of the Island just above Gorey we are Jersey's only budget accommodation centre able to take large groups, specialist activity and sports groups in a mixture of single, twin, double and dormitory bedrooms.
from £31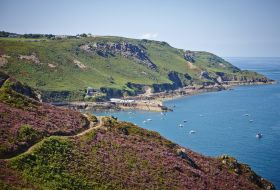 Jersey Campervan Hire offer an ideal way to view our beautiful island, with a few days glamorous camping in a classic VW Campervan. You have your house and transport in one, and a big smile on your face. Great for short breaks or simply as transport for watching the ocean rollers crashing in whilst sipping hot tea or a cool glass of wine.
from £100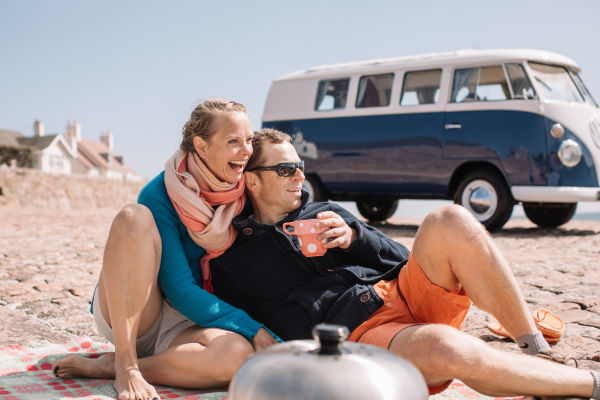 How about a caravan holiday in Jersey?
There is nothing quite like having your home comforts with you on holiday, and that's exactly what planning a Jersey caravan holiday can offer.
Explore the five different caravan sites in Jersey, where you can pitch up to with your camper and settle into island life.
Get the best of both worlds by hiring a camper when you get here.
Enjoy the freedom of the open road and the joys of camping all under one roof, and go glamping in Jersey. Jersey Campervan Hire and BeCoorie have a range campervans that you can rent for your Jersey holiday, all you need to do is choose where you want to stay, either book a spot at one of the islands campsites or book in to stay at one the unique self-catering options available with Jersey Heritage.
The rules of travelling to Jersey with your caravan or motorhome.
You can travel to the island with your Motorhome, however, you will need to obtain a permit from a registered campsite before arriving in Jersey
The following restrictions are in place when travelling to the island with your caravan:
Caravans are restricted to one journey to the campsite and one to the port while on the island.
Caravans must remain on the designated site for the period of the permit.
Motorhomes can be driven on the roads providing they return to the designated campsite each night (drivers should be aware that many of Jersey's roads are narrow and may have limited access).
The maximum stay at any Jersey campsite is 31 days per caravan/motorhome.
The maximum permissible width of a motorhome or towed caravan, including the towing vehicle, is 2.3m (this includes any fitting on or attached to the vehicle, but excludes mirrors and indicators).
The maximum permissible overall length of a towed caravan, not including the "A" frame or tow hitch, is 6.7m.
The maximum permissible overall length of a caravan and its towing vehicle is 16.5m, this includes any projection to the front and rear of the vehicle.
The maximum permissible overall length of a motorhome is 9.3m.
Visitors should be aware that Jersey campsites do not have 'drive over' drains for black water sewage
Please note that wild camping is illegal in Jersey.
More inspiration for your wild island break.