With its stunning coastline and intimate, rural landscape Jersey is awash with picnic spots where you are free to be together. Who can think of a greater pleasure than lazing on a picnic rug on a sunny afternoon and feasting on fresh crab sandwiches and delicious strawberries, whilst hearing the distinctive cry of oystercatchers in the background?
1. Portelet Common, St. Brelade.
Famed as a significant hunting site for our Paleolithic and Neolithic ancestors, this coastal heathland area provides dramatic views of St. Brelade's Bay and L'Ouaisné Common. From La Route de Noirmont head towards Ouaisné and as the road splits take the left turning to Le Chemin du Portelet. Go down to the bottom of the road and over the speed bumps where a small informal parking area can be found. Walk down the track on the right hand side which will lead you to the common.
2. Archirondel Bay, St. Martin.
Situated on the east of coast of Jersey, Archirondel Bay is a cosy, tucked away cove and the perfect place to enjoy a sunrise picnic. Lay out your blanket and marvel as the sun climbs over the sea and St. Catherine's breakwater in the distance. To find this adorable bay, head east on the coast road from St. Helier. You'll pass the majestic Mont Orgueil Castle which stands proud over the fishing village of Gorey. As you keep heading east, St. Catherine's breakwater will come into view. The lane down to the bay is signposted and you'll find parking right by the beach. You'll know you've arrived when you see the iconic, red and white striped Archirondel Tower which is available to book as a holiday let through Jersey Heritage. Bring your own picnic or grab a bite from Driftwood Café conveniently located on the seafront.
3. Victoria Tower, St. Martin.
Situated on a hill-top, Victoria Tower is surrounded by wooded slopes and côtils, overlooking Anne Port Bay, St. Catherine's Breakwater and Mont Orgueil Castle. Located just off La Rue des Marettes in St. Martin, a small track takes you past Seymour Farm, with its blue shutters, towards an informal parking area.
4. Le Don Le Quesne, St. Clement.
This small grassland site has direct access to the beach and is a wonderful spot to watch wading birds on Jersey's Ramsar site or simply enjoy the view at high tide. From St. Helier head along La Grande Route de la Côte until you reach St. Clement's Parish Hall where ample parking is located. From the Parish Hall head on foot along the coastal road towards Gorey for about 500 yards. Access is at the top of the hill after a mesh fence on your right. Carefully walk down the steps and the site opens up before you. You can also reach the site directly from the beach at low tide.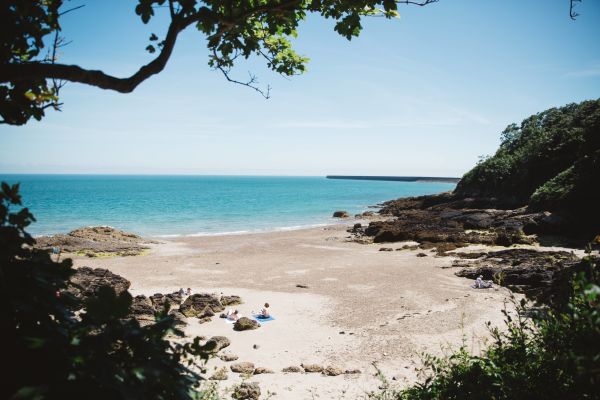 5. La Coupe, St Martin.
One of the most unspoilt and beautiful coastal headlands in Jersey marking the turning point between the tranquil eastern slopes and its wild northern cliffs. From St. Martin's Village, head towards Rozel Manor along La Grande Route de Rozel. Go past the Manor on your right hand side and take the first right along La Rue des Pelles. Continue along this road and then take your first left. The road splits into La Rue du Scez (another beautiful picnic spot) and La Rue de la Coupe. Drive carefully down La Rue de la Coupe and you will find a small parking area at the end. Parking is limited so it is best to go early in the morning if you want to get a good spot.
6. Coronation Park (Millbrook Park), St. Helier.
With two playgrounds and toilets (including baby-changing facilities), Coronation Park (more commonly known as Millbrook Park) is an ideal picnic spot if you have little ones in tow. The Park is just 10 minutes' drive / a 15-minute bus ride from St. Helier. You can also use the cycle path that runs along the length of St. Aubin's Bay. There is a large grassy area perfect for picnicking and a small café selling ice creams, soft drinks and snacks.
7. Howard Davis Park, St. Helier.
Sitting just on the outskirts of town, Howard Davis Park provides a peaceful escape from the hustle and bustle of St. Helier. The park is a memorial to a soldier killed in WW1, named after the son of a Jersey man who made his fortune in South Africa. With plenty of mature trees you can always find a shady spot to lay your picnic rug. There is also a small children's play area, a band stand which hosts concerts during the summer months and a walled rose garden with a pond. For history buffs, the church and St. Helier War Cemetery just next door are worth visiting. Each grave is marked by an oak cross, specially cut by Jersey craftsmen, from an oak tree presented by a local lady who had also lost a son in the First World War.
8. Grantez Headland, St. Ouen.
This extensive area of maritime heathland is located above the escarpment of St. Ouen's Bay and enjoys breathtaking views extending from Corbière Lighthouse to L'Etacq. From St. Ouen's Village head down La Route du Marais (Hydrangea Avenue) before turning left down La Rue de Grantez. Thereafter, turn right down La Ruette de Grantez or Le Chemin des Monts until you reach an informal parking area. Look for the footpath on the left hand side which will take you down towards the headland.
9. Winston Churchill Park, St. Brelade.
Situated just above picturesque St. Brelade's Bay, Winston Churchill Park offers an easy to access picnic spot with beach views and parking nearby in adjacent Woodford car park. Find yourself a piece of perfectly manicured grass, tuck into your sarnies and take in the activity of the bay. With banana-boaters, paddle-boarders and kayakers all making the most of St. Brelade's calm waters, there's always something to see here. The park is well tended to with colourful flower beds and a flowing water feature. After lunch take a wander to the upper section of the park (just behind the car park) where the views out to sea are arguably even better. The steep paths lead through a pretty wooded area where you might be lucky enough to spot some of the island's native red squirrels.
10. Vicard Point, Trinity.
This coastal site enjoys stunning views of France and the other Channel Islands. From St. John's Village head along La Route des Issues and thereafter La Route D'Ebenezer until you reach the Le Vesconte Memorial. At that point turn left along La Rue du Tas de Geon. At the end of the road turn right along La Vielle Charrière and on your left you will see a small track. Proceed a short way along the track before parking up and then continue on foot to the pine tree lined driveway.
Discover more ways to fill your island break.
You might also like...