There's something about the taste of food eaten on holiday that really stays with you. Remember the vivid experience of eating an ice-cream on holiday when you were a child? Or your first taste of pizza? Start your own family's food memories off on the right foot with a selection of restaurants that are great at catering for younger eaters, as recommended by local islanders.
Woodlands, waves and the best views for a pizza party.
Spend an afternoon catching waves on St. Ouen's beach and then head straight to El Tico for a post-surf supper. With a kids menu of Jersey beef burgers, ribs or moules and an excellent menu of casual dishes, this laidback eatery is the sort of place you can go to straight from the beach. In the summer, sit outside at the wooden tables for a really relaxed beachside vibe.
With arguably one of the best views of any Pizza Express in the country, Pizza Express St. Brelade looks out right over the golden sands of this beautiful bay. Just steps away from the sand, it's a superb destination for families and in summer, the roof rolls back for even more fresh sea air with your pizzas. Finish a day on the beach at Grève de Lecq bay at Le Moulin de Lecq pub. Have dinner outside this historic mill and the kids can let off some steam, there's an adventure playground right next to the al fresco area.
Work up an appetite.
Check the tide times – at low water Plémont beach is a natural playground of rock pools and caves waiting to be explored. The steps are easier when you know there's a slap up breakfast waiting for you at Plémont Café at the top.
Marshmallow mountains, ping pong and pirates…. me hearties.
The Hungry Man kiosk at Rozel doesn't just serve great bacon rolls, you can indulge in an enormous 'marshmallow mountain' hot chocolate, topped with squirty cream, white chocolate buttons, sprinkles and – of course – marshmallows. Every kids' dream. Does your family love to compete?
Then why not book a game or two of ping pong at JB's Ping Pong Bar in St. Helier, and take a break in between tournaments for their homemade Jersey beef burgers, served in a brioche bun or a side of mac & cheese. For the grownups, there's a great selection of craft ales. A cold beer at the end of the day at The Portelet Inn and a pirate-themed play area for the children mean that everyone's happy. Add some sea air, a straightforward menu of crowd-pleasers and Ice-Cream Factory desserts for the kids – what could be better?
Thai beachside feasts.
The tiny beach at Bonne Nuit isn't just a great spot to splash in the shallows and for walks along the pier to watch the fishing boats – you can also pick up a Thai feast at Bonne Nuit Café, with fish caught in the bay. Order a takeaway and stretch out on the sand for an easy beach picnic while the kids play.
Discover even more places to feed your tribe.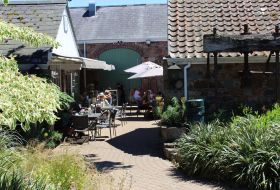 Enjoy breakfast, brunch, lunch and tea in one unifying, buzzing and friendly atmosphere. You may choose a delicious sandwich with a cup of coffee, or you may prefer a full three course menu with wine, there is no wrong choice... but don't forget to try the homemade cakes!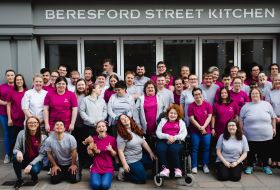 Beresford Street Kitchen is a unique café and social enterprise providing training and employment for people with learning difficulties and /or autism. Beresford Street Kitchen is a busy café, meeting point and social hub located St. Helier's bustling town centre.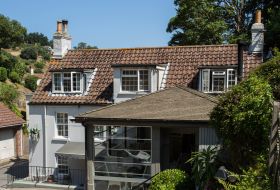 Traditional country pub, just a two minute stroll from the picturesque Rozel Bay and one of the busiest and best in Jersey. The home cooked traditional style food is superb, the local beer is cold and the service friendly and welcoming.
You might also like...