Immerse yourself in Jersey's island story while you tuck into a picnic feast of local produce. You don't have to go far in Jersey to uncover our island's past. You'll find traces of Neolithic people in scenic fields, stories of medieval conquests overlooking quaint seaside harbours and tales of wartime courage scattered along clifftops. Slow down and soak up your historic surroundings from the perfect spot on your picnic blanket and savour the flavours of Jersey.
Where to gather fresh, local produce to fill your picnic basket.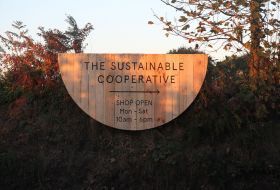 SCOOP is a consumer led Cooperative taking positive action to create a sustainable food supply on the island of Jersey. With a vibrant farm shop, an innovative production kitchen and an inclusive cultural and educational programme, we believe in food that protects natural resources for future generations, nurtures biodiversity and minimises waste.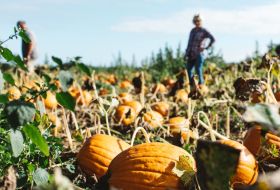 Christine and Didier Hellio are a husband and wife team growing a range of crops at their farm in St. Ouen. They supply fresh vegetables to a range of outlets on the Island as well as their own farm stall. We are both from farming backgrounds and have been married and working together for 27 years.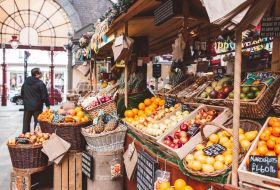 The Central and Beresford Street Markets are an integral part of Jersey's heritage and a source of pride for many Islanders. The local markets have served the community for over 200 years. Both markets are lively, full of colours and smells and home to a wide range of local produce, crafts, goods and services.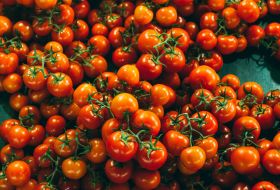 From the humble beginnings of the farm shop starting from a wheelbarrow on the road, we have never looked back as our farm shop continues to grow. Our store is still at the centre of our success, with the emphasis and passion on offering the very best fresh, seasonal, organic and handmade food from in-house specialists and local artisan producers.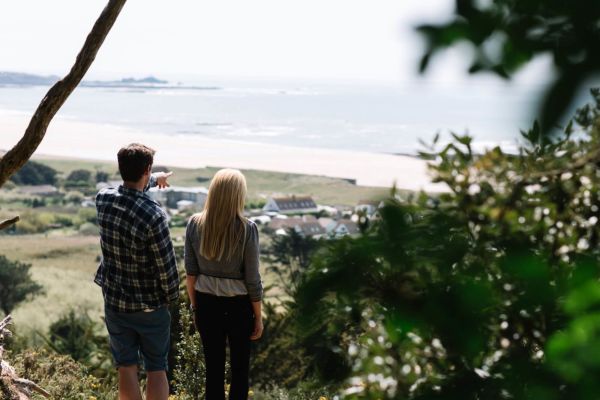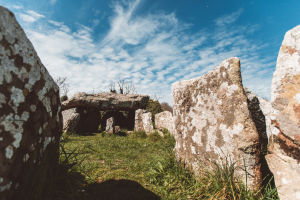 Les Mont Grantez and Le Pouquelaye de Faldouet.
Dine among dolmens.
There's something mystical about these ancient sites. You'll find dolmens dotted in unexpected places all over the island where you can step back 6000 years into the past. Find peaceful places to lay out your picnic blanket at Les Mont Grantez overlooking St. Ouen's Bay and La Pouquelaye de Faldouet tucked away in a green field in St. Martins.
Where to pick up your picnic nearby.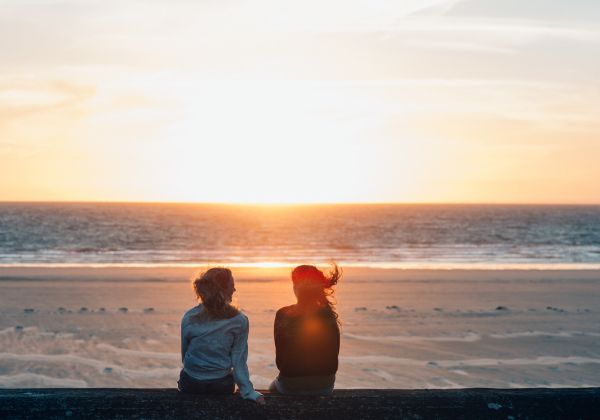 Settle in on a historic sea wall.
The dramatic Atlantic coast that spans St. Ouen's Bay provides a thrilling backdrop for a seaside picnic. Find your perfect spot along the sea wall which was constructed during the island's occupation in WW2 as part of Hitler's vision to create a 'fortress island'. Defensive bunkers dot the wall as reminders of the one of the most challenging times in Jersey's past.
St. Ouen's Bay.
Where to pick up your picnic nearby.
Enjoy a reflective moment while the sun sinks below the horizon.
Corbière Lighthouse.
Lunch at a lighthouse.
Corbière Lighthouse has stood sentinel on Jersey's south coast since 1874. An iconic view that's sought after by locals and visitors alike, you'll still be able to find a peaceful place to set yourself up a delicious picnic spread overlooking the lighthouse and spectacular views of St. Ouen's Bay. During the island's wartime occupation, La Corbière headland was one of many strategic, defensive positions on Jersey's coast. After you've had your fill of feasting, don't miss exploring Strongpoint Corbière's six imposing fortifications that echo with reminders of an island at war.
Where to pick up a picnic nearby.
Grève de Lecq.
Take a bite out of this historic bay.
If you venture down to Grève de Lecq on your Jersey holiday, not only will you be blown away by the bay's beauty, you'll be surrounded by evidence of the island's history. From eighteenth century Le Câtel Fort perched on the cliffs above the bay to Napoleonic Grève de Lecq Barracks and the scars on the harbour from when the bay played host to a German Strongpoint during the occupation. Pick a spot on the distinctive orange sand or dangle your legs over the sea wall as you enjoy your picnic.
Where to pick up a picnic nearby.
Hungry for heritage.
Jersey Heritage work to protect some of the island's most precious historical places and they just so happen to also make the perfect places to enjoy a picnic. From an 800 year old castle to a Neolithic site that's home to one of the ten oldest buildings in the world, you're spoilt for choice if you want to be surrounded by history while you picnic. All of the sites also have their own cafés serving up tasty treats. Why not invest in a Heritage Pass which gives you access to four sites for the price of 3?!
The Botanic Gardens at Samares Manor.
A sarnie at Samares.
Immerse yourself in a sensory wonderland as you stroll through the picturesque gardens of Samares Manor. Created in the 1920s, its 14 acres are home to a network of lush, vibrant gardens from water gardens to a formal rose garden. Take a seat under a weeping willow, while away the day laying on the lawn or find a pew in the Japanese garden to enjoy your picnic.
Where to pick up a picnic nearby.
You might also like...