Art & culture
ArtHouse Jersey at Grève de Lecq Barracks
Grève de Lecq Barracks is home to ArtHouse Jersey's Headquarters. The charity exists to serve our Island community and international audiences by supporting artists from Jersey and across the world to create ambitious work.
More Information
ArtHouse Jersey moved to its current location at the historic Grève de Lecq Barracks in September 2019 in order to provide a cultural hub for the island, where artistic activity, creation and collaboration can thrive. A range of public performances and pop-up exhibitions take place at the Barracks throughout the year and the site contains two multipurpose studio spaces that can be booked for use by the public. Information about our upcoming events can be found below.
We are open all year round.
Accessible parking or drop-off point
Accessible toilets
Ramp to main entrance
Location
ArtHouse Jersey
Grève de Lecq Barracks
Chemin du Catel
St. Mary
JE3 3AA

Offers and events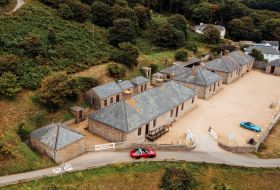 Queer artists Claude Cahun and Marcel Moore called Jersey their home. Leaving the surrealists in Paris, being dubbed by Andre Breton as "One of the most curious souls I have ever met". Even in those times of shifting perception and experimentation, the ever-changing duo were too dangerous for even their contemporaries.
Free entry
Oct 18 2022 ‐ Oct 23 2022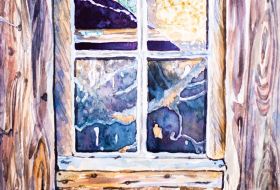 'ArtHouse Jersey Pop Up' is a series of six pop up art exhibitions featuring local artists scattered across the year that take place at our HQ. The project, 'Pop Up 5: with Lisa Jayne Troy, Lucy Fleming, Sophie de Faye' invites people to 'pop up' to our HQ at Greve de Lecq Barracks to enjoy the work of artists in our unique exhibition space.
Free entry
Oct 15 2022 ‐ Oct 16 2022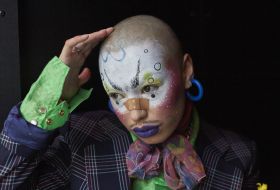 This exhibition presents us with an inside look at Amsterdam's first Drag King House - The House of Løstbois. Born out of a drag king academy set up by drag educator and mother 'Taka Taka' and artist'Father Julius' in March 2019.
Free entry
Sep 09 2022 ‐ Sep 22 2022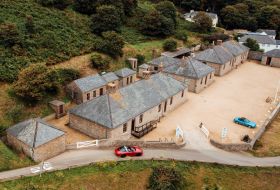 ArtHouse Jersey presents an evening of live comedy with Christian Jegard. Producer and star of 'Jersey: A Musical Journey', a spoof style documentary piece by award-winning comedian Christian Jegard (commissioned by ArtHouse Jersey) will be performed live at the Barracks for yet another evening of comedy, the theme of which is yet to be revealed.
from £15
Booking needed
Oct 20 2022 ‐ Oct 21 2022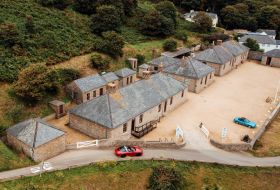 ArtHouse Jersey presents an evening of live music with David Gaffney as he flies in from Germany for two one-off shows at Grève de Lecq Barracks. You will hear a full production performance of debut album 'BONESHAKER' and a duo performance from a very talented Jersey Singer-Songwriter.
from £15
Booking needed
Sep 23 2022 ‐ Sep 24 2022