Make history on your Jersey holiday by choosing one of the island's most unique places as your base. Explore castles, forts, towers, farmhouses and fascinating follies that tell the story of Jersey's rich past. If immersing yourself in history ignites your mind, you'll be spoilt for choice on your island break.
Travel to the past with a stay in castles, forts and towers.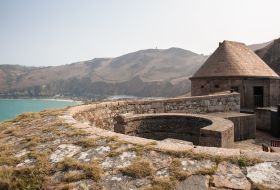 Nestling on a headland, this tranquil property is built on Jersey's rugged north coast and is surrounded on three sides by the sea. La Crête Fort comprises a double or twin bedroom, a single bunkroom and spacious shower room and large lounge/diner with sofa bed. A flight of stone steps will take you up to a large granite room with a vaulted ceiling
from £160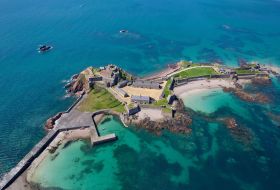 Sitting one mile off the coast of Jersey's main town of St. Helier, the castle apartment sits within one of Jersey's most iconic locations surrounded by the sea twice a day. The apartment, split over two levels, with a recently refurbished kitchen and shower room on the lower level, the apartment sleeps up to six people.
from £154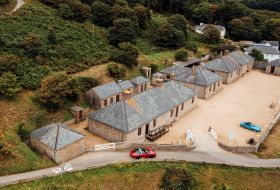 The 2 bedroom self-catering apartments at the historic Greve de Lecq Barracks are the perfect place to relax and enjoy exploring the stunning north coast of the Island. Owned and beauitfully restored by the National Trust for Jersey in 2019 these stylish apartments are luxuriously appointed but with respect for the history of the Barracks.
from £155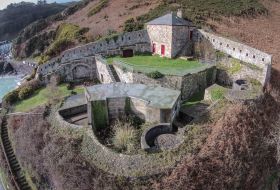 Stay in your very own fort! Spread over three levels, this magnificent 19th century fort sits above the picturesque harbour of Bouley Bay and has a private garden and terrace. The guardhouse is converted to the main bedroom with one double bed and two single beds, and a wood burning stove.
from £186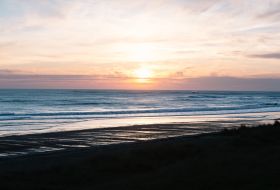 This historic Martello Tower has been restored with all modern conveniences. Sleeping up to 12 guests in an open plan living space, this property is a jewel within the bay of St. Ouen. It has a fully equipped kitchen, comfortable lounge area with flat screen TV with Freesat, spacious dining area and a fantastic roof terrace with 360 degree views.
from £245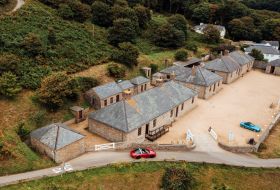 The Officers Quarters Cottage is a stunning and unique property that can sleep up to six adults. The cottage is set within a Napoleonic barracks within yards of the lovely sandy beach at Greve de Lecq. This high quality, centrally heated holiday accommodation has been carefully created whilst still retaining the historic fabric.
from £138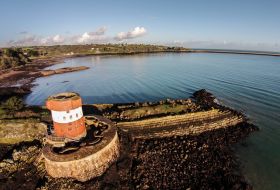 A coastal tower with wonderful views, the tower is split over four levels with a large terrace at ground level and a roof terrace overlooking the tranquil bay of Archirondel, the Tower is great for those looking for adventure, with the sea on your doorstep.
from £157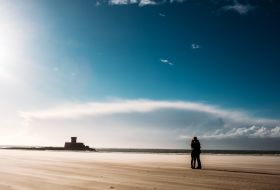 It's hard to miss La Rocco Tower. Its iconic silhouette is a feature of St. Ouen's Bay - standing on a rocky tidal island half a mile offshore in the middle of the bay. And if you're feeling intrepid, you can stay overnight at this 18th century tower with a guide. Watch the tide surround you and see the sunset from the roof.
Immerse yourself in bygone times at Jersey farmhouses.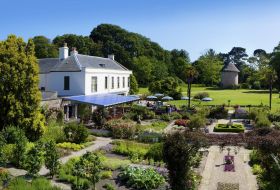 Three cottages (The Coach House, The Forge and The Barn) and three farmhouse apartments have been tastefully converted from the 19th century farm buildings within Samarès Manor's courtyard. The accommodation is furnished to a high standard and there is access to the Botanic Gardens and the Cocorico Café.
from £122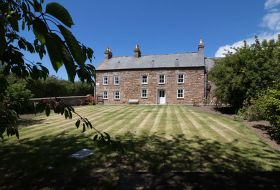 Radier Farm Farmhouse is a spacious, three bedroom house set within an important Jersey Farmstead owned by the current Earl and Countess of Jersey in a rural part of Grouville. Having been finished to a high standard in 2019, the Farmhouse offers comfortable and stylish accommodation with a wonderful and relaxed feel.
from £121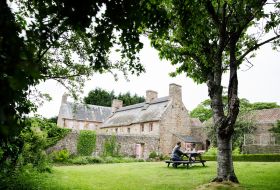 A cosy, fully equipped self-catering apartment in the heart of Jersey's countryside, perfect for a romantic escape or a family holiday. Hamptonne is steeped in rural history with over 45 acres to explore.
from £143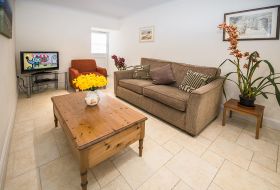 This cottage is one of 6 in a very large newly converted granite outbuilding on a traditional Jersey farmstead which dates back to 1880. The building has been sympathetically restored to provide modern living conditions and is finished to a very high standard. The refurbishment of this building has been commended by the Jersey Architectural Design
from £109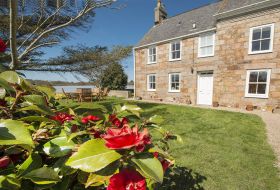 This granite cottage that sleeps five people, is located in the heart of the countryside has been carefully restored to include modern facilities whilst retaining many original features. There is a west facing and private grassed area with a table and chairs for guest use. Only a short walk from a number of local attractions and establishments.
from £64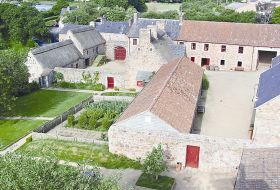 Nestled amongst the thatch and granite of a 15th Century farmstead, Hamptonne Cider Barn Apartment provides an idyllic family holiday in the heart of Jersey's countryside. A memorable setting for a relaxing family break or romantic getaway. The Cider Barn apartment is one of two well-appointed apartments which can jointly accommodate 10 people.
from £166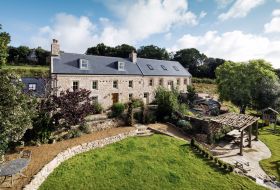 Uniquely set amongst one of Jersey's few tea plantations, this recently renovated, luxury two bedroom, self-catering granite cottage dates back to 1731. Situated in the heart of rural St Lawrence in the centre of the island, the property faces South South East and has stunning views across the countryside.
from £108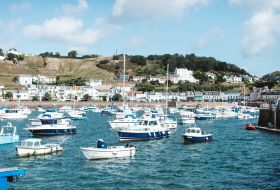 Radier Farm Cottage is a beautiful, newly modernised cottage set within a rural Jersey Farmstead owned by the current Earl and Countess of Jersey in a rural part of Grouville. Having been finished to a high standard in 2017, the cottage offers comfortable and stylish accommodation with a wonderful homely feel.
from £109
Step back in time.
Discover more about some of the most fascinating historic places in Jersey that you can call home during your island break. From a hotel with a captivating wartime story, a castle that a saint called home, to secluded forts and towers in the most scenic spots on the island. Read on to hear their tales.