Walking in Jersey is simply good for the soul. You will discover a landscape full of gentle surprises, shifting in a kaleidoscope of colour with each passing season. Blow away the cobwebs with fresh salty air as you drink in the dramatic beauty of Jersey's coast. Meander along rugged cliff paths carpeted with gorse and wildflowers as the tide laps against the sweeping shoreline below.
Wander through wooded valleys and country lanes to birdsong, or gently amble along the marina to enjoy local food and drink at a seaside pub nestled in a French-style fishing village. As the sinking sun lights up the evening sky, paddle your tired feet in clear local waters when the day is done.
Come and explore this unique island – with no passports required for travellers from the UK and no testing, isolation or travel forms for all visitors, it couldn't be easier.
Self guided walking routes.
Explore all corners of the island.
From north to south, east to west – Jersey's landscape changes dramatically within a few kilometres.
Planning a walking holiday in Jersey? Discover our self-guide routes and explore Jersey at your own pace.
Stride out at a walking event in Jersey.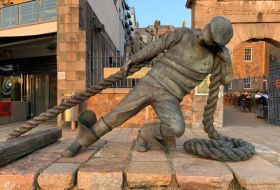 Join our qualified guides every Sunday morning to take a walk through the fascinating history & culture of Jersey. Tours start from Liberation Square every Sunday at 10:30am and finish at 12pm. Tickets are £10 and can be booked in advance through Eventbrite or you can pay on the day (cash only, please). 
from £10
Booking needed
Aug 07 2022 ‐ Nov 27 2022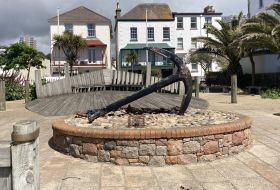 Once a quiet outskirt of St. Helier, the Havre des Pas seafront saw dramatic changes in the 19th and early 20th centuries. On this pleasant walk you will see evidence of the changes and hear about some of the historic characters connected to the area and visit the beautiful Howard Davis Park.
from £11
Booking needed
Jun 22 2022 ‐ Nov 10 2022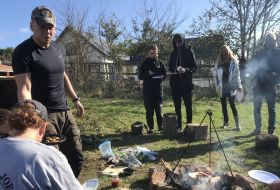 Develop your bushcrafting to a new level with Harry and Simon, our resident Ray Mears accredited wilderness guides. We have six unique foraging and wilderness cooking sessions at various island locations (advised on booking) throughout the 2022 season.
from £20
Booking needed
Apr 30 2022 ‐ Oct 01 2022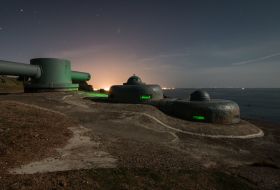 See Jersey's military heritage in a new light and help to support a non-profit organisation! Evening tours of bunkers offer an unforgettable atmosphere when exploring. We will visit sites not open to the public and places not visited by any of the commercial tours.
from £30
Booking needed
Jan 03 2022 ‐ Dec 16 2022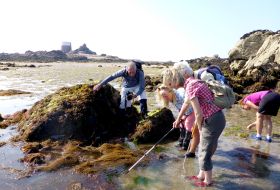 Discover a marine world that is hidden beneath the ocean and only appears on the lowest tides of the year as we walk one mile from shore to Icho Tower. Venture into Jersey's very own wilderness, which is covered by some of the highest tides in the world, on a marine exploration with a local trained guide. Also called "Moonwalks", our walks are in the daytime, and the seabed is more than just a barren lunar-like landscape.
from £20
Booking needed
Feb 04 2022 ‐ Sep 12 2022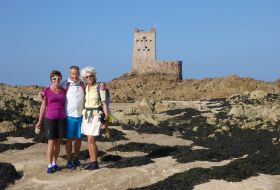 Walk on the seabed and explore gullies and rock pools as you walk to Seymour Tower (one mile offshore) and discover Jersey's very own wilderness with expert local guides. Walk in Europe's largest inter tidal rocky area during our 'Moonwalks' as you discover the lunar-like rock formations. Escape from the sounds and activities of everyday life as you explore a place that is neither sea nor land.
from £20
Booking needed
Nov 21 2021 ‐ Nov 27 2022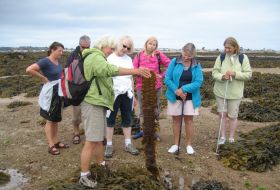 Green, brown, delicate, bold and sometimes smelly, seaweeds often remain unnoticed. They are, however, an essential ingredient in sushi, miso soup, jellies, and sweets. Discover their value on a gentle coastal walk with an expert local resident.
from £20
Booking needed
Feb 18 2022 ‐ Nov 25 2022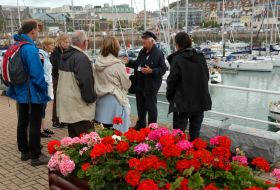 Come and explore Jersey's capital with a free guided walk around St. Helier every Thursday. The walk begins and ends at the Town Hall and will run for around two hours. Discover the island's secrets as you are led by members of the Jersey Tourist Guides Association who will introduce walkers to the varied and fascinating aspects of on offer.
Free entry
Booking needed
Apr 21 2022 ‐ Oct 27 2022
How about a guided walking tour?
Jersey's local guides will take you on a journey through the history and natural wonders of the island and will tell you the local secrets on hidden paths and in secluded bays. Just bring your hiking boots and a sense of adventure.
Stroll, walk or strut…
… whatever your style, find your stride with our walking inspirations.
Take the bus.
Explore as much of Jersey as possible.
It may sound like strange advice for walkers, but most of the best trails on the island are easily accessible by bus. Jersey's LibertyBus routes reach all over the island from Liberation Station in St. Helier. Tickets are available on the bus, at the bus station or at various hotels and guesthouses. Multi-day tickets are available for one, two, three or seven days and allow you to see as much of the island as you like during your stay.
More ways to enjoy your island break.
Tie up those laces and explore the outdoors.
Check out these snaps taken on some of the walking tours.