Nature, animals & parks | Beaches & bays
St. Ouen's Bay
With its sun kissed headland and soft sandy beaches, Jersey's western shoreline offers up some of the island's most magical locations, a long stretch of golden sand and views over the Atlantic Ocean make St. Ouen's Bay something special. The bay is a great spot for a sunset BBQ with the family, just over the road from the stunning sand dunes.
Free entry
Free for children
Miles of golden sand on your doorstep.
St. Ouens Bay has numerous places to stay. From luxury hotels, self-catering lets and budget friendly options, you'll find the perfect base for your island getaway here.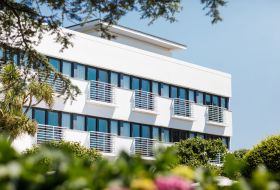 One of Jersey's finest luxury hotels combining breathtaking ocean views with the award-winning Ocean Restaurant. The Atlantic Hotel is set within ten acres of beautiful and extensive private grounds, situated in one of the most stunning locations in the Channel Islands.
from £144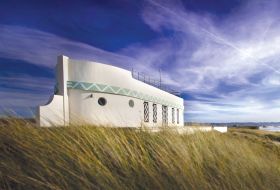 The iconic Barge Aground is uniquely positioned in the stunning St. Ouen's Bay with direct access to the beach. Built in the 1930s, this is the last of the seaside follies and chalets which once lined the bay. The décor has a 1930s theme, with walnut wooden floors and some original furniture.
from £182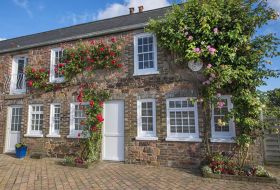 Freedom Self-Catering Holidays has a great choice of quality self catering apartments, cottages, houses and flats to rent. A large variety of styles and sizes in town, country, coastal and beach locations are available. Come and go as you please with super flexible self-catering in Jersey.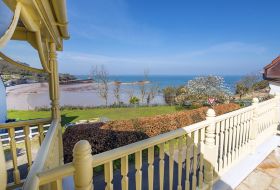 Anne Port Bay, Port Rest House is a detached three bedroom house that can sleep up to five adults, overlooking the picturesque Anne Port Bay and only a two minute walk from the beach. The property comprises of a large kitchen, modern shower room and access to the patio and gardens.
from £122
Indulge by the beach.
Grab a bite to eat or drink with picturesque views over the Atlantic. Discover and delight in all the tantalising options for dining out in St. Ouen's Bay. You'll be spoilt for choice.
More Information
With mile after mile of beautiful sand, cleansed twice a day by Atlantic surf, St. Ouen's Bay is a spiritual home for Jersey surfers and thrill seekers of all kinds. At five miles (8km) long, there is plenty of space and facilities for everyone. The Atlantic coast is popular with surfers, adrenaline seekers and sporty types, with various activities such as blokarting, kite surfing, paragliding and wind surfing are amongst the most popular with locals and visitors. St. Ouen's Bay boasts one of the oldest surfing clubs in Europe and in the summer months certain areas are watched over by the RNLI. Fire up a beach barbecue on a summer's evening, while snapping a few memories in the heavenly, golden light that fills the bay.
Outdoor

Family friendly

Couples

Pet friendly

Catering

Wheelchair access

Parking
Local charity BeachAbility offer manual, ballooned wheelchairs for use on the beach. The wheelchair storage unit is located in the parking area just before Le Braye Café on the right hand side. A number of slipway ramps that lead to the beach are cobbled and have uneven surfaces.
Accessible parking or drop-off point
Accessible toilets
Level access
Partial wheelchair access
Ramp to main entrance
Wheelchairs or mobility aids provided
Offers and events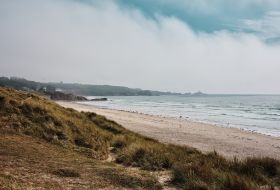 To mark the Marine Conservation Society's Big British Beach Clean Week 2023, we are hosting the Les Amis Big Beach Clean 2023 at St. Ouen Bay (meet near Le Braye slipway).
from £10
Booking needed
Sep 29 2023