Are you a history buff? Do stories of the past ignite your imagination? Are you on the hunt for historic experiences to fill your holiday? In Jersey you'll uncover a plethora of places that tell tales of our multi layered past. From ancient dolmens and medieval castles to living history at historic houses, WW2 bunkers that echo with remembrance of times past, our little island is overflowing with encounters of bygone days. We've gathered a trove of ideas to help you plan your next history holiday to Jersey.
Historic holiday experiences not to miss this summer.
Join Jersey Heritage this summer as they take you on a journey back in time. Their calendar is choc full of events that will inspire and delight adventurers of any age. From insightful exhibitions and summer night sessions, to thrilling tours of the precious places they care for. The talented team will bring history alive however you choose to experience it.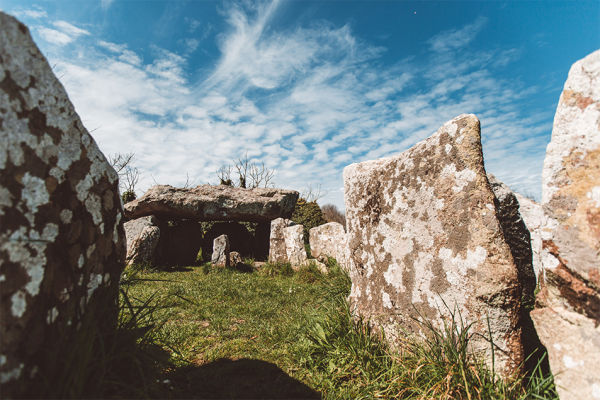 History and heritage attractions.
Delve into Jersey's past.
Let your imagination lead the way on your historic holiday in Jersey, as you explore the island's many history and heritage attractions. Go underground at the Jersey War Tunnels, be mystified by ancient dolmens, scale the heights of medieval castles and wander around an astonishing array of wonderful, interactive museums and living history experiences.
History and heritage places to stay.
Slumber at spellbinding sites.
Make history on your island break by choosing to stay in one of the island's most unique accommodations – a true holiday for history lovers! Be transported back in time at a coastal fort, 400 year old castle or fifteenth century farmhouse. Make your base at a barracks or a WW2 radio tower overlooking the wild south-west coast of Jersey.
History and heritage tours.
Uncover the past with a local expert.
Jersey is bursting with people who are ready and waiting to share our island and all the intriguing stories and places to be found here. Join one of our expert guides on a voyage of discovery as they lead you back in time. Stride out on walking tours, sit back on bus tours and set sail on boat tours. Whatever pace you prefer, you'll find a trip that suits your historic holiday style in Jersey.
Inspiration for your historic holiday.
Historic places to have a picnic in Jersey.
Tuck into a feast of local produce and tasty treats surrounded by the island's history. Find out where to fill your basket and all of the best historical places to lay out your picnic blanket.
Discover days that will go down in history.
Are you looking to pack your days with ancient finds and fascinating stories of temps passé? Then explore itineraries full of discoveries, and uncover your perfect Jersey holiday.