After almost five years of occupation by German forces during WW2, Jersey was liberated by British troops on 09 May 1945, the day following VE Day, which saw an end to the hostilities in Europe. Liberation Day is celebrated in the island every year with jubilant events centred around Liberation Square where crowds gathered in 1945 to welcome British troops and watch them triumphantly unfurl the Union Jack from the balcony of the Pomme d'Or Hotel.
Discover more about the island's Occupation and Liberation stories and join the Liberation Day celebrations on a truly historical island holiday.
What's happening in Jersey for Liberation Day?
Traditional Liberation Day celebration

Every year on the 09 May, locals and visitors come together in the heart of St. Helier. The traditional celebrations usually start early in the morning with inspiring speeches and stories to commemorate the islands freedom. Throughout the day, you'll be transported back in time, enjoying fantastic entertainment and music inspired by the 40's. Then tuck into delicious food and drinks, with an impressive line-up of local food trucks to choose from.
Watch this space to find out more information about the 2024 Liberation Day event.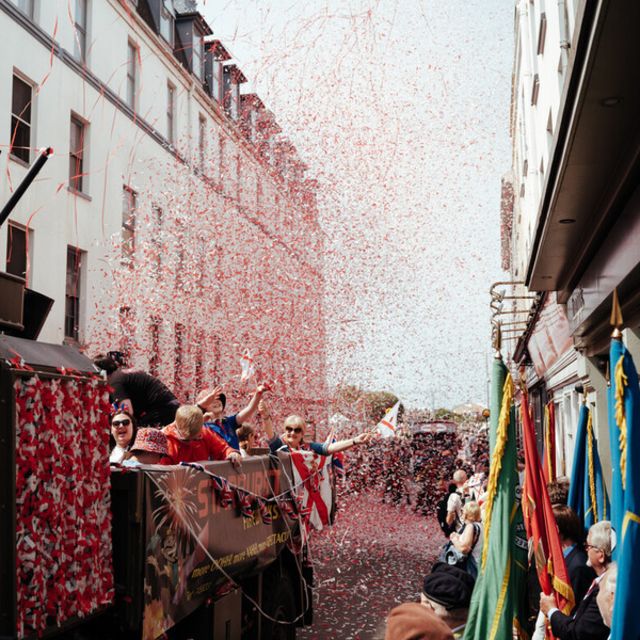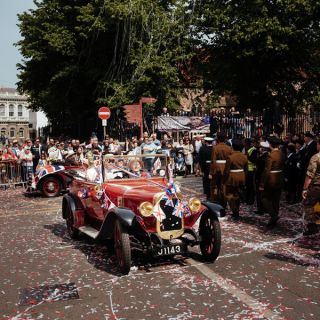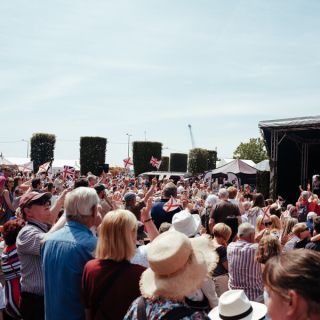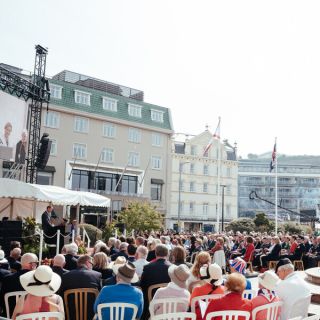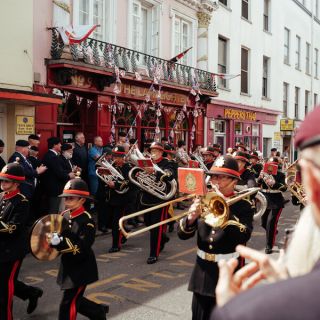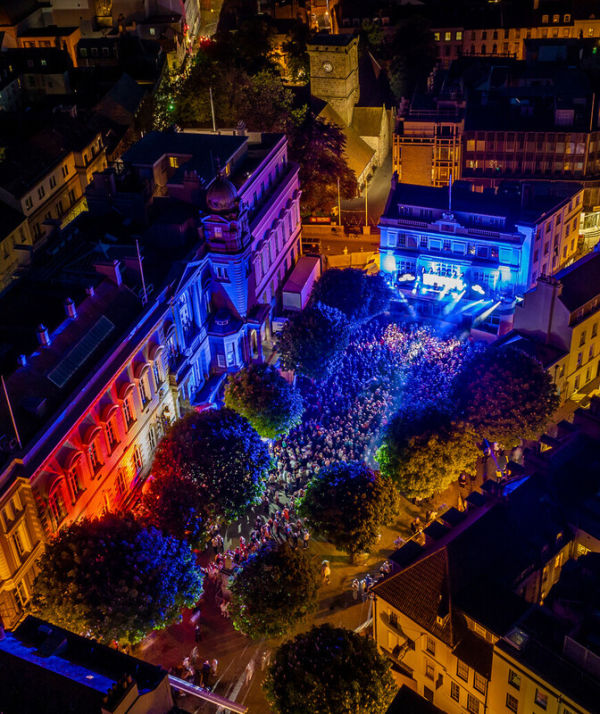 Event
Lib in The Square 06 & 07 May
Get ready to liberate those dance moves at the Lib in The Square. To mark the 78th anniversary of the island's freedom, a 2-night festival of well-established DJ's will take to the stage, right in the middle of Jersey's historic Royal Square.
Three days of discovering Jersey's wartime story.
However long you're here for, discover more about the island's Occupation and Liberation story. Visit sites and join tours that bring to life the true tales of hardship, courage and resilience of those living in Jersey at the time. Here are three days full of ways to delve into the island's wartime story.
Day one - Go underground.
Stay at the historic Pomme d'Or Hotel, which was commandeered by the Nazis as their headquarters and was also where Allied troops unfurled the Union Jack on Liberation Day. Jump on the Char-a-Banc vintage shuttle bus to the Jersey War Tunnels which leaves from just outside your hotel. Explore the Tunnels uncovering what it was like to live in Jersey during the Occupation. After lunch, head out to St. Ouen's Bay and take a stroll along the beach passing the expansive sea wall and bunkers dotted along the coast built as part of Hitler's vision to transform Jersey into a 'fortress island'. For dinner, how about a seafood feast at sunset from Faulkner Fisheries? – A Vivier housed in a WW2 bunker overlooking the bay.
Day two - A capital day of exploring.
Start day two in Liberation Square and take in the Liberation statue which was unveiled in 1995 to mark the 50th anniversary of Liberation Day. Enjoy a little retail therapy in Liberty Wharf housed in a beautifully restored Victorian building. Discover local pop ups, boutiques and eateries. Treat yourself to an indulgent afternoon tea at the Pomme d'Or Hotel overlooking Liberation Square before heading out on the self-guided Geotourist Liberation Trail around Jersey's capital, St. Helier. The trail takes in the Occupation Tapestry, Elizabeth Castle and many other sites that tell the story of the island's Liberation after World War II.
Day three - A poignant day of discovery.
Spend day three out exploring by e-bike or hire car and discover the self-guided Liberation Route Europe, Forced Workers Trail. The trail will take you on a journey all around the island, visiting the places that tell the story of the plight of forced workers who were brought here against their will. Stop off for lunch at the Gunsite Beach Café which is housed in a German bunker, part of the imposing sea defences constructed by forced workers that span St. Aubin's Bay. If you have any energy left by the end of the day, join Jersey War Tours for their fascinating Bunkers by Night Tour which will take you into fortifications usually out of bounds to the public.
Next:
Day two - A capital day of exploring.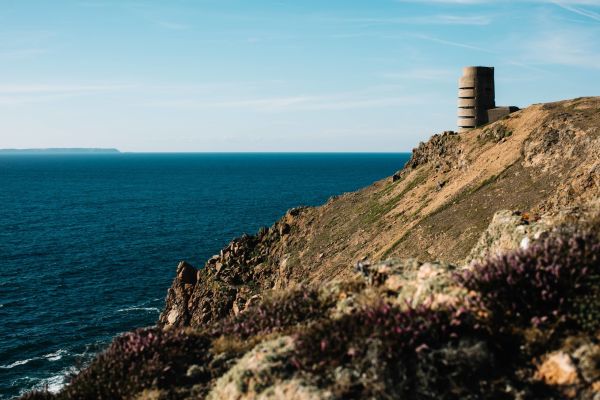 Jersey's Occupation sites.
The Occupation of Jersey during WW2 left lasting marks on Jersey's landscape. Explore the places that tell the island's wartime story and discover tales of courage, defiance, suffering and resistance.
Take a tour to be remembered.
Let the experts guide you on your journey of discovering all the fascinating facts and places that are waiting to be explored on your historical Jersey holiday.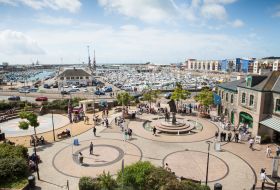 Join Blue Badge Guide Martin, for one of his Occupation themed walking tours, The German Occupation Coastal Trail and St. Helier - Liberation to Occupation. A specialist in military tours from Napoleonic to WW2 and the Occupation of Jersey, he looks forward to welcoming you to join one of his walking tours and sharing his knowledge with you.
from £8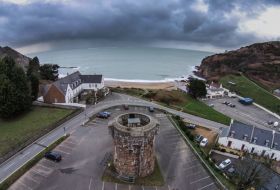 Jersey War Tours (JWT) is a non-profit organisation who allow access to their WW2 sites for tours and visits. All funds are invested back into the WW2 projects and maintenance program of work. Tours are guided by volunteers who all work on these projects and you won't find better experts to explain the Occupation and Liberation history.
from £5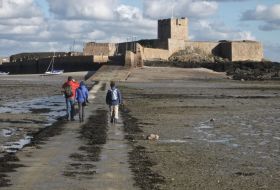 From the natural forces that shaped Jersey, to the castles that defended it, the industries that built it, and the Occupation that still marks it: Join our guides and ExperienceJersey. Jersey is a magical place, and you will experience it all. So get ready; its culture, prehistoric history, vibrant energy plus local lifestyle awaits!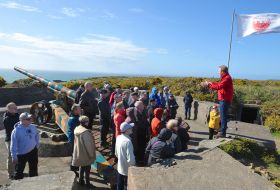 When history comes alive! Join Marc Yates, the only accredited Battlefield Guide in the Channel Islands on a journey of military history from Iron Age forts to German occupation bunkers. Let me open your eyes to Jersey's fabulous military history and scenic beauty!
from £195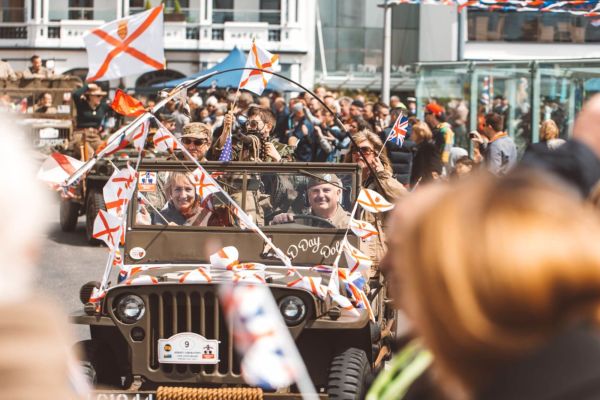 Jersey's Occupation Story.
The German Occupation of Jersey began one week after the British government had demilitarized the island fearing for the safety of civilians should there be any conflict. This is a story of how the island endured five years of life under occupation ending in joyous liberation on 09 May 1945.
More inspiration for your historical holiday in Jersey.