Meet Shelley.
Founder of Land and Moon Ceramics.
First and foremost, I am a mother of three amazing children; Ozzie, Marley and Flora. I was initially inspired to make pottery because of them. When they were young we spent a lot of time outside – picnics, campfires and hours at the beach, surfing and beachcombing. I wanted the kids to use ceramics rather than plastic on our adventures as they are infinitely more sustainable, and contain less toxins. The children learnt to be careful with their food and their cup or bowl, and quickly understood the consequences of broken pots. I created pots to fit their little hands, in colours that they loved (and usually made again when things got dropped!) This ethos has really stuck with me and is fundamental to the pieces I like to make in the Land and Moon studio.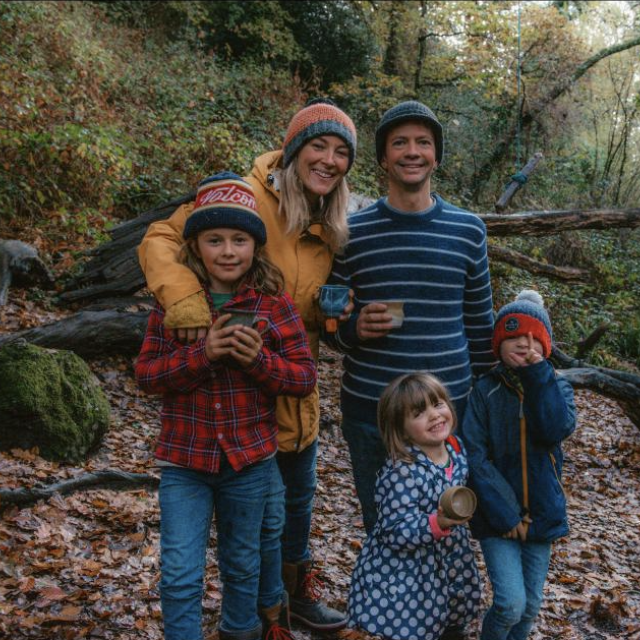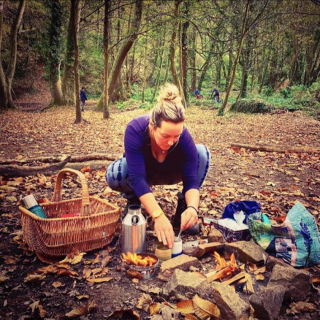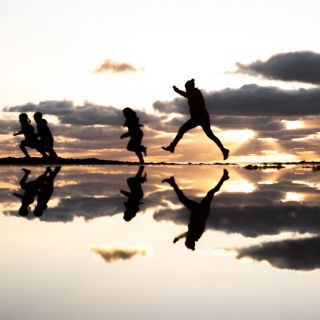 How did you find your way into pottery-making and what do you love most about it?
My first foray into ceramics was some wheel throwing lessons in Japan, where I lived for three and a half years in the Japanese Alps. It was so tricky and I was completely useless, but it did spark a real interest and I collected some of my most precious pieces of ceramics there. I think that all of my pieces have been influenced by the ceramics that I used everyday whilst living In Matsumoto. For me the Japanese attention to the aesthetic is unsurpassable. Everything is steeped in significance, which means that even a cup becomes something of beauty to be treasured. I just love that sentiment. I lived a little in India and another couple of years in Istanbul following my time in Japan and it seemed that I always found some ceramics to collect.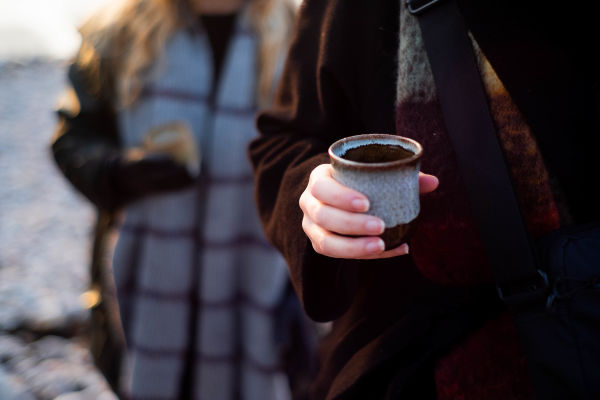 Eventually, after returning to Jersey, getting married to the kindest, most patient man, and having Ozzie, our first son, I decided to get back on the wheel. This time I was hooked! After nine years of night classes at Highlands I decided to set up Land and Moon and to start making a little more seriously. It's such a priviledge to work with clay everyday. I used to teach yoga but have recently found that my wheel throwing has the same benefits. I feel a calm sense of connectedness that comes from being entirely focused. It's magical. This is something that I really want my students to feel and understand when they are learning the wheel too. Keeping the body soft allows hands to move instinctively with the clay and to be reactive to its resistance. Breathing and maintaining a long spine helps to keep the body soft so the movements become a flow. It's really beautiful to watch.
When friends and family are here I always make sure they visit...
The sea! Whether that is surfing, swimming, pier jumping or paddle boarding. After being in the sea, we EAT! I love Portelet Bay Café – its always such a brilliant escape. You come down those stairs and you see that fabulous view and feel like you might be on some magical beach in Greece or Portugal. In your flip flops and soggy swimming costume you can eat the most amazing crab linguine or woodfired pizza. So great.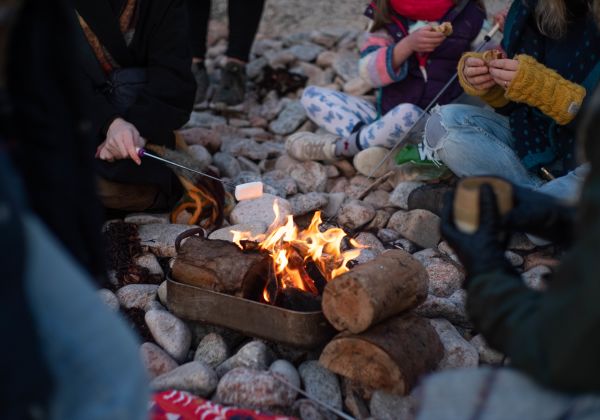 My favourite way to spend a weekend in Jersey...
Our lives are super busy – my husband works long hours and the kids are really active so my most magical weekend would be spent with some quality, relaxed time with my family in a Jersey Heritage Let like Fort Leicester, or Barge Aground. Fires, drinking hot chocolate, surfing, fishing, playing games, watching movies and reading books.
Make like Shelly and book your own Jersey adventure.
Heritage stays to remember.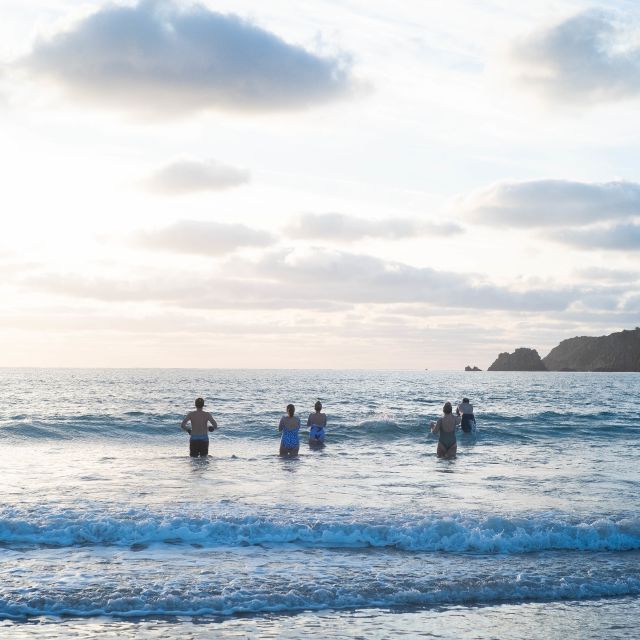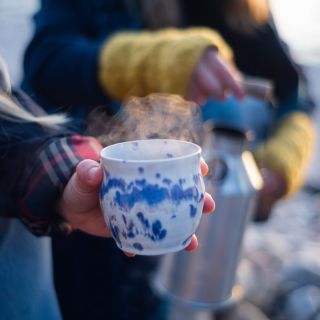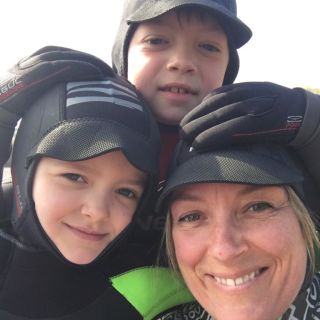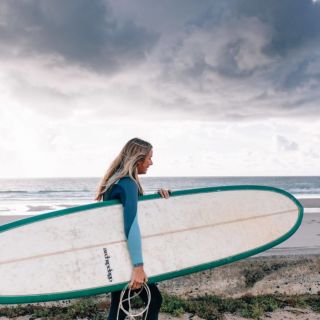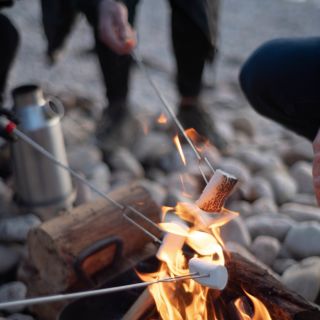 Winter stays to warm the soul.
Can you share a few of your favourite independent makers in Jersey and a bit about them?
Firstly, a special mention to Ashley Frazier, a fellow ceramicist who just started making some pieces to sell. Her pieces are really beautiful with lovely simple glazing. Having had her first market with Genuine Jersey recently, I think she is one to look out for!
As well as ceramics I really love painting and have recently finished a brilliant abstract landscape course, with the phenomenal Jackie Rutter. On my course was a painter called Susan McGarry whose work and energy has really inspired me. Her personality is every bit as vibrant as her paintings and she was a real pleasure to get to know.
How can pottery-curious visitors get involved in Land and Moon Ceramics?
I have a website that explains a little about the sessions that I offer. Currently, I have the taster sessions to try out wheel throwing and my Evening Escapes for groups of five with cheese, wine and wheel throwing. These are a perfect for a crafty bunch of five friends looking for an alternative evening. There is always lots of laughter and your own hand thrown pot to take home, once fired.
I am super excited to be part of the Genuine Jersey's Simply Christmas again this year. I will be there for the final two weeks of the market – Thursday 30 November to Sunday 03 December and Thursday 07 December to Sunday 10 December. Hope to see you there!
I also post all of my makes, commissions and info about upcoming markets and sales on Instagram and Facebook.
If you've been inspired by Shelley's artistic, outdoorsy life in Jersey, why not start planning your next visit? Our Trip Planner can provide personalised reccommendations based on the things you love.
You might also like...