Gifts & souvenirs | Department stores | Boutique & independent | Markets & farm shops
Genuine Jersey
Genuine Jersey was launched to promote the diversity and quality of local produce and products. Items carrying the Genuine Jersey mark have been reared, grown and caught in Jersey and / or created by accredited islanders and local businesses who qualify to be members of the Genuine Jersey Products Association.
More Information
Genuine Jersey produce and products can be bought and found around the island in galleries, tourist attractions, restaurants, pubs and more. Genuine Jersey products come in a variety of forms - from fresh produce to fine jewellery. If you want to enjoy the best of what Jersey has to offer then look for the red Genuine Jersey Mark – the guarantee of local provenance. Visit the our website to explore a full list of Genuine Jersey members.
We are open all year round.
Family friendly

Couples

Pet friendly
Location
Genuine Jersey Products Association
31 The Parade
Jersey
St. Helier
JE2 3QQ

Offers and events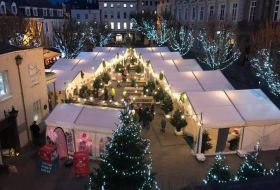 Gather your friends and family and immerse yourself in Christmas cheer at this year's Genuine Jersey Simply Christmas market in St. Helier's Royal Square. Showcasing over 50 of Jersey's finest artisans, Simply Christmas brings you a labyrinth of stalls oozing with festive magic, beautiful gifts and tasty treats.
Free entry
Free for children
Nov 24 2022 ‐ Dec 11 2022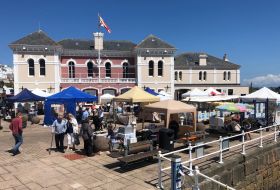 This regular artisans' market takes place in the pretty harbour village of St. Aubin in front of the parish hall, where you will find an array of local wares on display, including goods from producers and craft workers.
Free entry
Free for children
Apr 23 2022 ‐ Sep 17 2022