Getting out and about in Jersey is even better when you have an expert along for the ride. Someone to tell you all about the island, to regale you with fascinating facts and intriguing titbits. The great outdoors and the island's history is waiting to be discovered, so we thought we'd catch up with Roger Noel, a proud Blue Badge Guide with Jersey Uncovered, to get his view on why Jersey is such a special place to visit.
Roger will take you on a meander through Jersey's history, following in the footsteps of our Roman visitors, England's King John, French generals, and World War Two occupying forces. He is also a specialist in ornithology, so get your binoculars at the ready. A tremendous raconteur, Roger promises an entertaining, lively and informative journey of discovery.
Get the inside scoop on what Jersey-born Roger loves about our little island.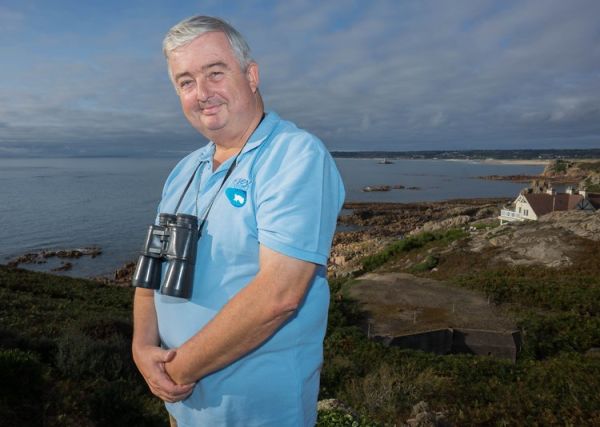 Tell us about yourself...
Meet Roger.
My name is Roger Noel. I am 63 years old and I am a qualified Blue Badge Guide. I am a proud Jerseyman who can trace his ancestry back to the 16th century in the parish of St. Martin. I work with a group of lovely professional tourist guides called Jersey Uncovered and we are able to offer tours and walks in Jersey to suit everyone's requirements.
As well as being a keen historian I am also an ornithologist. I'm also very much part of the community of  St. Peter's parish, being Chairman of The St. Peter's Rates Assessors and also a roads inspector for the parish. I am also involved with a charity The Rotary Club De La Manche of Jersey. Plus I am a keen traveller having visited nearly sixty countries in all continents except Antarctica.
My favourite place for a picnic is…
Anywhere in St. Ouen's Bay. It is my favourite place in the world and has been since childhood. I love how unspoilt the bay is and now that it's part of the Jersey National Park, it should be protected for the foreseeable future. The National Trust's Wetland Centre at St. Ouen's Pond is a magical place for a spot of birdwatching. Watch Marsh Harriers quartering the reed beds and hunting around the pond.
As a child I loved boogie boarding in the bay and I still enjoy this activity on a summer's afternoon when the tide is high. If you don't have your own, you can hire a board from the Jersey Surf School at Le Braye.
How do you like to unwind?
When you're retired you don't need to unwind! However, I love walking on the cliff paths on the north coast of Jersey. One of my favourite walks is from Grosnez Castle to Grève De Lecq. On this walk you have beautiful views of our sister islands and the coast of Normandy. At Plémont, if you are lucky, you could see Puffins and Fulmar. I have also occasionally encountered Ring Ousel on this walk. This bird is a mountain blackbird and passes through Jersey on migration.
After finishing this lovely walk, Colleens in Grève De Lecq is a great spot for a leisurely breakfast while you enjoy the delights of this quite beautiful bay! The advantage of Grève De Lecq is you can swim at any state of the tide. We are so lucky to have so many lovely places to enjoy in our island home.
What's your favourite quirky, historic fact about Jersey?
When King Charles I was beheaded in January 1649, the first place to proclaim his son Charles II king was Jersey!
What's your favourite view in Jersey?
When you drive down to La Pulente and as you take the bend and descend the hill you have this beautiful view of St. Ouen's Bay in all its glory! A wonderful vista.
When friends and family visit, I always make sure they...
I would always encourage a visit to Jersey Zoo. The work Durrell undertakes is of critical importance in saving animals from extinction, and helping to ensure the protection of rain forest and other important habitats.
Find out more about some of Roger's favourite spots.
You might also like...