Sight / landmark | Family attraction | History & heritage
La Hougue Bie Museum
A truly memorable experience that is both thought provoking and peaceful. Unlike many other dolmens, you can stand inside its chamber and feel the atmosphere of this profoundly sacred space. The passage grave is one of the ten oldest buildings in the world.
Price: £7.40 - £11.35
More Information
At La Hougue Bie you will discover traces of life in Jersey from Neolithic times to the German Occupation of World War II. The Neolithic passage grave is one of the 10 oldest buildings in the world (4000–3500 BC). Its ancient chamber was once a sacred space for rituals and ceremonies and was built to align with the rising sun at spring and summer equinox.
On top of the prehistoric La Hougue Bie mound is a 16th–century Christian chapel with spectacular views. Nearby is a replica Neolithic Longhouse where you can talk to our volunteers about life in the New Stone Age.
You can also visit a German command bunker from World War II and follow the story of forced workers brought to Jersey by Organisation Todt.
We are open all year round.
| | |
| --- | --- |
| Monday: | 10:00 - 16:00 |
| Tuesday: | 10:00 - 16:00 |
| Wednesday: | 10:00 - 16:00 |
| Thursday: | 10:00 - 16:00 |
| Friday: | 10:00 - 16:00 |
| Saturday: | 10:00 - 16:00 |
| Sunday: | 10:00 - 16:00 |
Indoor

Outdoor

Family friendly

Catering

Parking

Hearing loop
Accessible parking or drop-off point
Accessible toilets
Hearing loop
Level access to dining room, cafe or restaurant
Level access to main entrance
Partially suitable for visitors with limited mobility
Location
La Hougue Bie
La Route de la Hougue Bie
Jersey
Grouville
JE3 9HQ

Offers and events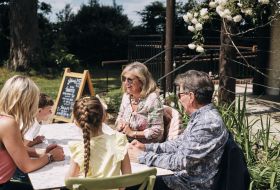 The year is 1797 and Mary Le Brun has come to La Hougue Bie to take a look at the Gothic folly that is the magnificent Princes' Tower. Mary can tell you more about the project and why is Captain D'Auvergne is building such a thing, and are the rumours about him true? Find out about the Gothic folly that is the magnificent Princes' Tower from Mary.
from £7.40
Jun 02 2023 ‐ Sep 29 2023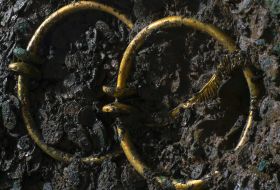 In 2012, the world's largest Celtic hoard was discovered buried in a field in Jersey. This exhibition explores what might have led people to bury a hoard of 70,000 coins and jewellery in Jersey, 2000 years ago and looks closely at some of the items found within the hoard.
from £7.40
May 27 2023 ‐ Dec 31 2023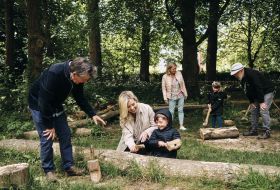 Discover the island's best stories with some creative family fun! Our Discovery Day events bring the best of storytelling, arts and crafts, trails and dressing up. Come and discover what treasures have been found in Jersey over the years.
from £7.40