With its breathtaking coastline, Jersey is awash with picture perfect BBQ spots where you are free to be together. Stoke the embers of your heart by enjoying good food with good friends in the great outdoors. From beaches to grassy headlands with free to use BBQs set up and ready to go, you'll find plenty of places to get grilling in Jersey.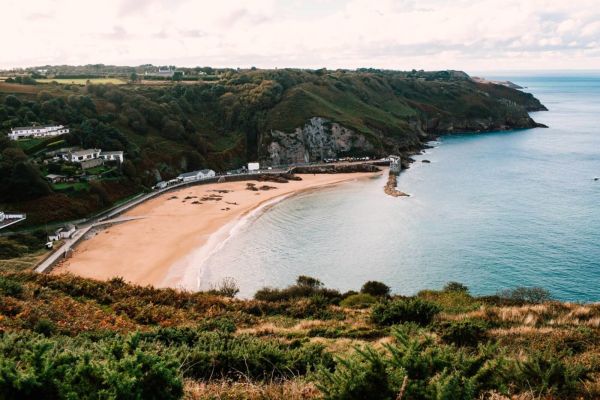 A bounty of beaches for BBQs.
Jersey's coast is a treasure trove of beaches and bay. From sweeping sandy expanses, small sheltered bays to quaint harbours. You'll find so many spots to throw a sausage on the barbie. While away the whole day with your toes in the sand or get your BBQ sizzling and tuck in as the sun sets over the sea. Find you perfect beach BBQ spot below.
Be safe with your barbie.
Place your BBQ in a safe area, away from places such as gorse and heathland that can easily catch alight.
Never leave your BBQ unattended at any time.
Have a bucket of water or sand nearby in case of emergencies.
Don't drop lit matches or cigarettes anywhere.
Be careful when disposing of ashes and/or a disposable BBQ as it may still be hot.
Charcoal emits the toxic gas, carbon monoxide, so keep your BBQ down wind and in the open air.
If you're using a gas BBQ make sure it's in good working order and check the manufacturer's instructions about how to check for potential leaks in connections/hoses and that the regulator is correctly fitted.
BBQ from dawn to dusk.
Sunrise breakfast – La Coupe.
For early birds, there's nothing more revitalising than seeing a Jersey sunrise. Located in the eastern corner of Jersey's coastline, enjoy panoramic views of from La Coupe Bay just north of St. Catherine's Breakwater. A tranquil and picturesque bay, on a clear day it is possible to see France. Don't forget your flask of tea to accompany your sausage butty!
BBQ from dawn to dusk.
Lunch – Faulkner Fisheries, L'Etacq.
A hidden gem, a fish and shellfish vivier housed in a Second World War German bunker. Don't miss the seafood BBQ served throughout the summer at Faulkner Fisheries, L'Etacq.
BBQ from dawn to dusk.
Sunset BBQ – La Saline.
At the northern end of the sweeping St. Ouen's Bay, La Saline is a quiet spots along the bay. Pitch up on the sea wall, light the coals, grab some local John Hackett sausages or some hand dived scallops, sit back and relax with a beer in hand whilst the sun slowly sets.
Next:
Lunch – Faulkner Fisheries, L'Etacq.
Farm shops and markets.
Where to pick up local produce to pop on the barbie.
If you're planning to light up your barbie, why not fill it with a spread of local Jersey produce? What could be better than a grilled lobster caught fresh the same morning or crunchy local asparagus sizzling away on the open coals? On your adventures around the island, you'll find 'hedge veg' farm stalls dotted through the countryside where you can 'grab and go' produce straight from the field. Don't miss popping into the Central Market and the Beresford Street Fish Market to pick up even more treats to enjoy on your BBQ. The island is also bursting with farm shops, so take your pick and plan a barbeque feast to remember.
Don't fancy doing the cooking?
If you'd rather someone else did the cooking for you, you're in luck. Check out these chilled out places to tuck into local fare. With all the vibes of a beachside barbie but without the need to cook yourself… perfect if that's more your style.
You might also like...