The best fun is had when the result is rosy cheeks and sandy feet. Wild adventures await in the island break that will have the whole family roaring with laughter and little heads full of wonder. Jersey's small size means you can make the most of family time, whether you're exploring new places, making new memories, or just relaxing together.
Here are our top seven tips to get you ready for your wild, island family adventure.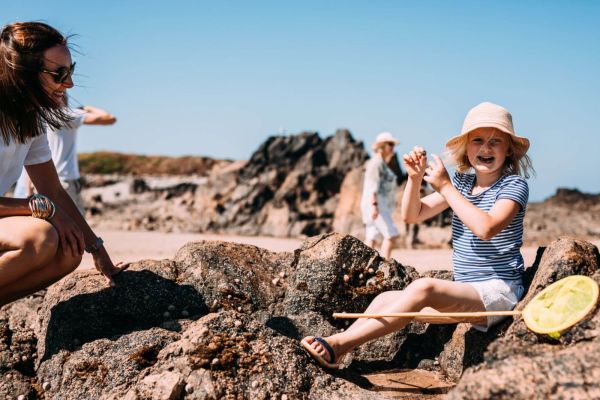 1. Hunt for buried treasure.
A stroll along a Jersey beach is like participating in an endless treasure hunt whose gold and jewels are the myriad of sea creatures that live among the sand and rocks, or are washed onto the shore from deeper waters. With over 300 different species of seashell and long sandy beaches on which they may be washed up, Jersey is one of the best places in Europe for collecting shells.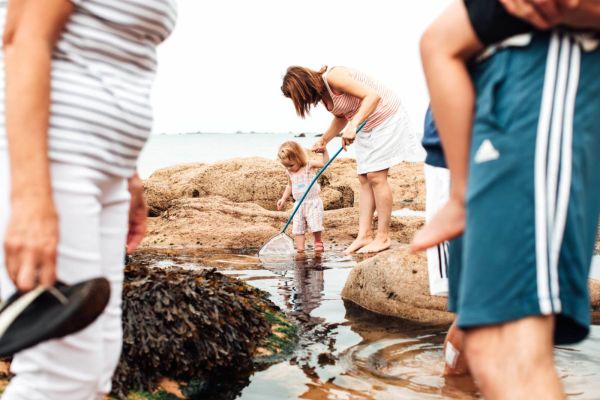 2. Go on a rock pool ramble.
Explore Europe's largest, rocky intertidal zone. When Jersey's tides drop, the warm beach rock pools are left behind and are teeming with life from tiny crabs and fish to colourful sea anemones. Stay still, keep quiet, and adventurous rock poolers will be rewarded with glimpses of sea creatures at their feet. Try Grève de Lecq and Green Island at low tide for easy access rock pooling – make sure you check the tide times and don't venture too far out.
3. Wander in the woods.
Find your own path through Jersey's wooded valleys and experience them as they change colour through the seasons. St. Catherine's Woods is one of Jersey's best known woodland walks, with stepping stones to cross, rope swings to discover and plenty of leaves to kick your feet through. Don't forget to look out for Jersey's native red squirrel.
4. Go wild at Jersey Zoo.
Jersey Zoo began as the first ever conservation-themed zoo. 60 years later, Gerald Durrell's animal haven is the natural place to discover some of the world's most incredible creatures including gorillas, flamingos, lemurs and meerkats. Whether you're after fun, tranquillity, knowledge or a place to soak up the sunshine, this stunning 32-acre park with valleys, woodland and some of the world's rarest animals is the perfect chance to experience 'the jewel in Jersey's crown'. Relax and stay a while or see the best bits in under two hours.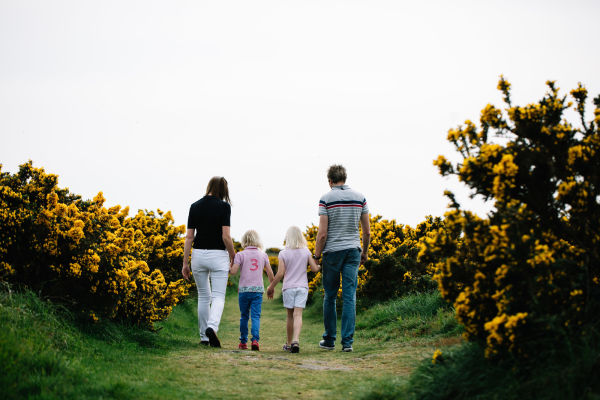 5. Learn survival with bushcraft.
Bushcraft for children is a way to teach them what nature can provide, and is a wonderful way to bond with nature. Spend family time having fun outdoors, getting muddy in the process. With Jersey Adventures get back in touch with nature and experience ancestral living with a two-hour bushcraft session. Forage for your own edible plants and medicines, build a shelter out of minimal equipment and try your hand at fire lighting.
6. Discover a unique world at the Wetlands Centre.
Perfectly situated overlooking St. Ouen's Pond, the Wetland Centre gives you and your family an opportunity to not only view the interesting and diverse bird life found at La Mare au Seigneur, but also to learn about the reserve's wildlife and rich history, safeguarded by the National Trust for Jersey.
7. Fun and games at aMaizin! Adventure Park.
A great choice for a family day out come rain or shine, with plenty of outdoor fun and an indoor play barn for wetter days. With everything included in your entrance fee, the whole family will be entertained all day. You can mine for gold, ride a go-kart, bounce on a pillow, get wet and wild in a water fight, meet the farmyard animals and test your bravery on the drop slides.
You might also like...