The beaches in Jersey have the power to take your breath away and leave you standing in awe. From mile after mile of sand, to cliff-encircled coves and vast expanses of lunar landscapes, the beaches in Jersey are breathtaking and waiting to be discovered in the island break. Explore these best beaches that made it onto our top 6 list of Jersey beaches. But which is your best beach in Jersey?
St. Ouen's Bay.
With mile after mile of beautiful sand, cleansed twice a day by Atlantic waves, St. Ouen's Bay is the spiritual home for Jersey surfers and thrill seekers of all kinds. An expansive, sweeping bay where you can experience a true sense of space and the rush of nature's power as the waves pound the coast. St. Ouen's Bay will awaken your senses and clear your mind.
Places to discover and things to do nearby.
Plémont Bay.
You wouldn't think so from the quiet turning off the main road, but at the end of this winding lane, the adventurous will discover one of the island's most striking hidden away beaches. Plémont beach is shouldered either side by high cliffs and the island's largest caves, creating a sheltered crescent-shaped sweep of golden sand and rock pools at low tide. Plémont will make your jaw drop with its epic drama and natural wonders.
Places to discover and things to do nearby.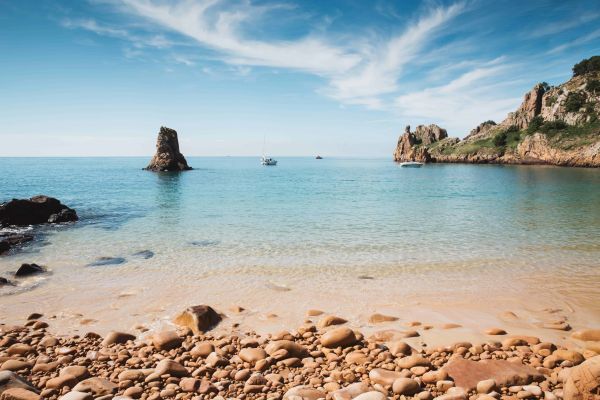 Beauport Bay.
Beauport feels a million miles away, yet it's just tucked around the corner from the popular St. Brelade's Bay. When you stumble across this secluded spot down the steep winding steps, you might just think you've discovered a secret gem. With crystal blue waters and flanked by cliffs of pink granite, Beauport is a little slice of Jersey paradise.
Places to discover and things to do nearby.
Portelet Bay.
Evoking the aura of a long-lost paradise island, Portelet Bay is the treasure at the end of the trail. You won't find pirates or castaways here though. You'll find a sheltered bay surrounded by cliffs and one of the best pizza places in Jersey perched on the edge of the sand. Made for exploring, Portelet is home to the Ile au Guerdain which has its own tale to tell. Portelet Bay will spark your imagination and carry you away.
Places to discover and things to do nearby.
The Royal Bay of Grouville.
Royal in name and royal in nature, Grouville Bay is a swathe of pristine coastline that starts at the majestic Mont Orgueil Castle and sweeps south towards La Rocque harbour. At low tide, the bay is transformed into a vast lunar landscape of gullies and rock pools. The bay is also home to Jersey's oyster beds where these little delicacies are grown and harvested. Grouville Bay is waiting to be explored.
Places to discover and things to do nearby.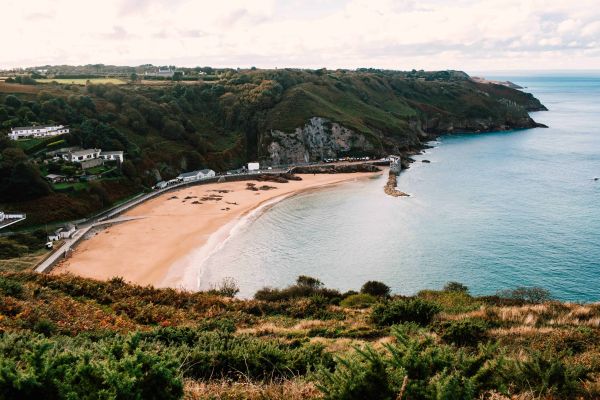 Grève de Lecq.
The distinctive orange sands of Grève de Lecq beach make it unmistakable and picture perfect. The bay is fringed with wooded slopes and hugged by cliffs, making it feel like the island is giving you a warm hug. Just around the coastline, secret beaches and caves only accessible by sea are waiting to be uncovered. Discover them with a local guide. Grève de Lecq is the long-lost friend you've been searching for.
Places to discover and things to do nearby.
Map of beaches in Jersey.
Discover the locations of these breathtaking beaches in Jersey.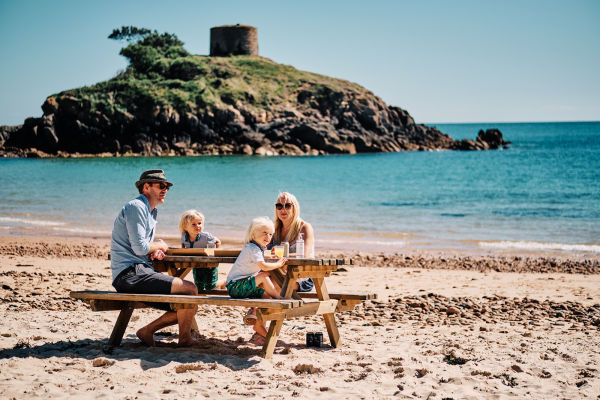 Rules and tips for Jersey beaches.
Whether you decide to go north, head out east, cruise down south or swing by the west, you will find an abundance of amazing bays with crystal clear waters and golden sandy beaches in Jersey. To keep our bays breathtakingly beautiful, we encourage all those who visit our beaches to leave nothing but footprints and responsibly enjoy Jersey's incredible landscape.
Heading to the beach?
We've answered some popular beach questions, so you can be sure to make the most of your island break.
How many beaches in Jersey?
What is the largest beach in Jersey?
Are dogs allowed on Jersey beaches?
Can you BBQ on the beach in Jersey?
Don't just take our word for it.
Take a peek at some pictures captured by locals and visitors.
You might also like...