Jersey is an island bursting with atmosphere, boasting ambiance in abundance.
From quaint harbours where the clinking sound of ropes on masts from bobbing boats drifts on the breeze accompanied by the squawk of resident seagulls; to the natural ebb and flow of the village life islanders enjoy; complete with lazy afternoons spent in boutique bars, cosy pubs or contemporary coffee shops – the perfect place for a spot of people watching. Out of town villages are the place to discover unique finds at exclusive emporiums and indulge in tasty treats from artisan bakeries. Explore our insider's guides, delve into island life and experience Jersey like a local.
1. Rozel.
Situated in the north-eastern corner of Jersey, Rozel is a beautiful tranquil bay boasting stunning views across Les Ecrehous to France.
Rozel is a working fishing harbour and here you'll see the ebb and flow of those who work on the water. A small strip of sand provides a perfect picnic spot and a profusion of rugged rock pools are revealed below the harbour wall at low-tide.
Rozel Harbour is home to fishing boats, brightly coloured beach huts and one of the island's most beloved beach-side cafés, the distinctly decorated, Hungry Man.
Famed for steaming mugs of hot chocolate overflowing with whipped cream, marshmallows and more. If you're feeling hungry then savour the flavour of a fresh crab sandwich or try the 'double decker health wrecker' burger if you dare!
Head up the hill and you'll uncover the charming Chateau La Chaire boutique hotel; nestled on the cliffs of a picturesque green valley, surrounded by beautiful gardens this grade II listed country house hotel provides a perfect retreat, where you can truly escape from everyday life. Sister to the hotel is one of the busiest and best traditional country pubs in the island, The Rozel Pub & Dining. Just a two-minute stroll from the hotel, here you'll find traditional home cooked food by the most friendly and welcoming team.
2. St. Catherine's.
St Catherine's is a rocky beach in the north east of the island, consisting of small coves and rocky inlets.
A highlight of a trip to St Catherine's is a stroll along the 700 metre breakwater, built in the middle of the 19th century as one arm of what was to be a massive naval station, the original idea was to create a secure anchorage by building two long breakwaters from Verclut and Archirondel, however work on the project was halted when it was decided that the bay was not deep enough to take the latest design of steam ship.
Today, the breakwater is a popular place for anglers and is home to the friendly and relaxed The 3 Arches café, grab a coffee and a ciabatta here and watch the coming and goings from a deckchair seat. This is also HQ of the awesome Jersey Seafaris where you can book unforgettable RIB tours and private charters around Jersey's magnificent coastline and offshore islands.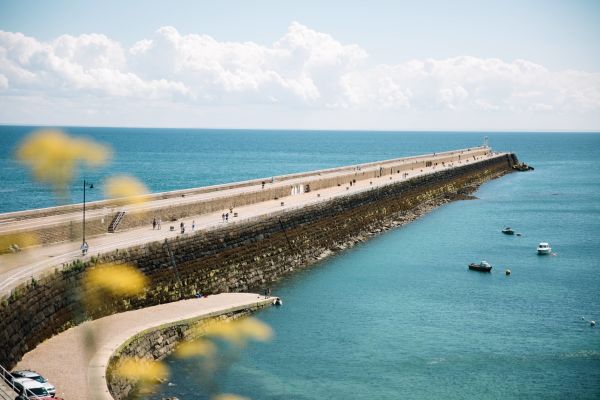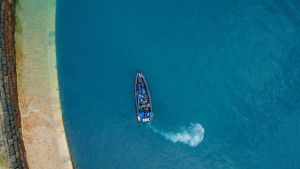 The sheltered waters behind the breakwater make a perfect watery playground for sailors, canoeists, and kayakers; and for those who are feeling adventurous, grab a harness and a hard hat and experience an exhilarating abseil.
Did you know that St Catherine is home to a turbot farm set within a former German war tunnel? An interesting must see and naturally no trip would be complete without a visit to the Jersey Sandman to see his sensational sand creations.
3. Gorey Village.
Pastel coloured cottages, amazing alfresco restaurants and pretty pavement cafés all overlooked by a magnificent medieval castle; these are the trademarks of Gorey.
A village with two distinct facets; each with a feel-good French vibe. Stroll along the pier and stop to watch the world go by, coffee in hand, as you soak up the relaxed atmosphere of this idyllic island corner or grab a croissant at the village café.
Walk to the end of the pier and climb down to the rocky beach hidden just behind the harbour. Admire the historic castle battlements up close, and discover the secluded path leading up to the magnificent Mont Orgueil Castle. As well as offering a secret historic access route to the 13th century castle, it's also one of the best places to spot Jersey's native green lizards lazing on the warm sun-soaked granite walls.
Close by you'll find hand-crafted ceramics from local artist Jane James and souvenirs from Jersey Pearl. Venture further into Gorey village to discover Eclat, a fashion and accessories boutique with a curated collection of fantastic finds and take a break at the next-door Kitchen Café, with homemade cakes and tasty breakfasts.
The fishing village of Gorey is a centre for food heritage, from the steep castle-facing fields where the first of the island's Jersey Royal potatoes are harvested to the buzz of the local fishing industry and the oyster beds revealed by the falling tide. Food has been a big part of Gorey life for centuries.
Stay around for supper and be spoilt for choice. Gorey is home to great local restaurants, live like a local at the Dolphin pub, 'nip' to the Crab Shack for exceptional gastropub food complimented by castle views, or 'Feast' on the pier for a contemporary take on British and French cuisine. If fine dining is your thing, treat yourself to a delectable dinner at Sumas, where phenomenal local produce and seafood are served in a stunning setting.
Living like a local; then it just has to be fish and chips from Entwhistles in the village. There's been a fish and chip shop in the same location for longer than most people can remember and there is nothing that quite compares to a fish and chip takeaway enjoyed on the beach.
4. St. Mary.
Surrounded on all four sides by sister parishes and with a network of tranquil green lanes, St. Mary is a true countryside gem and home to the National Trust for Jersey, who are headquartered in the parish at The Elms, a beautiful 18th century farm complex.
Take it at your own pace in St Mary, there's plenty to see and do. Discover the mysterious Devil's Hole; a large craggy crater in the cliffs, stop off for a pint in The Priory Inn and then visit the nearby artisan studio to find Glyn Burton and Marc McCarty both of whom are glass workers and local artist Anita Eastwood is based here too.
Head to the sheltered sandy beach at Grève de Lecq, the tide never goes too far out here so splash in the sea to cool off on sunny days or explore the treasure of the rock pools, filled daily with the incoming waters.
Take a tranquil stroll amongst the vines at La Mare Wine Estate, and then of course sample their delicious produce, which includes not only fine wine, superb spirits, crisp cider from the orchard's apples but also handmade confectionary and preserves including the famous Jersey Black Butter – a true bounty!
5. St. Aubin's Village.
Curled around one of the island's original harbours, the enchanting fishing village of St. Aubin is a fascinating tangle of historic houses and steep streets which open out to reveal stunning sea view panoramas.
Promenade along the Bulwarks – where a stroll will take you past restaurants, bistros and bars; including the Old Court House, which you may recognise as Jim Bergerac's favourite spot for a tipple.
Shaded alfresco courtyards and decks offering harbour views are the perfect place to enjoy a plate of local seafood and a glass of crisp refreshing white wine or a pint of the island's finest Liberation Ale.
Quirky shops offer up unique finds and the Harbour Gallery, complete with an in house café and deli, is a cornucopia of creativity showcasing work from over 100 talented local artists and artisans.
Tucked away just behind the village you'll find a gentle walking route waiting to be explored. The smooth, well maintained, tranquil tree lined path of the Railway Walk, so called because it was once the route for long lost island steam trains, heads upwards towards La Corbière Lighthouse on the south western tip of the island. Stop here for a delicious Jersey ice cream before heading back into the Bay.
Venture into the heart of St. Aubin and you'll get a taste of the village's unique local flavour and its proud heritage, from the 18th century merchants' houses lining the cobbled streets to the wild geese and ducks that gather on the harbour slipway.
Heading back to town? Then take the train…whilst the hiss of the steam locomotives may be a distant memory, a scenic tour on Le Petit Train, complete with commentary, is the perfect way to travel.
6. Bonne Nuit.
Bonne Nuit Bay or "Bouonne Niet" in Jersey French, translates as 'Good Night', in recognition of the safe and sheltered harbour where passing boats can take refuge from wild seas in windy weather. With an interesting heritage, this hidden alcove on the north coast was a popular place for smugglers to conduct their devious deeds during the 17th and 18th centuries.
Tucked at the foot of imposing cliffs which keep all but the northerly winds from disturbing the peace and quiet of this sheltered bay, visitors are rewarded by the views across to the neighbouring islands of Guernsey, Sark and the coast of France which are quite simply spectacular.
In 1834 a small fort, "La Crete Fort", was built on the headland to ward off a French invasion, now the official summer residence of the Lieutenant Governor of Jersey, this tranquil property, surrounded on three sides by the sea, provides a unique accommodation option for an unforgettable island break.
Fans of Thai food definitely shouldn't miss the Bonne Nuit Beach Café as it serves some of the best and freshest Thai dishes in the island along with continental food and scrumptious home-made cakes.
Discover more ways to explore and experience Jersey.
You might also like...