It's one of Jersey's best known locations, a relaxed fishing village with its pastel coloured cottages and alfresco restaurants, all overlooked by the medieval battlements of Mont Orgueil castle. Make like a local and spend a few hours over a long lunch in the sunshine, shop for some artisan food discoveries or experience Jersey's history up close with a castle tour. Soak up the almost-French atmosphere – it's not hard to get into the Gorey frame of mind and fall in love with the place.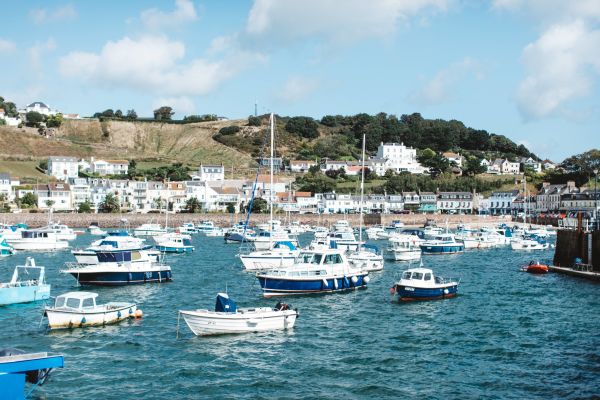 Make a stop.
The fishing village of Gorey is a centre for food heritage – from the steep castle-facing fields where the first of the island's Jersey Royal potatoes are grown to the oyster beds revealed by the falling tide and the local fishing industry. Food's been part of Gorey life for centuries, so take the opportunity to explore the village's many restaurants. Try some locally-caught fish or seafood in a place where 'catch of the day' means exactly that, all served with a harbour view.
Stay for supper.
Gorey's perfectly positioned to catch the evening sun. Stay in the village a little later and have dinner on the pier or with a castle backdrop – Gorey's a centre for great local restaurants so expect to be spoilt for choice. Try Jersey Crab Shack Gorey for excellent gastropub food with castle views, or, on the pier itself, Feast offers up a contemporary take on British and French cuisine whilst The Moorings  is the perfect spot for for a sharing platter or long,  leisurely lunch. Sumas has stunning views overlooking the harbour and serves top notch local produce and seafood.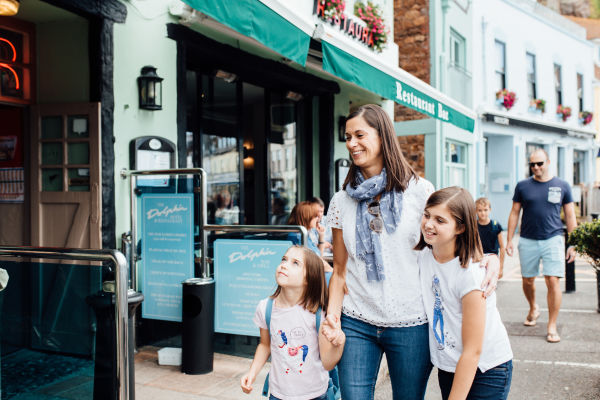 Shop.
Gorey has two different sides to its character: Gorey Pier, where you'll find a concentration of local restaurants, and the more residential Gorey village, home to a collection of more local stores. Don't miss the chance to experience both – close to Gorey Pier you'll find local souvenirs from Jersey Pearl and hand-crafted ceramics from local artist Jane James. Venture into the Gorey village to discover Eclat, a fashion and accessories boutique with a curated collection of finds, and the next door Kitchen café, with homemade cakes and tasty breakfasts.
Discover.
Sitting on the east coast of Jersey, and about 14 miles from the coast of Normandy, the small village of Gorey was, for hundreds of years, the frontline of defence between the British Isles and its enemy, the French.
Interested in finding out more about the fascinating history of Gorey? Then make sure to catch up with 'Villages by the Sea' on BBC iPlayer as archaeologist Ben Robinson follows the story of this small village's history as an important military location, from Mont Orgueil castle built in the 1200s to the experiences of the village in the second world war when occupied by Hitler's army.
You might also like...