For some couples in Jersey, the line between the personal and professional is quite a blurred one, because, not only are they partners in love, but they're also partners in business. Some of the island's favourite foodie spots are run by couples so, as it's February,  the month of romance, we thought it would be a good excuse to chat with them about all things love.
From the most romantic date night spots to their go-to restaurants – meet the Jersey couples who work together (and equally as impressive), stay together.
Cafe culture.
La Bouche.
Taking centre stage in Central Market, La Bouche is known for serving up one of the best brunches in town. Owners James and Melanie lived and worked in London together before moving back to Jersey and opening up this hip hotspot.  
What made you want to go into business together?   
We spent several years working together in London so wanted to have our own creative space and we saw an opportunity to create this in the Central Market. We love what it's becoming now, especially with our upcoming dinner service… so watch this space.
Where's your favourite place in Jersey for a romantic dinner date?   
Now we have the go-ahead for Friday and Saturday dinners in La Bouche, I guess we'd have to say La Bouche! Or we love going to our mates at Upstairs at Anley Street, Awabi, The Bass and Lobster, Hank Marvin or Crosstown for a music vibe.
You unexpectedly have Saturday off. Describe your perfect day in Jersey together.   
A lie-in for a start and then someone drops Bonnie our daughter back to us and we head for a walk down St. Ouen's beach. Then we'd drop in to Little Joe's for a bite to eat.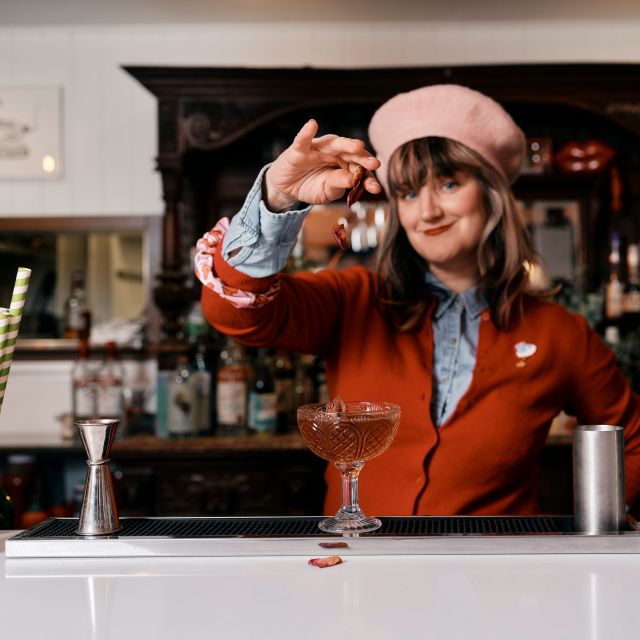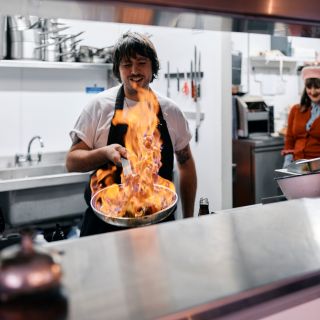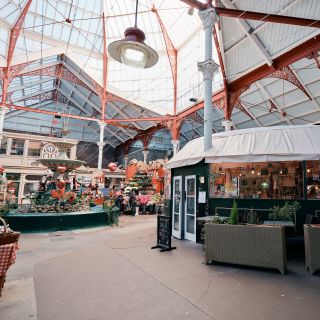 Pasta paradise.
Enoteca.
Enoteca is relatively new to the Jersey dining scene, but it's already made a name for itself. The charming restaurant in the heart of St. Aubin serves up a revolving menu of natural wines and the best pasta you'll find outside of Italy. Run by Kate and Marcello, they tell us how they make it work.  
How has it been working together at Enoteca since you opened?   
Fun and challenging. We've learned to listen to each other… most of the time.
Describe your perfect date night in Jersey.   
Sunset at the bay and a swim… after a bottle or two of natural wine.
If you weren't working, what would you get up to on Valentine's Day?  
Escape on a southern adventure, can you guess where?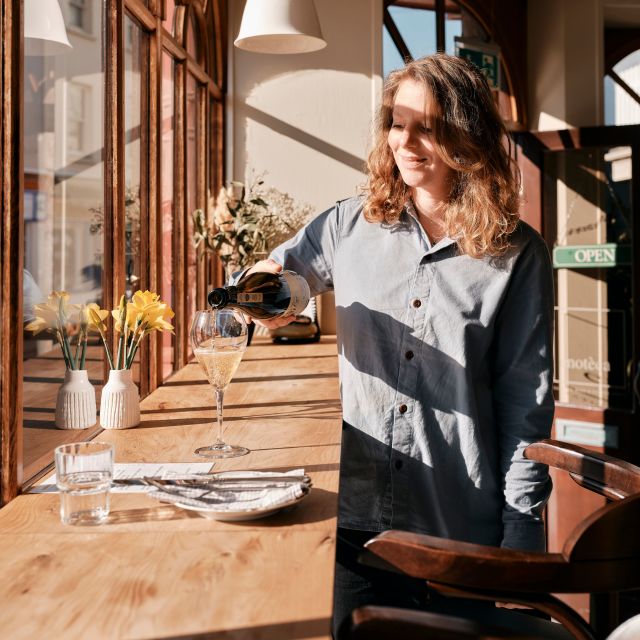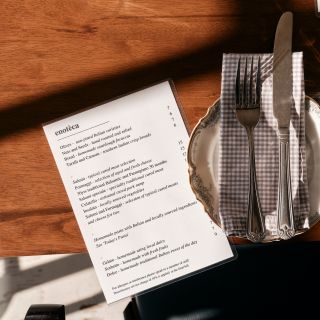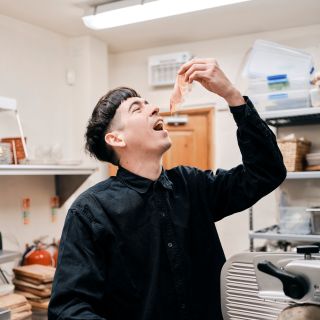 Life of pie.
Upstairs at Anley Street.
The delicious small plates and sharing pies (you have to try the pies!) at Upstairs at Anley Street are already the stuff of legend since Clare and Chris opened the restaurant in 2021.  
What's the best thing about working with your other half?  
Being proud of something you've achieved together is pretty special. We have opposite personalities, so we both bring very different strengths to the running of the restaurant, which usually (haha) works perfectly!
Where's your go-to date spot?  
Our dating hours run slightly differently to most. We love the Lamplighter for a pint, a pork pie and pickle. And the counter at La Bouche on a Monday lunchtime, eating up whatever deliciousness Mel and James have to offer.
Are there any places in Jersey that are particularly special to you as a couple?  
We love a Jersey walk. The Bouley Bay cliff path to Rozel is a favourite and it's where most of the menus get brainstormed. The beach walk from St. Helier to St. Aubin is also pretty special as well, as it's where we got engaged.
Well seasoned.
Number 10.
Number 10 has become a benchmark for culinary excellence on the island after it was opened by Joe Baker. Joe's wife Charlotte is now more involved than ever, as the restaurant goes in ever-exciting new directions.  
What's it like working together at Number 10?   
[Joe] Having always worked separately it took us some adjustment but it's lovely to share the load of any challenges and celebrate the highs together. Ownership, different skill sets and communication is key! Especially this year with Char being on maternity as we welcomed our gorgeous daughter Margot into the Number 10 family.
Where would you plan a date if you really wanted to 'wow' each other?   
[Charlotte] Our favourite date night is a sunset dip at Ouen's Bay, beers and a meal on the terrace at Le Braye. Simple pleasures. We've also been known to take margaritas for cocktails at the beach.
What's your favourite restaurant to go to on nights off?  
[Joe] We like Awabi, sitting at the bar and eating sharing dishes that we wouldn't cook at home. I love the Szechuan chicken wings.
You might also like...