Jersey's rich colourful canvas has inspired arts aficionados and world-class painters to make pilgrimages to our shores for centuries. Walk in the revolutionary footsteps of avant-garde artists like Claude Cahun, who drank and painted with Picasso, enter the world of abstract painter Richard Allen who reinvented form and colour during Jersey's swinging sixties. Flash forward and you'll find colourful murals splashed on urban street corners, pop-up art galleries in unusual spaces, and grassroots collectives that combine the new school with the old, from sublimely beautiful watercolours to daringly bold digital drawings. Whether you're an art historian, part-time painter, or you're just after some wonderful wall-friendly pieces, there's plenty to explore.
Where two art worlds collide.
Jersey sits at the cultural crossroads between British and French influences. An island where two art worlds converge and the big ideas that lit up the European and British schools of art found their most harmonious expression. Our unique blend of continental flavours has created a vibrant artistic milieu for world-famous artists and authors to experiment, push boundaries, and take the art world by storm. Read the story of some of our big names, Blampied, Bosdet, Cahun, Lalique, and you'll notice they sound a bit…. French. They are in fact Norman French and part of our artistic and cultural heritage.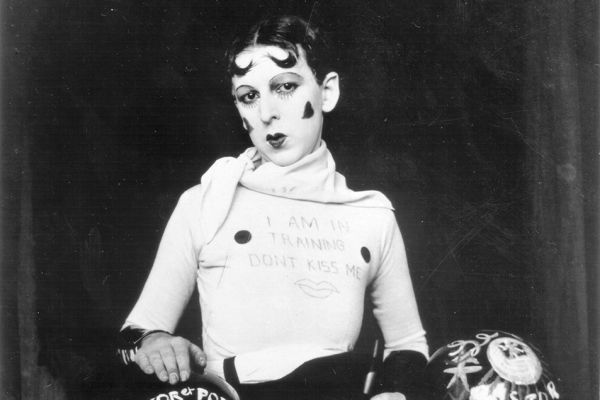 Surrealist, iconoclast, photographer.
Meet Claude Cahun.
Claude Cahun has had a bit of a cult following among art historians and critics since the 1990's when their work made a come-back on the arts scene. This surrealist photographer, sculptor and writer was born Lucy Schwob in France in the late 1800's and adopted the gender-neutral pseudonym, Claude Cahun. Ahead of their time, they are perhaps best known for their enigmatic self-portraits which challenged gender stereotypes and for creating some of the most original photographic images of the 20th century. They moved to Jersey in the late 1930's with their step-sister and lover Marcel Moore and nearly got themselves killed after being arrested and imprisoned by the Gestapo for their resistance activities during the Occupation. They remained on the island after the war, until their death in 1954. The world's biggest collection of Cahun's work can be found at The Jersey Museum & Art Gallery.
Meet Sir Claude Francis – The passionate pointillist.
Sir Claude Francis Barry, 3rd Baronet, was an etcher and painter in oils who was born in 1883 and moved to Jersey in 1949. He sold few of his works during his lifetime but left an impressive collection in his studio when he died. He used vibrant colours in his work and experimented with different styles including the French pointillist style of separating colours into dots so that from a distance they visually blend together. The subject of war inspired some of his best work and he produced several large canvasses of London in the Blitz. Lots of his works were nudes. His work is exhibited in various museums and art galleries and appears in private art collections.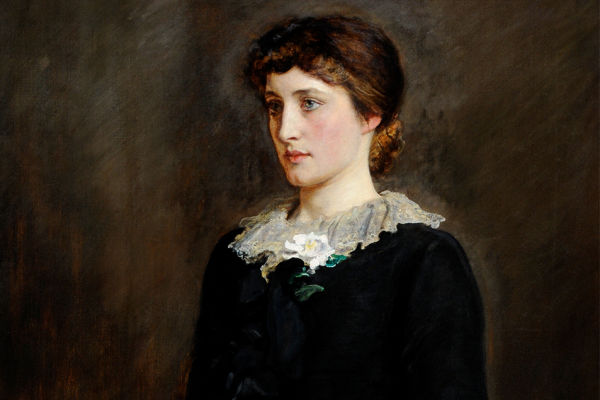 The man who gilded the Jersey Lily.
Meet John Everett  Millais.
Sir John Everett Millais was one of the most fashionable artists of the day when he painted Jersey actress Lillie Langtry at the height of her fame in 1878. The English painter and illustrator was born in 1829 and, having family here, spent most of his childhood on the island. He was the youngest ever student at the Royal Academy at the age of 11 and went on to become one of the founders of the Pre-Raphaelite Brotherhood. Dressed in her trademark plain black dress, A Jersey Lily is one of the best-known portraits in the Jersey Heritage collection. Crowds turned out to see it when it was exhibited at the Royal Academy in 1878, the most prestigious venue in 19th century London. Go and see the portrait for yourself at the Jersey Museum & Art Gallery.
Meet Richard Allen  – The abstract virtuoso.
Richard Allen was at the cutting edge of abstract art during the 60's and 70's. Born in 1933, he first studied Agricultural Engineering before going to Art College and won a scholarship to study mosaic in Italy. Here he started photographing building site hoardings which inspired his Pop Art poster collages. In the mid 70's he stopped working with colour to focus on charcoal drawings on canvas and paper and in 1977 moved out of the London limelight to live in Jersey where his wife was from. He lived on the island with his family until 1991, before returning to the UK where his started his series of 'White Paintings', his last works.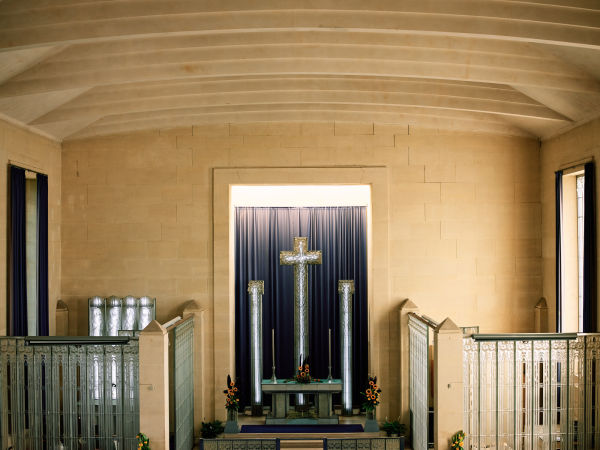 The inventor of modern jewellery.
Meet René Lalique.
St. Matthew's Church at Millbrook, known as the Glass Church, is a real masterpiece and internationally-acclaimed as the only remaining and complete example of René Lalique's heavy clouded glass. Lalique was born in France in 1860 and was one of the world's greatest jewellery designers and glass makers of the Art Nouveau and Art Deco periods. Dubbed "the inventor of modern jewellery", he developed a serious interest in glass after meeting the famous perfumer, Francois Coty. In 1934, Millbrook resident Florence Boot commissioned him to decorate the whole of St. Matthew's Church in glass in memory of her late husband, Jesse, the owner of Boots the Chemist. Lalique died in 1945 and has since been described as 'one of the greatest names of all time in the history of art'.
Meet Victor Hugo – The literary genius.
Victor Hugo, one of the greatest French writers who penned 'Notre Dame de Paris' and 'Le Misèrables', moved to Jersey in 1852 after being exiled from France for opposing Napoleon III. He lived on the island with his family for three years in a house called Marine Terrace, later known as Maison Victor Hugo. During his time here he wrote the series of poems "Les Chatiments". Hugo protested when the editor and owner of the local newspaper L'Homme was expelled for printing a rude letter to Queen Victoria. Hugo himself was subsequently expelled and left to live in Guernsey.
The master of light and colour.
Meet Henry Thomas Bosdet.
Shining through the panes of many of the island's churches is the work of Jersey artist Henry Thomas Bosdet. Born in St. Helier in 1856, Bosdet painted a number of portraits and French landscapes before turning his talents to creating a kaleidoscope of colour in stained glass. The Pre-Raphaelite art movement had a huge influence on his style, he pushed boundaries, tried new methods, and travelled to far-flung places for his craft. He really understood the medium of glass and how to manage refractive light and you'll find a rainbow of colours in his works of art, changing according to the time of the day, the seasons, and the weather. You can see some stunning examples of his work on display in St. Brelade's Church, the adjoining Fisherman's Chapel, St. Lawrence's Church, The Town Church, St. Aubin on the Hill, St. Saviour's and several other churches around the island.
Meet Edmund Blampied – The world-famous illustrator.
Edmund Blampied, one of Jersey's most renowned artists was born on a farm in St. Martin in 1886 and is best known for his etchings and drypoints depicting rural life on the island. His scenes of horses and carts collecting seaweed, or 'vraic', on Jersey's beaches were his preferred subject. He was a prolific lithographer, illustrator, cartoonist and caricaturist whose work appeared in hundreds of magazines and newspapers and his drawings and etchings were exhibited in the UK, New York and Paris. He also designed book covers and illustrated J.M. Barrie's Peter Pan and Wendy, published in 1939. You can see a range of Blampied's work at Stephen Le Cornu Antiques.
Immerse yourself in cultural events in Jersey.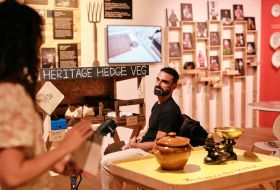 We are what we eat! This new exhibition is a celebration of Jersey's rich heritage of farming, fishing and food.
from £7.85
Nov 25 2023 ‐ Dec 31 2024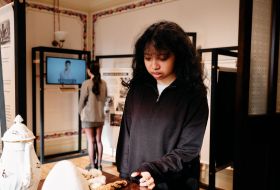 Thought-provoking, and at times challenging, this exhibition exposes some uncomfortable new stories from Jersey's past and examines the legacy and impact of transatlantic slavery on the island's community today.
from £7.85
Free for children
Nov 25 2023 ‐ Dec 31 2024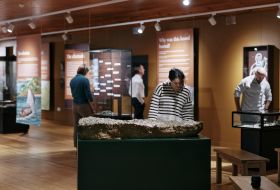 In 2012, the world's largest Celtic hoard was discovered buried in a field in Jersey. This exhibition explores what might have led people to bury a hoard of 70,000 coins and jewellery in Jersey, 2000 years ago and looks closely at some of the items found within the hoard.
from £7.40
Nov 25 2023 ‐ Dec 31 2024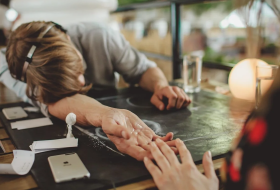 Etiquette is a half-hour experience for two people to experience in a cafe. There is no-one watching and other people in the cafe are not aware of it. You wear headphones which tell you what to say to each other, or how to use the objects on the table.
Free entry
Nov 25 2023 ‐ Dec 17 2023
Discover a colourful island.
Add a little culture to your island break by exploring Jersey's creative spaces.
You might also like...