Geoparks are outstanding places around the world that celebrate the links between people and the earth. Jersey, shaped by tide and time, is a strong contender for this special designation because of our island's exceptional geology and unique cultural heritage which forms the breathtaking surroundings we enjoy every day.
As an 'Aspiring Geopark', Jersey is on track to achieving the special designation of a 'Geopark.'
Explore Jersey's diverse landscapes, uncover our unique heritage and be inspired by our remarkable seascapes – it's all waiting to be discovered in our Aspiring Geopark.
Did you know that some of Jersey's Geosites date back 250,000 years?
Discover these spots around the island that have special significance.
Ways to explore the Aspiring Jersey Geopark.
Our Aspiring Jersey Geopark is made up of a number of geological heritage sites of special scientific significance, rarity or beauty. Just bring an appetite for adventure as you'll find breathtaking scenery, thrilling history, extraordinary things do to, unique places to stay and outstanding local food and drink, and it's all within easy reach.
Explore our otherworldly offshore reefs.
Explore the parts of the Aspiring Geopark that lie offshore. From an exhilarating RIB ride, to a lobster picnic and glass of champagne on a deserted beach to dolphin spotting – there is a Seafari for everyone. Jersey Seafaris, Island RIB Voyages and Nauti Buoy RIBs provide regular boat trips, tours and private charters around the beautiful coastline and offshore islands: Les Écréhous & Les Minquiers, giving you the chance to experience one of the biggest tidal ranges in the world, discover secret sandbanks and hidden wonders around every corner.
Walking.
Jersey's cliff-edged heights and wide sandy bays are best seen on foot, with a breeze to keep you cool. You'll find an extensive network of footpaths as well as winding country lanes, and breathtaking beaches. Walking is a great way to explore the outdoors allowing us to wander through Jersey's spectacular landscapes, enjoying this Aspiring Geopark's natural and built heritage.
You choose whether you want to explore at your own pace with one of our self-guide routes or join a walking tour. Whatever you decide we can guarantee some breathtaking scenery along the way!
Cycling.
Explore the Aspiring Jersey Geopark on two wheels, with a network of 15 mph 'Green Lanes' through the island's countryside and miles of bicycle-friendly routes, a cycle ride is the perfect way to explore our unique island. Enjoy taking in the sites from the slow lane or challenge yourself with an uphill climb. We may be small, but we pack many diverse, beautiful and challenging cycle routes into our nine miles by five.
You'll be spoilt for choice for bike hire in Jersey, you'll find mountain, leisure and road bikes and e-bikes if you're looking for a little assistance on your cycling trip around the island's lanes.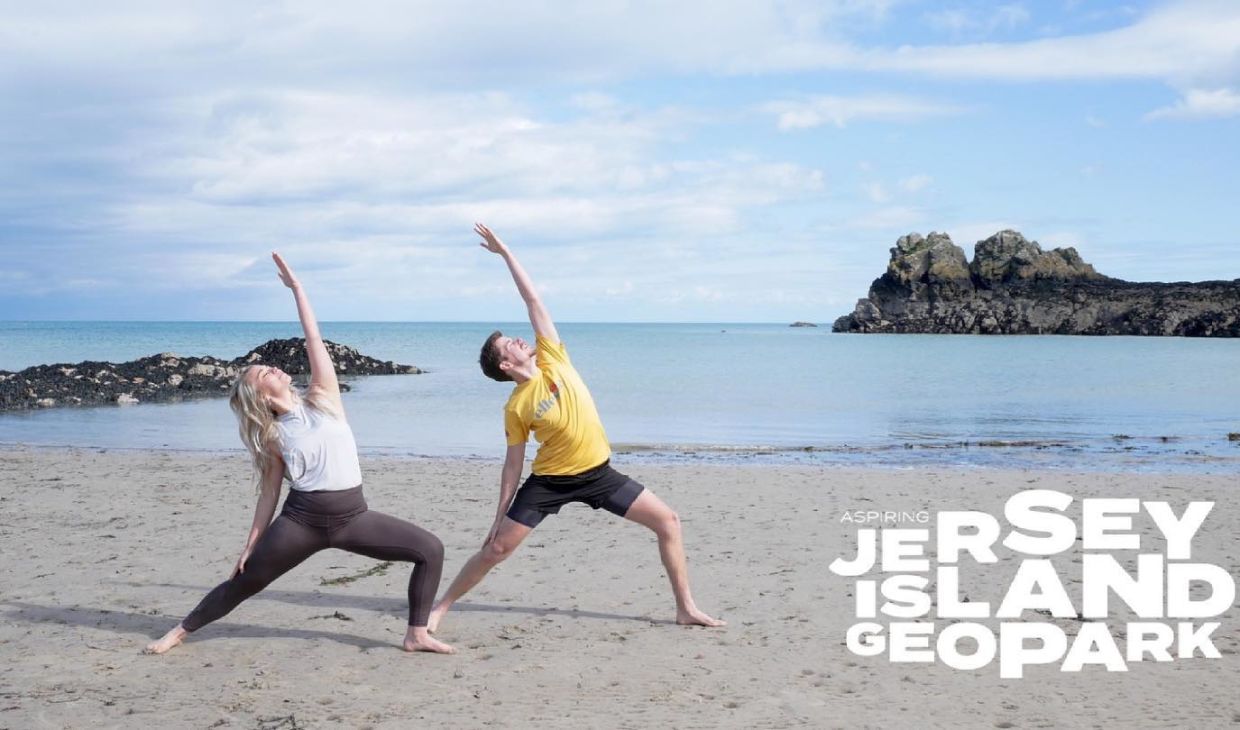 Find your flow in nature.
Yoga.
Why not get involved in wellness Wednesday's and join in on a restorative slow flow yoga, meditation, breathwork and moon ceremony? Held inside the historic mid-19th Century fort on Jersey's rugged north coast in The Jersey National Park – traverse the winding coastal path, cross the drawbridge and settle in for a blissful evening.
You can also practice stretching and celebrate the natural world with Delia at Bunker Yoga at unique locations that bridge the gap between indoor and out.
Take to the sea.
Discover parts of the Aspiring Geopark that lie offshore. Kayaking is the perfect way to discover Jersey's secluded beaches, bays and coves. Whether it's watching dolphins playing offshore or falcons hunting the island's coastal landscapes, relax and take in the seascape scenery at your own pace or on a guided tour with Jersey Adventures or Absolute Adventures.
Or, ever wanted to give SUPing a go? Test you're balance on a paddle board as you glide through clear blue waters. Whether a complete novice, or a pro, we guarantee you'll have a smile on your face! If diving is more your thing, Bouley Bay Dive Centre is Jersey's longest established dive centre offering a full range of dive courses.
If you want take things at a more leisurely pace, then jump onboard the Jersey Duchess to enjoy a 2-hour sunset boat tour? Go Sail also offer private charters for an unforgettable and unique experience on the water.
Find a spot to refuel in the Aspiring Jersey Geopark.
Don't miss out on all the appetising places to eat and drink in the Aspiring Jersey Geopark. You'll find plates bursting with local Jersey produce, from velvety Jersey Dairy to fresh oysters washed clean by the biggest tidal range in Europe. Jersey is packed with amazing places to eat to add an authentic local flavour to your stay.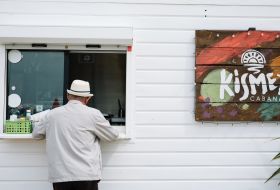 For fresh, exciting flavours from around the world or simply the best bacon roll in Jersey, Ouaisné Bay is where you need to go. Quality breakfasts, lunch and dinner to sit in or takeaway. Dine al fresco or in a marquee lit up with fairy lights. Great selection of vegan and veggie options available.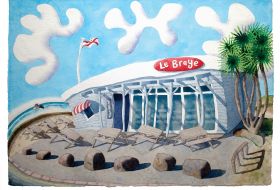 Le Braye is a family owned beachside bistro offering simple, fresh and delicious food and drink. The food pays homage to British seaside classics whilst Mediterranean influences nod to the more southern geography. The food is always fresh, locally sourced wherever possible, and consistently unfussy and delicious.
Book online
Delivery & takeout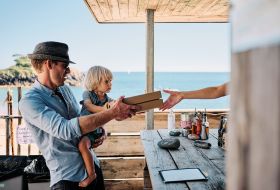 Portelet Bay Café is a family run café, located right on the beach at Portelet Bay. The café specialises in authentic wood fired pizza as well as seasonal fresh fish during high season and salads always using locally sourced produce wherever possible.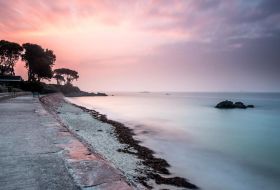 Green Island Restaurant & Beach Hut is a popular beachside eatery for locals & visitors in the know, specialising in fresh local seafood. A Mediterranean influence is evident through the décor, the ambiance & the style of cooking.
Why not stay a while?
Jersey offers a huge range of place to stay – from budget friendly to pure luxury, coastal to countryside and self-catering, this is an island that has it all. Wherever you decide to rest your head, one thing's for sure – our Curiously Brit…(ish) island is a place where you'll feel truly on holiday.
You might also like...