Cycling isn't just an exhilarating experience, it's also a great way to discover new food experiences. Breeze by beach cafés, stop for local seafood locally-brewed cider and feast at farm stalls. From a simple picnic of local cheeses to a tasting menu at a Michelin-starred restaurant, give your holiday an infusion of local flavour. And by choosing an active holiday, you can work up the appetite to enjoy even more gastronomic delights.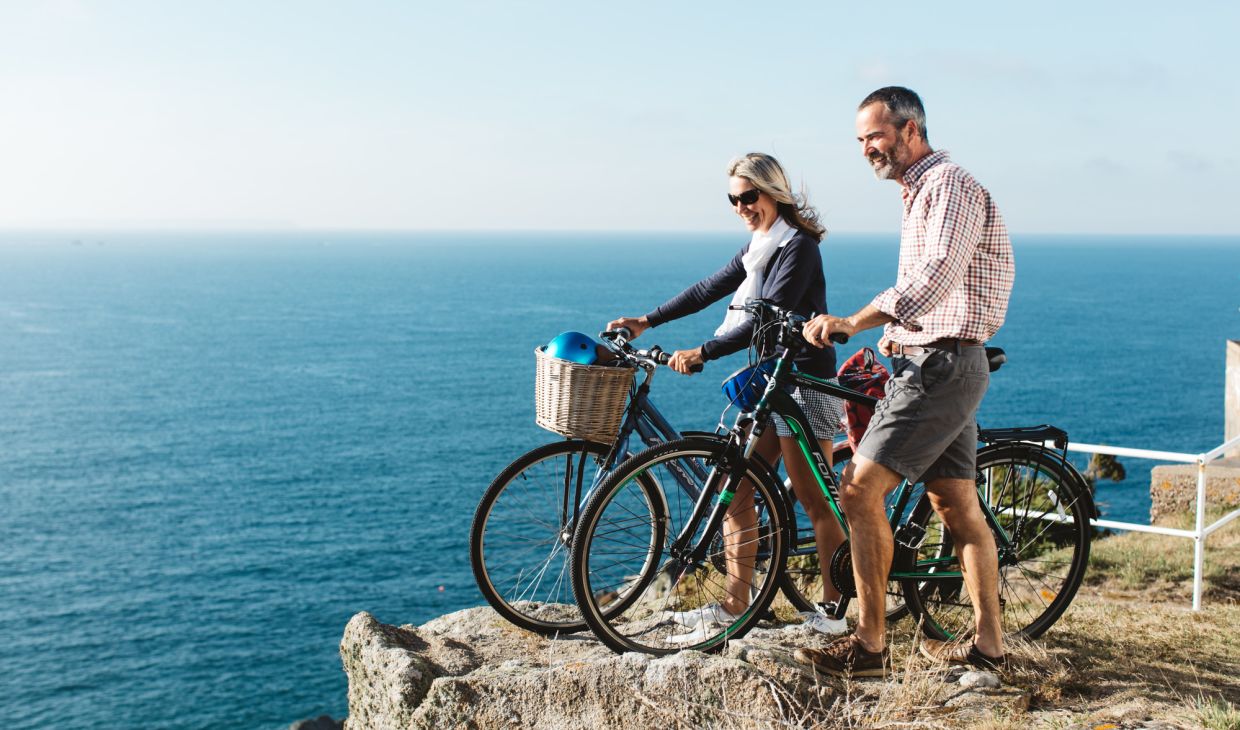 Cycling in Jersey
Sandy beaches, coastal routes, fresh local food and an island full of exhilarating cycling experiences. Discover the freedom of the open road, the sun on your shoulders and the wind in your hair on an island where the scenery changes from mile to mile, from wide and flat beachside roads to tree-lined country lanes. Experience the island by bike, give yourself time to think, let your mind wander and experience the island and all its atmosphere with all your senses.
West Coast route - 11 miles.
Set off from St. Helier along the St. Aubin's Bay cycle track, stopping at Lucas Farm Shop just outside St. Aubin's village for picnic supplies. At St. Aubin, follow Mont les Vaux and Route des Genets, and at Red Houses crossroads, carry straight on along Route Orange, turning right at Rue de la Sergente and down to La Pulente, cycling along the Five Mile coast road at St. Ouen. Look out for Jersey Royals at roadside farm stalls, and turn left at Route de l'Etacq to finish with fresh seafood at Faulkner Fisheries at the end of the bay.
East Coast Route - 8 miles.
Strike out from St. Helier in an easterly direction, and take the coast road for a mostly flat route that hugs the coast, rewarding cyclists with glimpses of the sea and at low tide, a fantastic 'lunar' landscape that stretches out for miles, with Seymour Tower in the distance. You'll cycle past the Royal Jersey Golf Club on the way into Gorey village, where Mont Orgueil Castle overlooks the harbour. Stop at one of the harbourside restaurants for lunch and a chance to admire the harbour views.
Circular foodie tour - 22 miles.
Start at St. Helier, cycle west along the cycle track to First Tower, heading inland towards Waterworks Valley. Cycle through this pretty valley turning right along Les Charrières Nicolle to Route de St Jean where you'll pass farmer Joe Freire's strawberry stall – buy a punnet or two. From there it's cross country through the Green Lanes past Jersey Zoo and down to Rozel for lunch at the Rozel Pub or the Hungry Man. Cycle the coastal roads past Archirondel and Ann Port with a stop at Gorey for delicious Jersey ice cream at Rhona's at the Beach, before returning to St. Helier.
You might also like...