Self-catering
Millais Cottage – St. Ouen
Steeped in history this traditional two bedroom granite cottage is set in the heart of a farming community. The property has been owned by the same family since it was built in the 1700s. The accommodation offers two large bedrooms, a spacious sitting room with feature window and outside space for those sunny days - the perfect summer getaway spot.
Price: £87 - £196
More Information
Millais Cottage is set in the beautiful and wild countryside of St. Ouen, with three amazing beaches within a short drive. The cottage forms part of a courtyard made up of rustic granite barns, stables and the main farm house; there is ample parking and it can be used for informal ball games (adult supervision required as the courtyard leads onto the road). To this day the immediate area around the property is predominantly farming and residential. The working farm buildings are now across the road from the accommodation from where the famous Jersey Royal New Potatoes are grown.
We are open all year round.
Please call the Jersey Self Catering Experts after reviewing our compressive website: https://www.macoles.com/index.htm Tel: 01534 608830 or email: [email protected]
Note: Pricing shown is for one night, normally min stay is for 7 nights Stay
Read more on our website
Location
Macole's Self Catering Holidays Limited
La Motte Street
Jersey
St. Ouen
JE2 4SY

You might also like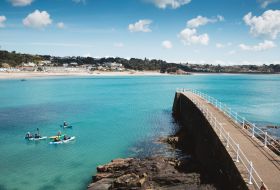 Specialist self-catering agent offering cottages, villas, apartments and unique historic accommodation options across the islands. Our website offers availability indication and transparent and easily understood pricing display. Our personal service to guide you to the right decision is highly rated by our clients.
from £74