Self-catering
Rozel Barn Cottage
A beautiful barn conversion offering the highest standards for the perfect holiday. Nestling above the beautiful Rozel Valley that leads to the picturesque harbour and bay. The spacious and stylish accommodation has four bedrooms and four bathrooms, plus a terrace with a family sized barbecue. Children of all ages are welcome.
Price: £183 - £432
More Information
Away from the hustle and bustle, with the advantage of a choice of eateries, bars and a tearoom nearby. The Jersey Zoo, Trinity Village and The Pallot Steam Museum are also short only a drive away. Memories are made of this!
We are open all year round.
Please call the Jersey Self Catering Experts after reviewing our compressive website: https://www.macoles.com/index.htm Tel: 01534 608830 or email: [email protected]
Note: Pricing shown is for one night, normally min stay is for 7 nights Stay
Read more on our website
Location
Macole's Self Catering Holidays Limited
Maison Amicale
La Rue de Trachy
Trinity
JE2 3JN

You might also like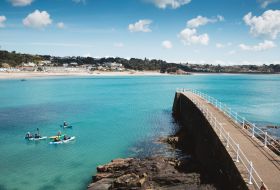 Specialist self-catering agent offering cottages, villas, apartments and unique historic accommodation options across the islands. Our website offers availability indication and transparent and easily understood pricing display. Our personal service to guide you to the right decision is highly rated by our clients.
from £74