Self-catering
Village Cottage Gorey
The beautiful Gorey Village is the setting for this basic one or two bedroom family cottage. The well kept and expansive gardens are a definite feature at this venue. There is a picnic table in the garden, ideal for breakfast on a sunny day.
Price: £74 - £107
More Information
The south west facing patio has a table, chairs, sun chairs and barbecue so you can have a true al fresco dining experience. A short walk takes you to a sandy beach, bus stop and a choice of shops and restaurants. Gorey harbour is approximately 1/2 mile away where you will find Mont Orgueil Castle and a larger selection of restaurants, bars, shops and cafe's. There are enjoyable walks from Gorey, both across the green lane network and along the coast.
We are open:
March, April, May, June, July, August, September, October
Please call the Jersey Self Catering Experts after reviewing our compressive website: https://www.macoles.com/index.htm Tel: 01534 608830 or email: [email protected]
Prices shown are for 1-night, minimum stay rules apply. Scenic views are of surrounding area and are not views from the property itself
Read more on our website
Location
Macole's Self Catering Holidays Limited
Maison Amicale
Jersey
St. Martin
JE2 3JN

You might also like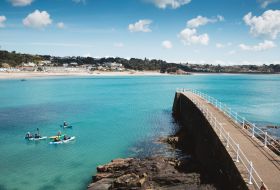 Specialist self-catering agent offering cottages, villas, apartments and unique historic accommodation options across the islands. Our website offers availability indication and transparent and easily understood pricing display. Our personal service to guide you to the right decision is highly rated by our clients.
from £74