While Jersey only has one dedicated vegan restaurant (more on that below), we have lots of top-notch places that offer plenty of vegan options. So whether you're a fully-signed-up member of the vegan community or just making a conscious effort to reduce your meat consumption, here are the restaurants in Jersey that offer meat-free munch.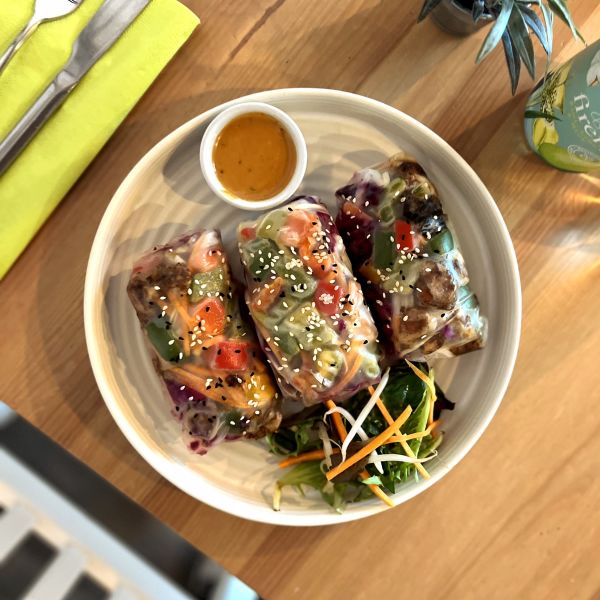 1. The Sinful Vegan.
The Sinful Vegan is right at the top of the list as Jersey's only dedicated vegan eatery. The café opened in 2018 and has been a firm favourite on the vegan scene ever since. It prides itself on offering an alternative dining experience with a 100% cruelty-free, plant-based menu. From spring rolls to vegan fish and chips, it's a must-visit for breakfast and lunch and is also open for dinner on Friday and Saturday. Oh, and gluten-free eaters are well-catered for too.
2. Awabi.
This pan-Asian eatery has lots of tasty options for vegans that are way more than an afterthought. No last-minute mushroom risotto on the menu here. From Korean fried cauliflower and hot and sour aubergine, to their famous kimchi pancake. The restaurant itself has just entered the Michelin Guide, loved for its roster of Asian small plates and the atmosphere of a late-night drinking den.
3. Nude Beach.
Head west from town and you'll find Nude Beach, a relaxed, beach-side hangout where you can tuck into creative and nourishing dishes as you look out to sea. Committed to its vision of a healthier way of life, Nude Food has plenty of vegan options and can make most of its vegetarian dishes vegan for you. Eating the Asian poke bowl with your feet in the sand, you'd be hard-pressed to believe you're still in the British Isles.
4. Kismet Cabana.
For fresh, exciting flavours from around the world in a laidback setting, Ouaisné Bay is where you need to go. Vegan diners are spoiled for choice at Kismet Cabana where they serve quality breakfast, lunch and dinner to sit in or takeaway. Try the mushroom burrito for breakfast and go back for the tofu curry in the evening. Dine al fresco or in a marquee lit up with fairy lights, and you might even catch some live music if you're lucky.
5. Ransoms Tearoom.
You'd be forgiven for thinking that a quaint tea room tucked away in a garden centre in a rural corner of the island might not be the most obvious place for vegan food, but Ransoms Tearoom likes to surprise. There's a huge selection of vegan cakes, vegan meals and even vegan no-milkshakes.
6. Pizzeria Famosa.
The words vegan and pizza might not usually go hand-in-hand but this pizzeria in St. Helier has lots of dairy-free options. Vegan cheese and an exciting mix of toppings mean you can devour slice after slice of the Italian staple with none of the environmental guilt.
7. Samphire.
For a vegan fine dining experience in Jersey, book yourself a table at Samphire. Paying homage to fresh produce found on the island, the team of dedicated chefs have created a series of contemporary menus and meticulously crafted plates. Let them know your dietary requirements when you book and you'll be presented with a vegan menu with lots of mind-blowingly delicious options.
Hungry for more? View more eateries offering plant-based options.
You might also like...