Escape to our curious little island for a romantic break. With historic castles hiding tales of daring deeds and epic romance, picturesque harbours with fairy-lit promenades, some of the most stunning beaches in the British Isles and a huge choice of restaurants, Jersey is the perfect setting for a couples weekend away.
It wouldn't be a romantic trip without food and drink, and a little bit of relaxation and you time. On your first day, explore all St. Helier and St. Aubin have to offer – treat yourself to a fancy breakfast, switch off from the outside world with a luxury spa experience, and finish with a mouth-watering meal at one of the island's leading restaurants.
---
1. The next best thing to breakfast in bed.
While you might be tempted to get room service to your hotel room, time is precious, and there's so much to explore. Sometimes, romance needs to feel effortless, informal… ordinary even – and that's where the breakfast date comes into its own. So take a wander around St. Helier and order eggs and coffee at one of our cosiest cafes to kick start your weekend. Here are a few local favourites: Locke's, Colmar, The Pavillion, La Bouche.
2. Aaaaand relax.
You can't beat an afternoon at a luxury spa and you won't need to go far to discover one of Jersey's best spas, with many of them in St. Helier. So after breakfast, duck into one of these havens of tranquility and make the most of some quality time with the one you love (no phones please). You could even treat yourselves to a couples massage – the ultimate expression of self-indulgence. For a pampering experience you'll both enjoy: The Club Hotel & Spa, Spa Sirène at the Royal Yacht or Ayush Wellness Spa at Hotel De France.
3. Enjoy some harbourside dining.
The quaint fishing village of St. Aubin on Jersey's south coast is one of the island's most romantic spots. While the sails of the boats in the harbour jingle in the wind, you can stroll hand-in-hand along the cobbled pier soaking up the charming ambience. It almost sounds too good to be true, right? Make a reservation at one of the many lovely restaurants – the hardest part is choosing which one to go for. Snuggle up by the fire at The Old Courthouse Inn, drink in the view (and the cocktails) at the upmarket Anchor Club or settle in for an evening of excellent local seafood at The Salty Dog.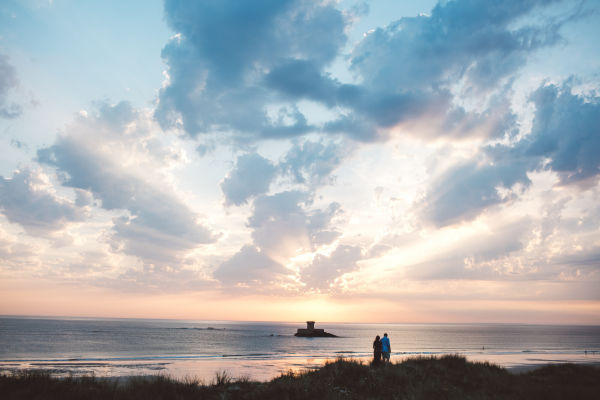 Give yourselves some breathing space and enjoy Jersey's wild side. Take yourselves off on a countryside cycle, stop for lunch at one of the island's oldest pubs, and for the perfect end to the weekend, watch the sunset over St. Ouen's Bay. Bliss.
---
1. Get wonderfully lost.
With a network of over 45 miles, Jersey's Green Lanes are a delight to discover. Best explored on two wheels – bikes and pedestrians have priority and the speed limit for cars is just 15 mph. So hire some bikes and set off zigzagging across the island, exploring these picturesque lanes. After all, is there anything more romantic than a shared adventure?
2. Find romance in unexpected places.
All that cycling is certainly going to whet your appetite, so why not take a well earned break at one of the island's country pubs for a cosy fireside lunch. With snug little corners and atmospheric dining rooms, they're intimate yet unpretentious. We love The Old Smuggler's Inn at Ouaisne Bay or the Moulin de Lecq in the valley at Grève de Lecq – both steeped in history and the perfect place to while away a few hours with your better half.
3. Make your way out to the wild west.
For some unadulterated solitude, finish your day with a windswept walk in St. Ouen's Bay. Walk along the miles of sandy beach, or go inland to explore the sand dunes and marshland that always feel blissfully isolated. After the sun sets into the sea and you've watched the sky put on its nightly show, find yourselves a table at one of the restaurants in the bay for a final farewell dinner.
You might also like...