Arts & cultural | Music | Spectator
Funky Fridays by Dj Stefunk & Friends
After a 4 year hiatus due to Covid, Funky Friday is back in town to liven up your Friday lunchtimes and get you in the mood and ready for the weekend. Dj Stefunk and his guests are here to play funky and groovy beats from all eras and from all over the world. No charts or music but a few classics. Plan for the grooviest of lunches at West Centre!
Seasonal opening
Free entry
Free for children
Stefentertainment
Contact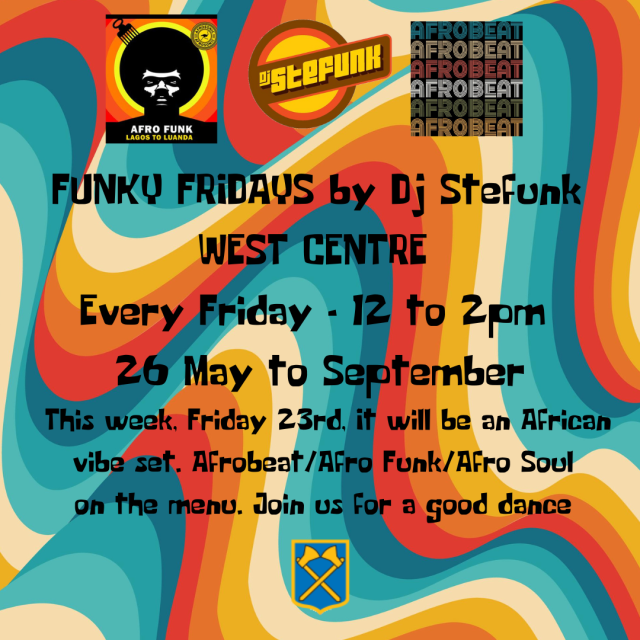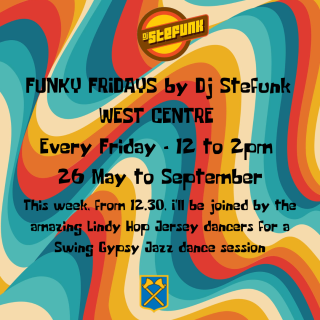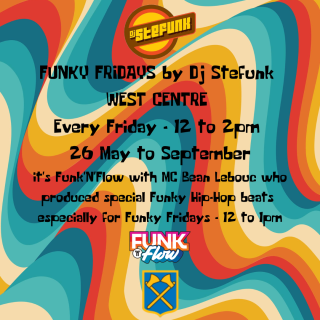 More Information
We have MC Bean Lebouc every other week for the Funk'N'Flow Duo (MC+Dj), with MC Bean creating Funky tunes, especially for the occasion. We will have other MC guests performing alongside him for your entertainment and other Djs join the fun when they can at lunchtime. We are also working on getting more dancing groups like the Lindy Hop Jersey Team who were amazing to watch dance on the classic Swing Jazz and Gypsy Jazz played as their soundtrack.
Expect Funk-Soul-Jazz-Afro-Latin-Brasilian-Cuban-French-Reggae-Swing-Hip Hop-Trip Hop + many more musical genres on rotation.
Thank you for the town of St. Helier and its town centre manager for sponsoring and making these sessions possible.
We are open:
May, June, July, August, September
Outdoor

Family friendly

Couples

Catering

Wheelchair access
Route 20: Town Link Liberation Station - Halkett Place
Level access to all public areas
Location
Funky Fridays
The Cows at West's Centre
Jersey
St. Helier
JE2 4ST