Family friendly | Festivals | Food & drink | Music | Sports | Outdoor | Spectator
Jersey International Motoring Festival
The Jersey International Motoring Festival is a four day, family friendly celebration of Jersey's motoring history and future! One of Jersey's largest free events there's food, drink, music, vehicle displays and motorsports for everyone to enjoy, right in the center of the island!
Seasonal opening
Free entry
Free for children
01/06/2023 - 04/06/2023
Jersey International Motoring Festival
Contact
More Information
The Jersey International Motoring Festival will roar back into action 1 - 4 June 2023. The four day event will begin Thursday with the Jersey Concourse D'Elegance car beauty show followed by the Rolling roadshow for roadgoing and motorsports demonstrations under the lights on Victoria avenue, Jersey's only dual-carriageway! Friday then marks the beginning of the competitive racing with the moonlight sprint on the seafront where cars and bikes compete at speeds over 100mph to be the fastest over 1/4 mile of closed road course. Saturday and Sunday sees local food, music, trade stalls and vehicle displays take over People's park along with 2 more competitive Motorsport events with Westmount Hillclimb Saturday and Mount Bingham Sunday.
June:

1st June 2023
11:00 - 23:00

2nd June 2023
17:00 - 23:00

3rd June 2023
09:00 - 18:00

4th June 2023
09:00 - 18:00
If you do have any specific accessibility requirements please email [email protected] and help in whatever way we can to give you the best experience possible at J.I.M.F
Accessible toilets
Suitable for visitors with limited mobility
Offers and events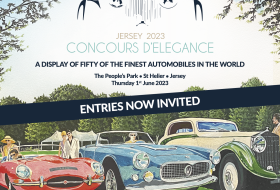 Car and motorcycle enthusiasts – indeed, anyone who admires elegance and beauty in design – will be rewarded with a display of some of the world's finest automobiles for the second year running, to coincide with the Jersey International Festival of Motoring, in People's Park on Thursday 1st June.