While visiting our little island, you have easy access to stunning pink granite rock formations and sheer-cliff-faces that tower over our golden beaches. Local activity specialists Jersey Adventures and Wild Adventures provide guided rock climbing and abseiling sessions. You'll have the opportunity to ascend and descend epic structures, while experiencing a killer adrenaline rush. Jersey has something to offer adventure-enthusiasts at all ability levels, whether you're a total beginner, or a qualified abseiling or rock climbing legend 😎 Jersey's unique geology provides a playground for anyone looking for a challenge.
Abseiling.
Descending through Jersey's history.
Abseiling in Jersey delivers breathtaking views with your adrenalin rush. You'll be able to descend ancient cliff faces, eroded away by the elements.  In the past, local guides have been given the opportunity to abseil key island landmarks like medieval forts, German WW2 radio towers and more. This is the perfect chance for you to connect with our curiously Brit…(ish) island's heritage.
It is important to remember that like all adrenaline sports, abseiling presents certain risks. It really is important that you take the necessary precautions before attempting any descent. The safest way of course, is to use experts that know the terrain. We recommend booking a session with one the island's fantastic adventure providers.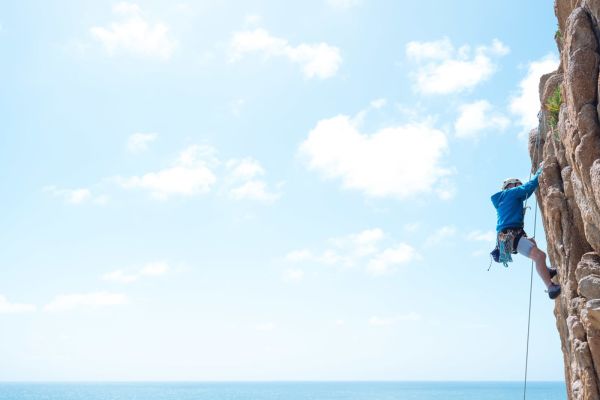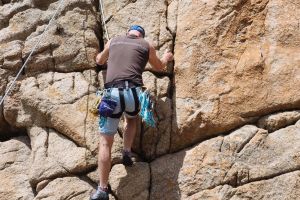 Rock climbing in Jersey.
Ascending to the island's skyline.
Being an island of only nine by five miles, rock climbing in Jersey is an excellent way to take in the epic views that stretch across our landscape. Jersey has a range of terrains that are worthy of any aspiring rock-climber to scale. There are so many easy-access climbing points, you'd think that they'd been specially created just for climbing! Pinnacle Sports – Jersey, describe Jersey's climbing hot spots as a "mostly well-kept secret".
Like abseiling, it is important that you stay safe while attempting to scale any rock faces. Therefore, you should at the minimum make sure you have all the gear and safety equipment. The best, and safest way to climb is of course to climb with one of the local adventure activity guides.
Local adventure companies.
Looking for more to explore?
Still not satisfied? Luckily for you there is plenty more for you to discover. If you're looking for inspiration, we have also prepared an insiders' guide to coasteering and caving in Jersey that should be right up your gully 😋
You might also like...