The churning waves have carved out rocky islets, cave systems and sea gullies around the coastline of Jersey, that are begging to be explored. Traversing these natural wonders is an action packed activity for anyone looking to discover the secrets of our Curiously Brit…(ish) island. So we've put together our guide, for all adrenaline junkies and adventurers, of the top spots for coasteering in Jersey and the epic caving hotspots.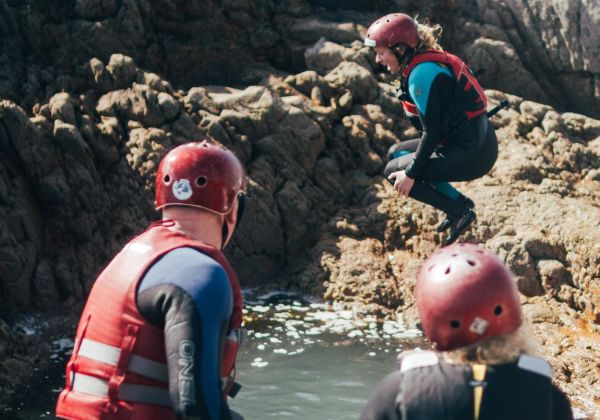 Coasteering safety tips.
First things first. Safety. It is important that we don't forget the power of the sea and therefore, we always recommend that if you do want to go coasteering, make sure that you have the proper gear. That means at the very least, wearing a wet suit and some old trainers. Putting on a hard-hat is also ideal! All of this equipment will be provided by our local activity providers if you book in for a activity with them.
Safety first.
Expert-local guides for coasteering in Jersey.
Of course, the best way to ensure that you stay as safe as possible is to make sure that you're with professionals who know the area. Book an activity with some of the adventure tour providers, who will be able to guide you on your exploits.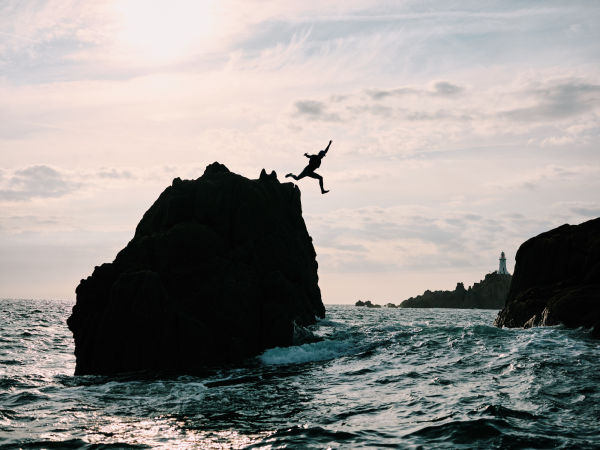 From the east coast to the west coast.
Our top coasteering locations in Jersey.
Gorey.
A more relaxed location, Gorey is ideal for first-timers who are looking for an easy journey. Gorey offers some jumps, the opportunity to swim, and a scramble up the rocks. It is also a great opportunity to explore the coastline with the backdrop of a magnificent historic Jersey landmark – Mont Orgueil Castle.
Greve De Lecq.
Appearing on various lists for top coasteering spots in the UK, it is no surprise that Greve de Lecq is a local favourite coasteering point. From sea cave systems to explore, sea gulleys to traverse, the infamous rhino jump and a remote secret beach – Greve De Lecq has got a bit of everything for everyone. This coastline has alternative routes meaning that it is suitable for both pros and beginners.
The Gorselands.
This is an advanced coasteering route, not for the feint hearted. The Gorselands are located on the north-western coast of Jersey and are exposed to the dramatic Atlantic swell. The Gorselands offer a tough challenge to those who have been coasteering before. You will need to be a competent swimmer for this one. This location ensures an adrenaline-rush throughout and gives a fantastic view of local landmark, La Corbière Lighthouse in the backdrop.
Caving in Jersey.
If you fancy exploring some of Jersey's coastline, but aren't interested in the thrill-seeking of coasteering in Jersey, the island still has a lot to offer. The sea has carved out amazing structures for you to discover. Jersey's best caves may all be situated along the coast, but you don't have to dip a toe in the water to get exploring these incredible coves.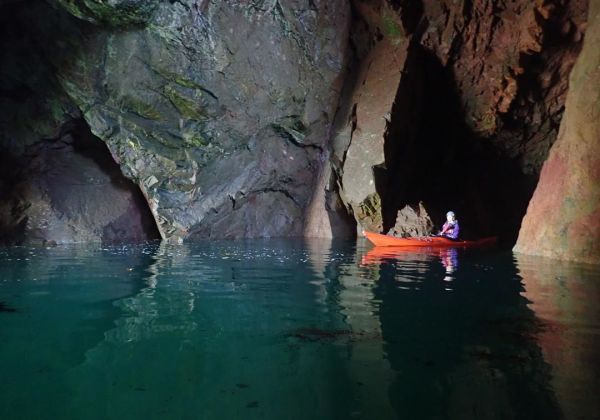 How go sea-caving safely.
Most of the caves that are safe for exploration in Jersey are not accessible from the land. So, if you don't mind setting out to sea, a great way to scratch that itch for discovery is to explore our island's fascinating caves on a RIB or kayak tour. Take a RIB voyage along Jersey's North coast to check out the infamous Devil's Hole cave. If you fancy exploring at your own pace, you could go for a sea kayak adventure and visit Wolf's cave.
Safety-first.
Expert-guides for exploring Jersey's sea-caves.
Similarly to coasteering, the safest way to go caving in Jersey, is to make sure that you have a knowledgeable guide with you. Our little island has lots of experienced activity providers who will be happy to share an adventure with you.
Exploring on dry land.
Discover the secrets of Plémont Bay.
If you're looking to explore some of our Curiously Brit…(ish) island's caves from dry land, then look no further than Plémont Bay. A cove tucked away in the north-west of the island. At low tide, there are a number of caves where the sea has eaten into the cliff-faces, that make for easy exploring. Not only this, but there is a freshwater stream waterfall trickling down over the mouth of one of the caves. Stand underneath the waterfall to revitalise and refresh! (Remember to bring a spare change of clothes… and towel).
After exploring all the nooks and crannies of the caves, you can pass the hours by relaxing on the soft golden sands and breathing in the fresh sea air. Or if you've got adrenaline-fueled little ones with you, spend the afternoon on the beach rock pooling or building sand castles – you can even try building a dam to fight back the impending tides. Head back up the steps to grab a bite to eat, or tuck into a delicious Jersey Dairy ice cream from the Plémont Beach Café. It is one of the top spots for a delicious, creamy Jersey ice cream on the island.
Still looking for an adrenaline kick?
If you're looking for more exhilarating activities to discover in Jersey, we've got you covered there. Check out our guide on rock climbing and abseiling.
You might also like...