Arts & cultural | Participant
ArtHouse Jersey: Short Painting Courses
ArtHouse Jersey is teaming up with the exceptional art therapist and teacher, Jacque Rutter, to offer a series of exciting landscape painting courses. These two-day and three-day courses cater to all abilities, from curious beginners dipping a toe to established artists honing their craft. All are welcome.
Seasonal opening
Booking needed
Price: £300 - £450
More Information
These exciting two-day and three-day landscape courses focus on abstract and gestural responses to the drama and movement to be found in coastal landscapes.
Tutor Jacque Rutter will help students to explore use of colour, tonal contrast, gestural and dynamic mark-making, working with wet and dry materials and building up a series of related works of different scales.
Much of the course will take place in the dramatic landscape of northwest Jersey where students will learn how to make studies which will inform the creation of paintings in the studio made with a wide variety of contrasting layered materials such as acrylics, charcoal, graphite and coloured papers.
For more information visit our website.
We are open:
September, October, November
Indoor

Outdoor

Catering

Wheelchair access

Parking
Location
Studio One
Greve de Lecq Barracks
Jersey
St. Mary
JE3 3AA

You might also like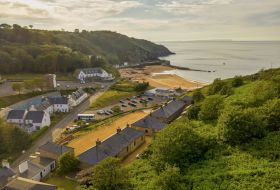 Grève de Lecq Barracks is home to ArtHouse Jersey's Headquarters. The charity exists to serve our Island community and international audiences by supporting artists from Jersey and across the world to create ambitious work.