Outdoor
Geowalk: Around L'Etacq and Le Pinacle
Starting at L'Etacq by Faulkner Fisheries, we will be looking at the features which show us that sea level and climate change is nothing new and the Anthropocene (the age of man) is upon us.
Seasonal opening
Booking needed
19/08/2022
Price: starting at £9
More Information
We will start by examining a major geological boundary marking over 200 million years of rock formation and interesting periglacial features. We will then walk up on to Les Landes where we will also see bunkers and guns from the Occupation, one of Jersey's Mesolithic sites and the Neolithic stone axe factory at Le Pinacle. Join this geo a journey through Jerseys deep past.
This geowalk starts in the Faulkner Fisheries carpark.
August:

19th August 2022
14:00 - 16:30
Location
Faulkner Fisheries
Route des Havres
Jersey
St. Ouen
JE3 2FA

You might also like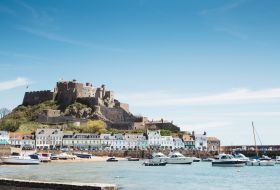 Jersey Heritage is the guardian of our island story. We care for it, promote access to it, bring imagination to telling its stories and inspire others to do the same. In Jersey, we are responsible for the island's major historic sites, award-winning museums and public archives.