You don't have to scratch too far beneath the surface to experience Jersey's rich and multi-layered history. From Stone Age dolmens and ancient burial grounds to traces of island defences and wartime occupations, on the island of Jersey, history's within easy reach.
The Complete History of Jersey (in just under 10 minutes).
You can now discover The Complete History of Jersey (in just under 10 minutes) with a newly released film produced by ArtHouse Jersey in collaboration with The Story Beast. Leaving no stone unturned you will be taken through 250,000 years of history until you are bang up to date.
250,000 BC Palaeolithic cave-living hunter gatherers were Jersey's earliest residents.
6000 BC Jersey becomes an island after splitting from the Normandy peninsula
4000 BC During the Neolithic period, communities settle and make their home in Jersey, the island's many standing stones and burial chambers (including La Hougue Bie) date from these times.
555 AD The hermit St Helier who gives Jersey's capital its name and who lived on a small rocky islet near Elizabeth Castle is murdered by raiders.
800 During the ninth century, Vikings plundered the island, giving Jersey its name.
933 Jersey becomes part of the Duchy of Normandy as William Longsword wins the Channel Islands.
1066 The Channel Islands become part of the Anglo-Norman realm when William the Conqueror defeated King Harold and won the English crown at the Battle of Hastings.
1204 Jersey was ruled by Normandy for nearly three centuries until islanders pledged allegiance to King John. That decision triggered a special relationship with the English crown, which continues to this day.
1212 The Hundred Years War between England and France begins. Close to the French mainland and serving as a first line of defence, the island was heavily fortified. Mont Orgueil Castle was built to guard the island's east coast.
1461 – 1468 During the War of the Roses, the French seized Mont Orgueil Castle and ruled Jersey for seven years.
1500 During the 16th century, Jersey's production of knitwear reached such a scale that laws were passed restricting who could knit, and when.
1590 Work starts on Elizabeth Castle, built to defend St. Aubin's Bay and named after the Queen by Sir Walter Raleigh.
1600s Many islanders were involved with Newfoundland fisheries during this time and would set sail for the Newfoundland cod fisheries in February/March, only returning in the autumn.
1633 The Hamptonne farm complex takes its name from Laurens Hamptonne, who purchased it in 1633. The property is also known as 'La Patente', as is the name of one of the roads that passes it, after the Grants by Letters Patent received by its owner Richard Langlois in 1445, and by King Charles II to Laurens Hamptonne in 1649.
1650-51 During the English Civil War, King Charles II twice took refuge in Jersey before the island was captured by the Parliamentarian army in 1651. Later, New Jersey is named after Jersey following a gift of land from the king to the island's governor in recognition of his protection.
1769 The Corn Riots started in 1769, caused by grain shortages, which led to a major legislative reform in 1771 that transformed society in Jersey marks the anniversary of the major legislative reform that transformed society in Jersey, whereby the Royal Court was stripped of its power to write laws.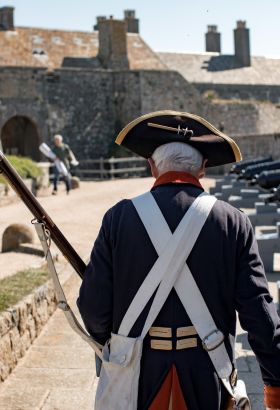 1781 In the Battle of Jersey, a French invading party attempted to take over the island, capturing St Helier in a dawn raid. They were defeated by an army led by Major Peirson, who lost his life in the attack. A series of Martello towers were built around the island as defences against further attacks.
1852 The writer Victor Hugo is exiled in Jersey, spending three years here.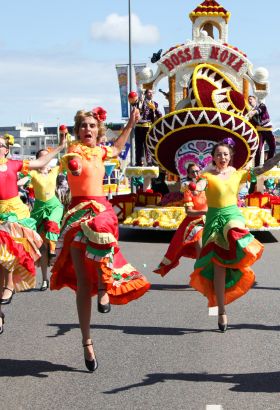 1902 Jersey's first Battle of Flowers was held to celebrate the coronation of King Edward VII.
1912 In the early days of flying, the world's first International Air Race saw planes fly from from St Malo to Jersey and back.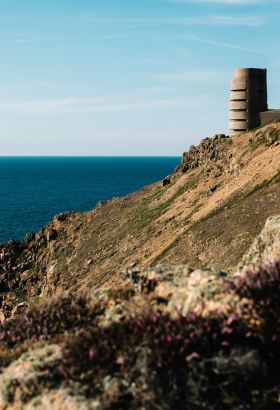 1940-1945 The Channel Islands were the only part of Britain to be occupied by German forces. The five-year occupation came to an end on 9 May 1945 – Liberation Day, an event still celebrated in Jersey with an annual Bank Holiday. Find out more at Jersey War Tunnels.
Attractions that delve into Jersey's past.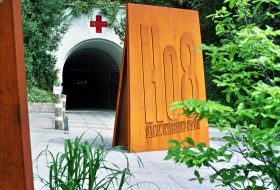 Jersey War Tunnels tells the true story of wartime Jersey in a way that no other visitor attraction does. It's the best place to get a true picture of what life was really like in Jersey during WWII. The exhibition is housed within an underground tunnel complex, built by the Germans using slave labour.
from £11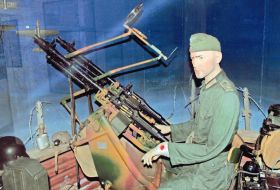 The Channel Islands Military Museum is housed in a German bunker that once formed part of Hitler's Atlantic Wall defences. Within the bunker itself are many rooms full of artefacts both military and civilian that help tell the story of the five long years of German occupation.
from £5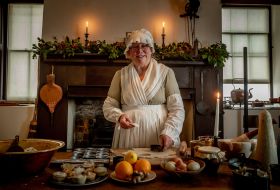 16 New Street is a magnificently restored townhouse in the centre of St. Helier where you can explore life in fashionable Jersey during the Georgian era. With authentic sights and sounds, you will be transported to a time of elegance when gentlemen smoked clay pipes and the threat of French invasion was always a hot topic of conversation.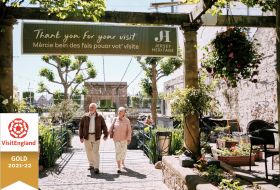 Discover the story of Jersey for free on the Ground Floor of our Art Gallery and Museum. Watch our Story of Jersey film and visit the Aspiring Jersey Island Geopark Visitor Centre and the Link Gallery.
from £7.85
You might also like...