Jersey's compact size makes it the perfect place for a short break. You'll be amazed at all you can experience in just three days. Tuck into curiously Brit…(ish) food while you relax in tranquil gardens or savouring sea views. Hop on a bike, take a lick of Jersey ice cream, delve into our fascinating past, and experience every side of Jersey over three glorious days of discovery.
Highlights
Soak up the bustling atmosphere at Victorian markets.
Explore a medieval castle.
Picnic in Jersey Zoo's peaceful garden grounds.
Go underground at the Jersey War Tunnels to uncover wartime stories.
A full day bus tour taking in all the island's top spots.
Overview.
Spend your first day exploring the east of the island. Pick up a selection of local produce and head out by bike or bus to explore Mont Orgueil Castle and Jersey Zoo before venturing down to Bonne Nuit Bay, a little gem tucked away on the north coast.
Overview.
When you're only on the island for a short time, what better way to make sure you don't miss a thing, than by letting someone else take the wheel and show you the sights? A full day bus tour is just the ticket.
---
1. Start as you mean to go on.
Head out of your hotel for Liberation Square where you'll meet your bus. Make a pit stop at Cargo Coffee Bar for your essential coffee and croissant before hitting the road. Most of the companies offer hotel pickups if you'd prefer.
2. Hop on board.
You're spoilt for choice when it comes to full day bus tours, but they'll all take you for a spin to experience Jersey's top spots. Hop on board with Bay Tours, Waverley, Tantivy or Jersey Bus Tours for a full-on day of island exploration. You'll arrive back in St. Helier at around 17.00 in time to freshen up at your hotel before heading out to dinner.
3. Sunset supper.
Take front row seats for sunset at El Tico Beach Cantina at the heart of St. Ouen's Bay. Savour a local craft beer or two and tuck into a menu full of fresh Jersey seafood and produce as the waves roll in and the sinking sun puts on the greatest show on earth.
Occupation stories and capital adventures.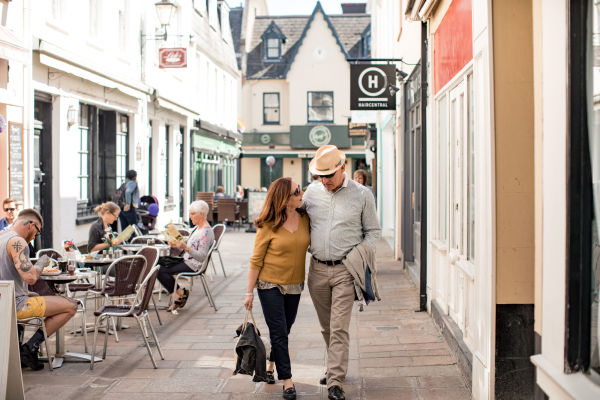 Overview.
On your last day in Jersey, experience the island's wartime story, wander the lanes of St. Helier and top it all off with a plate of genuine Jersey fish and chips.
---
1. The Jersey War Tunnels.
Delve deep into the island's past at the Jersey War Tunnels and uncover stories of what it was like to live here through the Occupation during WW2. If you're up for the challenge, why not take on one of the escape room experiences? Can you find the clues, crack the code and find the keys to freedom?
The number 28 bus will take you from St. Helier to the War Tunnels.
2. Explore the island's capital.
After your heroic escape at the War Tunnels, make your way back to the island's capital, St. Helier and spend the afternoon exploring the lanes of the bustling market town. Seek out boutiques where you'll find local treasures to take home, set off on the St. Helier art trail to find colourful pieces splashed on urban corners or simply sit back and enjoy a spot of people watching in one of the many cafés dotted around the town.
3. A very Brit...(ish) dinner.
Dinner on your last day is a reason to splash out. Take a seat for some top-notch fish and chips at The Lookout Beach Café and enjoy the view of Elizabeth Castle. The mouth-watering menu is choc-a-bloc with seafood so you can fill up on the authentic taste of Jersey before you set sail at the end of your trip. But remember, it's not 'goodbye', it's 'au revoir'.
You might also like...