Arts & cultural | Music
Million Dollar Men: A Magic Mike Tribute
After a storming 2 night show in 2022, the boys are back in town. This powerful show has everything you need for the ultimate night out in this fantastic tribute to Magic Mike! Get ready for a wild one and experience the atmosphere of a fun Vegas strip show with all the sounds of the best 90's & 00's R&B Classics.
Seasonal opening
Booking needed
Price: £33.22 - £41.34
More Information
Expect back to back sexy dancing, playful interactions and a whole variety of action from our talented Magic Mike Tribute Show!
£37.50 – Stage Area | £30.00 – Raised Area (General admission).
Location
The Royal Yacht
Weighbridge Place
Jersey
St. Helier
JE2 3NF

You might also like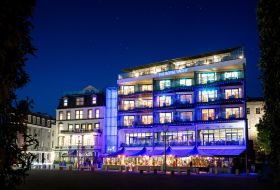 Modern luxury, situated in the heart of St. Helier. Located just a short walk from the bus station. With four restaurants, three bars, a luxury spa, 109 rooms ranging from silver to platinum and two luxurious penthouse suites featuring large Jacuzzis, lounging pods and spectacular views of the capital, you'll have all you need for a special stay.
from £89