With 350 miles of roads, byways and lanes to explore, what better way to explore Jersey than by bike? Feel the pace slow to the steady ebb and flow of the tide, one of the largest in the world. There are plenty of options when it comes to cycle hire in Jersey. Whether you are a keen cyclist, or just want to escape the hectic noise of city life, pop along to one of our friendly bike rentals and you'll soon be breathing in the fresh sea air and revitalising on two wheels.
Explore your options for bike hire in Jersey.
You'll be spoilt for choice for bicycle hire in Jersey, from mountain, leisure to road bikes and E-bikes for those who want a little assistance on their cycling holiday around the island's lanes.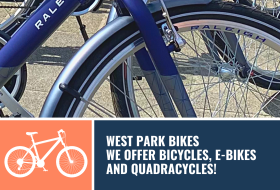 Explore Jersey on one of our bicycles or take the strain off and hop on one of our e-bikes. Or perhaps you are looking for something different to do…why not hire one of our 4 wheel "fun bikes" for a unique way to travel along the sea front promenade. Great fun for everyone!
from £8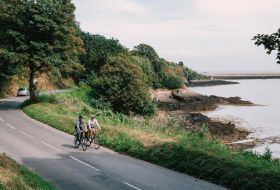 We are Jersey's premier bike hire company and we hire out a range of bikes with hybrids, mountain, electric bikes, kids bikes, tandems, tagalongs and more for hire, we offer something for every desire. Perfect for exploring Jersey, hiring a bike is easy and affordable with Jersey Cycle Hire.
from £10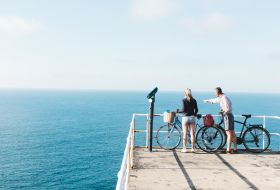 At Lakeys Bike Hire, we offer you the very best way to experience Jersey. Perfectly located, just a short stroll away from the ferry terminal and bus station on the outskirts of town, we are lucky enough to be perched on the side Liberation Square, overlooking the picturesque Albert Marina. Book online today to save disappointment!
from £10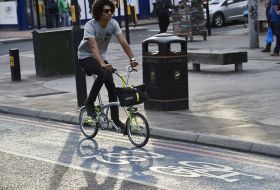 Brompton Bike Hire was created to address the clear need for a cycle hire scheme that is accessible to all, easy and cheap to install as well as being economical to use. Brompton Bike Hire is committed to providing an efficient, flexible, healthy and environmentally friendly solution to travel for the future.
from £3.50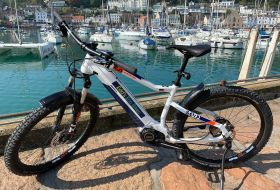 Explore Jersey by Electric Bike! For those who aren't regular riders, e-bikes can open up a whole new world. Discovering the island can easily become a reality with an e-bike. Edd's Eco Bikes offer electric mountain bikes and family cargo bikes for hire for the day or weekend.
from £40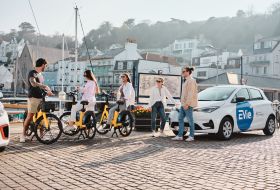 Access electric bikes, electric cars, cargo bikes, taxis and more using the EVie app. EVieBikes are available across the island instantly from just £1. Hire cars by the hour from just £12. Heading out for cocktails? Grab a Home James taxi using the EVie app.
from £1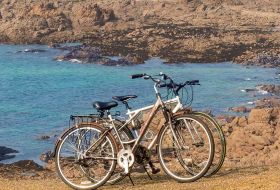 Bike hire, run by cyclists, for cyclists. We are committed to making sure your cycling is a pleasure, our bikes are in top shape to make certain you have a positive experience exploring our beautiful island. We can offer great advice on routes that make discovering Jersey fun, if you have a special interest we can point you in the right direction.
from £20
Cycling holidays.
Discover Jersey's signposted cycle network that will take you through miles of lanes, through countryside and along coastal tracks. Looking for routes to test your legs? We've got some great advanced routes for you to try on your cycling holiday to Jersey.
Cycling safety.
We take safety seriously.  Please respect the rules of the road when cycling in Jersey and make sure you have the required equipment and take necessary precautions, especially when riding at night.  Visit the Jersey Road Safety site for the latest advice and local safety regulations.  There are many friendly cycle shops in St. Helier who will be happy to help with any last minute items of safety gear once you are on the ground.
Bike hire in St. Helier Jersey.
More inspiration for your cycling getaway to Jersey.