Hello from us.
Hello, we're Dips and Chips, a year-round outdoor swimming club in Jersey. Why Dips and Chips? Well, that's because we love nothing more than a sea dip and a portion of salty chips to tuck into afterwards (or whatever tasty treats we can get our mitts on).
Why take the plunge in the winter?
That's a very good question. And one that we often ask ourselves when we're about to plunge ourselves into the rather chilly Jersey sea on a winter's morning! The benefits of cold-water have been well reported over the last few years – it can boost the immune system, improve circulation and reduce stress and anxiety. But, aside from all that, there really is no feeling that compares to an invigorating dip in one of Jersey's beautiful bays with a group of friends equally as mad as you – ideally followed by a hot drink, a delicious snack and a good natter!
So, here are our top tips for cold-water swimming in Jersey if you're planning to 'take the plunge' during your winter visit.
1. Choose your bay wisely.
The beauty of swimming on a small island in the winter is that you can nearly always find a sheltered little spot, even when the winds are whistling through. And although our gigantic tides are some of the biggest in Europe, for those in the know, there is nearly always somewhere to jump in for a low tide dip. For morning larks, head to the bays of the east for epic sunrise swims and for dusk dwellers, west is best to catch those dreamy winter sunsets.
Nearly all bays on the island are great for a high tide dip. We've picked out just a few of our favourite below. You can check tides in advance on the Government of Jersey website. Just be a little careful at places like Plémont and St. Ouen's Bay when there's a big spring tide, as the sea can reach right up to the sea wall or steps. At these times, it's best to go a few hours after high tide. To make sure you choose a bay that's as sheltered from the wind as possible, check the wind direction and then look at the map of Jersey. If it's a southerly wind, you'll ideally want to choose a bay on the north coast like Bouley, Rozel or Bonne Nuit. If it's a westerly, the bays of the east like Archirondel and Bel Val are your best bet!
Here are the best bays, in our humble opinion, for… 
Sunrise swims: 
Archirondel
Bel Val
Belcroute
Anne Port
St. Catherine's Lifeboat Slipway
Dusky swims:
St. Ouen's Bay
Plémont
Ouaisné Bay
Petit Port
High tide:
Green Island
Archirondel
Petit Port
St. Aubin's Yacht Club Slipway
St. Brelade's Bay
Ouaisné Bay
Belcroute
La Rocque
Rozel Harbour
Low tide:
Havre des Pas Lido
Greve de Lecq
Plémont
Bouley Bay
Portelet Bay
Beauport Bay
2. Assemble your crew.
Swimming (especially cold water swimming!) is much better with friends. There's a real sense of cameraderie and we love the idea that we've done something a little bit mad before most people have even got themselves out of bed! Not only that, but swimming with a group is always safer. If you haven't got another half or a bunch of friends willing to brave Jersey's winter seas with you, then we have plenty of swimming (or in our case 'dipping') clubs that are always more than happy to welcome visiting ocean lovers.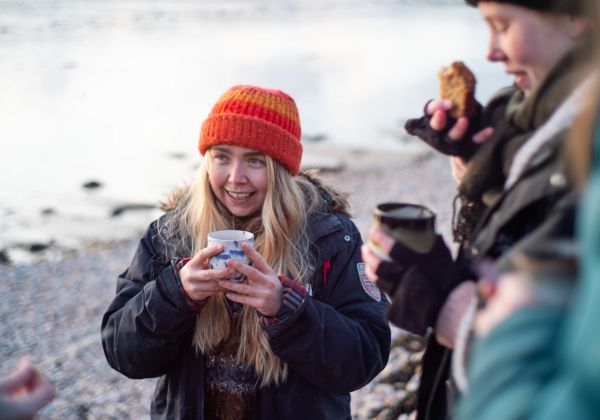 3. Plan your drinks and snacks.
If we're being entirely honest, we're largely invested in this 'swimming' club thanks to the post swim snacks, drinks and chats that are a regular occurence after our dips. But there's good reason to hold this ritual in such high esteem. After you emerge from cold water, your core temperature can continue to drop up to 4.5 degrees in a phenomenon called 'afterdrop.' It's important to warm up slowly and gradually. Sipping a warm drink helps warm the body gently from the inside whilst eating something (especially a sweet treat) will help to raise the body's temperature.
Sometimes, we'll bring croissants and a flask of tea to enjoy on the beach. Other times, we might pop into one of the beach cafes or local pubs for a salty plate of chips, a pint or a brekkie roll.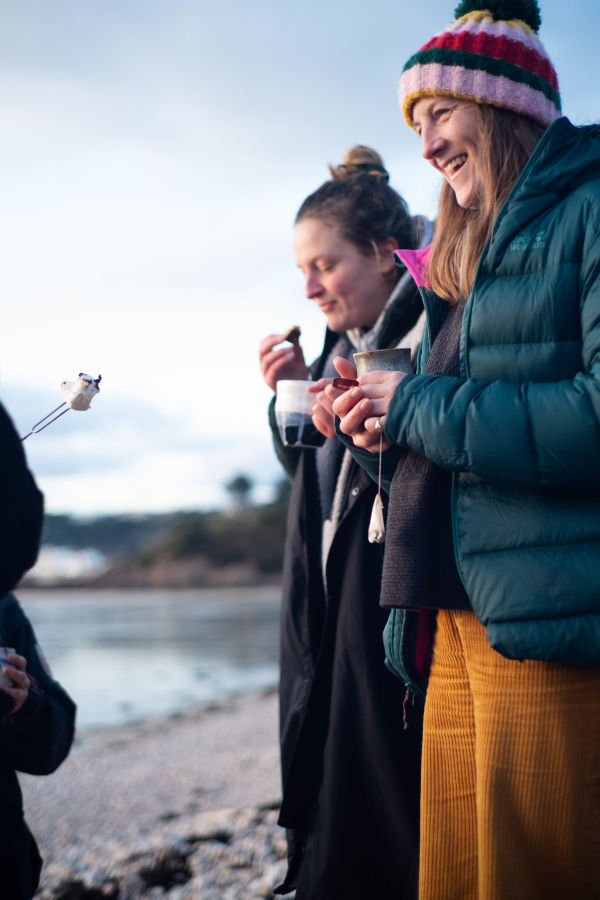 4. Layer up.
It might seem obvious, but when it comes to getting warm post dip, layers are key. We love thermal leggings, wooly jumpers, bobble hats, gloves and, dare we say it, a dry robe… When it gets really chilly, we sometimes like to bring a cheeky hot water bottle with us which you can stash away underneath your jumper for extra warmth! If you're really organised, a changing mat is a real luxury as it stops heat escaping from your feet.
5. Breath and enjoy!
If it's your first time having a go at cold water swimming, remember to ease yourself in gently. Take deep breaths, in through your nose and out through the mouth – relax and just enjoy yourself… As they say, it's lovely once you're in 😉
With love,
The Dips and Chips gang x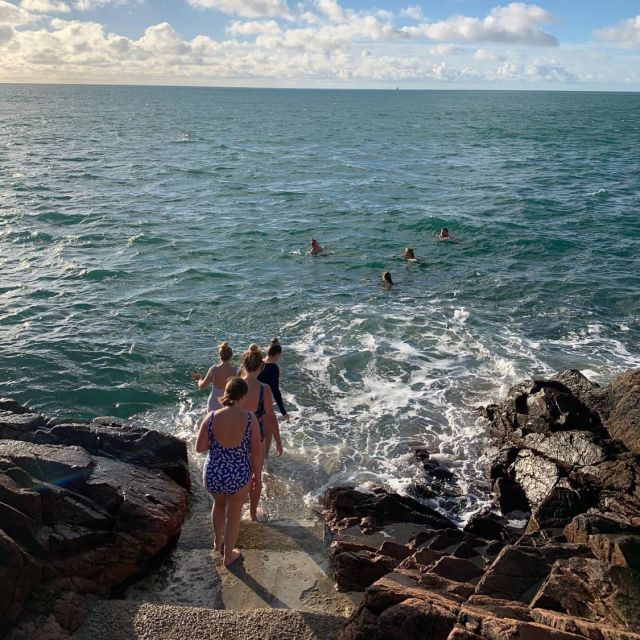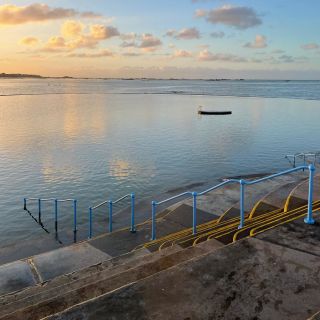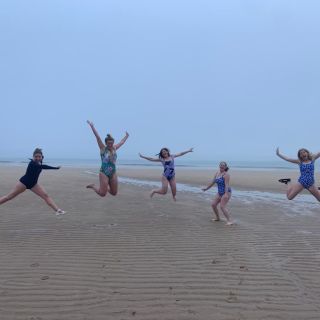 You might also like...