Outdoor
Geowalk: Jersey's Journey from the South Pole
How did the Ice ages form the land where mammoths and woolly rhinos roamed Jersey's tundra? Why was St. Aubin's Harbour once the most important on the Island? Find the answers hidden in the rocks as we stroll across the beach.
Seasonal opening
Booking needed
01/08/2022
Price: starting at £9
More Information
Dark pebbles, pink pebbles, grey oysters, grey sand – what stories can the beach, the cliffs and walls surrounding St. Aubin's Harbour tell the curious observer? We follow the traces of Jersey's creation near the South Pole to its present northern latitude over more than 600 million years.
This geowalk starts in St. Aubin's Harbour, in the carpark by the Royal Channel Islands Yacht Club.
There are currently no dates available for this listing. Please contact us for more information.
Location
St. Aubin's Royal CI Yacht Club
Jersey
St. Brelade
JE3 8AD

You might also like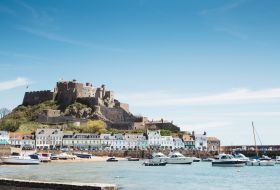 Jersey Heritage is the guardian of our island story. We care for it, promote access to it, bring imagination to telling its stories and inspire others to do the same. In Jersey, we are responsible for the island's major historic sites, award-winning museums and public archives.