Welcome to Jersey, the original island of love.
After the island's Occupation ended in 1945, loved-up couples flocked to the island, lured by a temperate climate, easy flight connections, a continental atmosphere and an inspired campaign led by local hotelier George Frederick Seymour, of Seymour Hotels.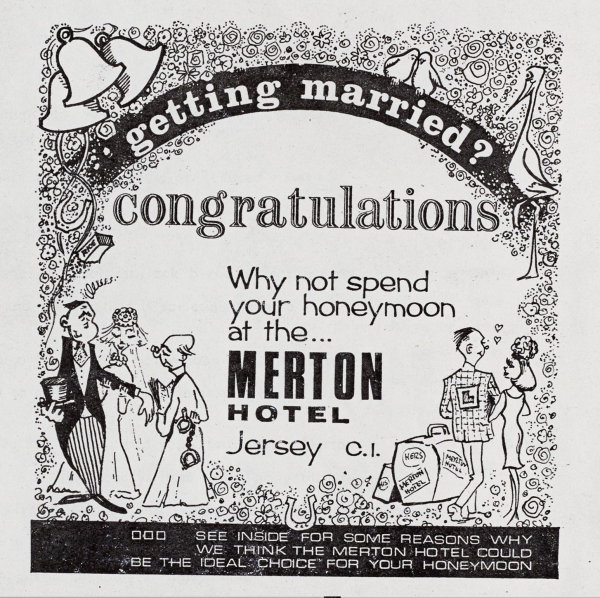 The inspired campaign.
In early April of 1946, local hotelier George Seymour noticed that he had 11 honeymoon couples staying at his principal hotel, The Merton. He discovered that they had all married that month to take advantage of the UK post war tax provision. And so, he began a campaign to turn the trickle of newlyweds into a flood, with many of the island's other hoteliers following suit.
Young lovers travelled from Manchester, London, Hoxton and Wroxton, Leeds and Liverpool, with Jersey soon becoming known as 'Honeymoon Isle.'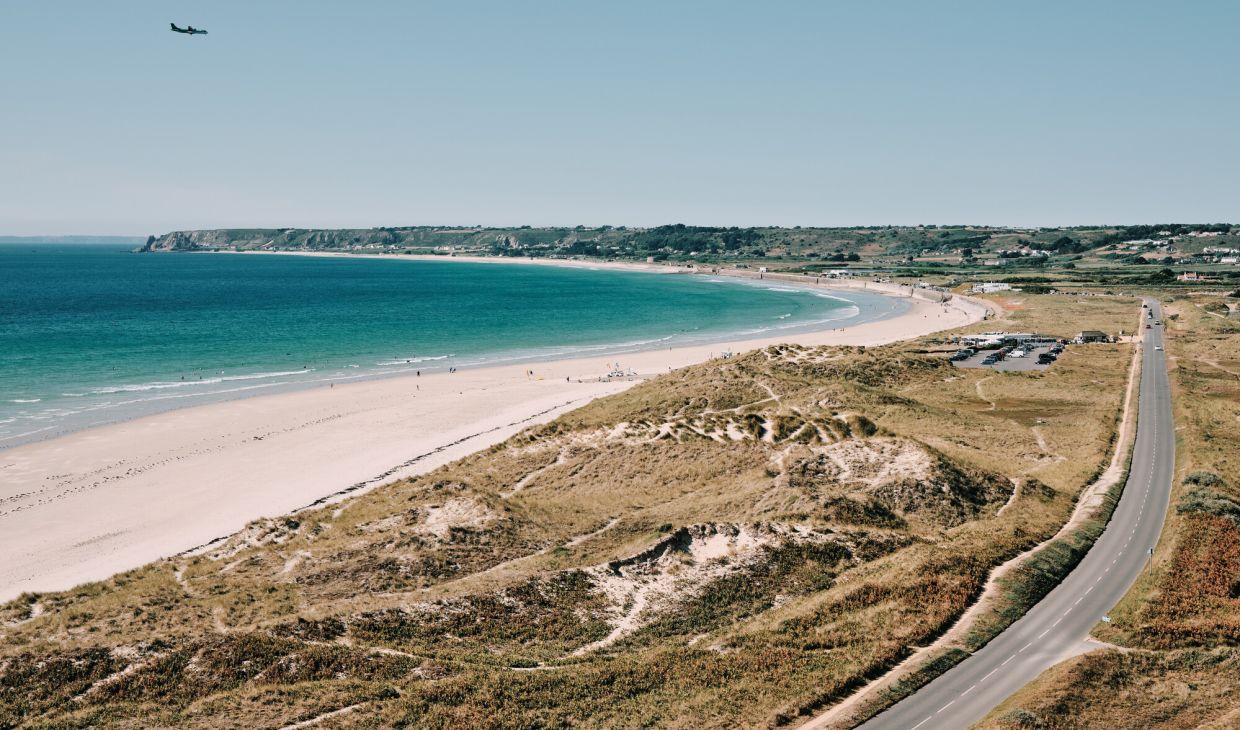 What they loved.
In the post-war period, air travel became cheaper and many honeymooners travelled to the island by plane, adding a touch of continental glamour to their holiday. Brenda Roche remembers: 'We were married in Birmingham at 11 o'clock and by 5 o'clock we were on a flight to Jersey for our honeymoon. Jersey seemed affordable, glamorous and a million miles away from Birmingham, like going to Italy. We stayed at the Sunshine Hotel, along with about twelve or so other honeymoon couples'.
During 'Peak Honeymoon Season,' many hotels offered activities, events and a whole lot of 'organised fun', tailored to appeal to newlyweds. In an advertisement aimed at prospective visiting couples, The Merton highlights its 'Champagne Tea Party and coach drive,' 'Honeymoon Ball' and 'Island wide Treasure Hunt.'
Honeymooners reported back to friends about their wonderful holiday in Jersey and soon the tourism industry was booming. Melvyn Roche recalls: 'A work colleague brought in some photographs of his holiday in Jersey proclaiming it the most beautiful place he'd ever been to.'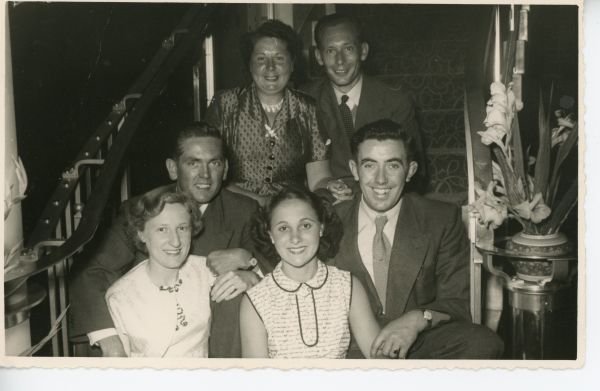 Back for more.
In the years that followed, honeymooners continued to make their pilgrimage to the 'island of love,' marking the start of the holiday season in Jersey. Since then, many of the original honeymooners have returned to the island again (some of them many times!) reminiscing on the magical times they spent together on the island.
We're delighted to be able to share some honeymoon stories, as told by their children below.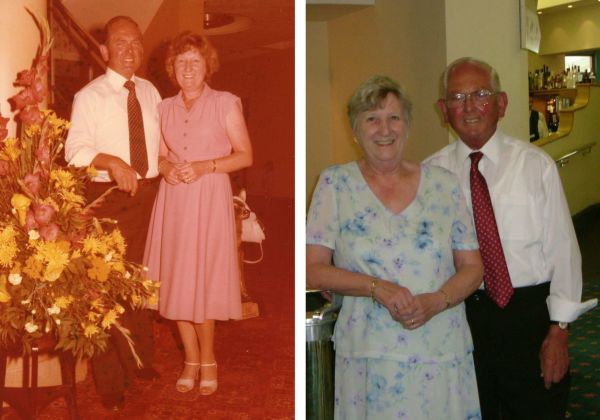 My parents, Pam and Jack Bown, married in 1954. They had a wonderful honeymoon at the Merton Hotel in Jersey. They met and made friends with two other honeymoon couples, while they were at the Merton, and the six of them had their photograph taken together on the staircase. When it was their Silver wedding anniversary in 1979, they returned to the Merton again to relive the happy memories. They had a photograph taken by the same staircase. It was their Golden wedding anniversary in 2004, and they decided that they would like to return again to celebrate 50 years of marriage. Once again they had a photograph taken by the staircase. My wonderful parents were lucky to have 64 happy years of marriage before my lovely dad passed away in 2018. Once the lockdown is over and we are free to travel again, I hope to visit the Merton with my mother.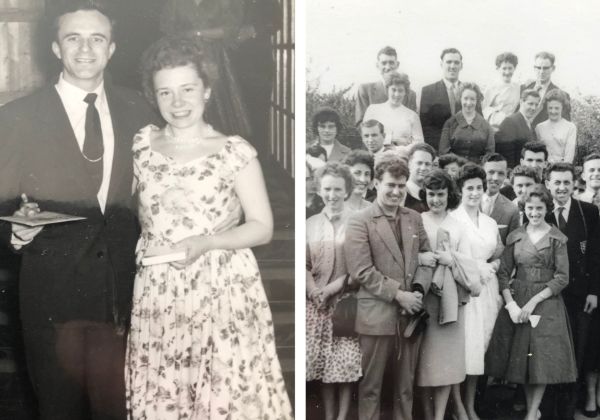 My parents Jim and Mollie Hale spent their honeymoon at the Merton in 1960. They remember flying from London with many other honeymooning couples and were photographed on their first morning with all the other newlyweds – the photo shows just how many there were! I took my own family to the Merton in 2017 and had a lovely stay, not realising that we were staying in the same hotel as my parents had spent their honeymoon until we got home and showed them our photos..! On the occasion of their Diamond anniversary, we planned to go on a celebratory holiday with my parents this year, but unfortunately my mum passed away in 2019. Not to be denied, we still plan to bring my dad back to the Merton as soon as we're able.
Romancing in Jersey today.
Whilst Jersey no longer has the same deluge of honeymooners arriving en-masse in the spring of each year, our little island of love still has so much to offer couples – newlywed or otherwise – looking for a little romance. You're unlikely to be invited to any 'Honeymoon Balls' but you will discover a host of fabulous places to stay, play, eat and drink. Whether you're looking for a place to get married, spend your honeymoon, or just a romantic escape, you'll find much to 'love' in Jersey.
Romantic things to do.
If you're looking for some ways to dial up the romance on your island escape, we've compiled a handy list of things you might like to get up to with your 'amour' in Jersey…
Visit a Jersey Jewellers to buy a unique piece, or design a piece of jewellery together
Go for an invigorating sea swim and warm up with toasted marshmallows and hot chocolate on the beach
Pay a visit to one of our many Jersey Heritage or Jersey National Trust sites and imagine the star-crossed lovers that once walked the grand halls
Go for a rambling walk on the island's north coast, taking in the epic views across to our neighbouring Channel Islands
Snuggle up by a cosy fire in a country pub, and while away the afternoon, immersed in each other's company
Indulge in a spa day at one of the island's fabulous spa hotels
Take tea for two with a seaside view or a spoonful of countryside charm
Soak up a St. Ouen's sunset (ours are some of the best in the world!)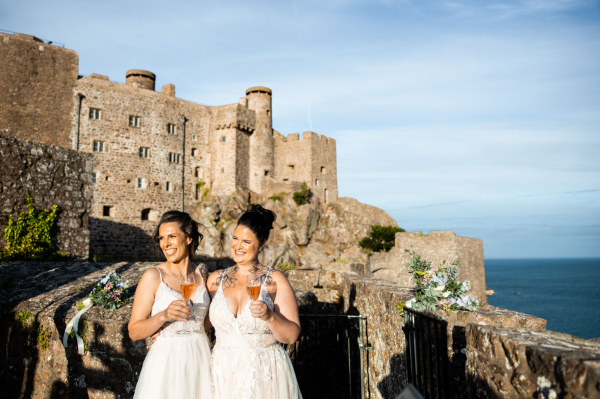 Tying the knot in Jersey.
Ready to take your romance to the next level?  Then why not choose the original island of love to tie the knot? Whether you've always dreamed of a fairytale wedding at a historic castle, a laid-back affair on the beach with sand between your toes, or a luxurious celebration at a grand hotel, then you'll find a venue as unique as you in Jersey.
Special places to treat that special someone.
You might also like...