Visit the island in November and December and you'll feel the warmth of a community that loves to share the magic of Christmas in Jersey.
Shop 'til you drop in our bustling market town and pick up some local artisan gifts, perfect for stocking fillers. Feel the joy of the season as you wander the Jersey Christmas markets that pop up in St. Helier and around the island, as locals and visiting French traders set up stalls full of tempting delights. Soak up the festive atmosphere at many magical island events; lose yourself in a maze of illuminated Christmas trees or dive into the 'Twelve Bays of Christmas' winter swimming challenge. Escape the hustle and bustle and hide out in a cosy pub with a warming mulled wine and mince pie. Or simply enjoy a long, lazy Christmas lunch at one of Jersey's many fabulous restaurants, offering local seasonal produce wrapped up in a traditional Christmas way.
So, whether you're a seasoned visitor or this is your first time experiencing Christmas in Jersey, you're in for a real festive treat!
Jersey Christmas Markets.
Fa la la la local… Christmas markets.
Fill your Christmas in Jersey with festive finds and gift gems to delight your lucky friends and family on the big day.
Step into (simply) Christmas as you wander the stalls of the Genuine Jersey Simply Christmas Market where The Royal Square in St. Helier is transformed into a vibrant and colourful hub with live music, over 50 stalls showcasing Jersey's finest artisans and local food and drink. Pop into The Grand Hotel where the halls will be decked for their inaugral Christmas Market. Say 'Joyeux Noël' at the Norman-French Market, where you'll find the finest fancies from our French neighbours. From crepes to cider, saucisson to soap, come and say 'Bonjour' and 'Joyeux Noël!' at this French festive feast for the senses. Or, get festive at our historic Victorian Central Market – when the tinsel is hung and the string lights are twinkling, it shines at its brightest.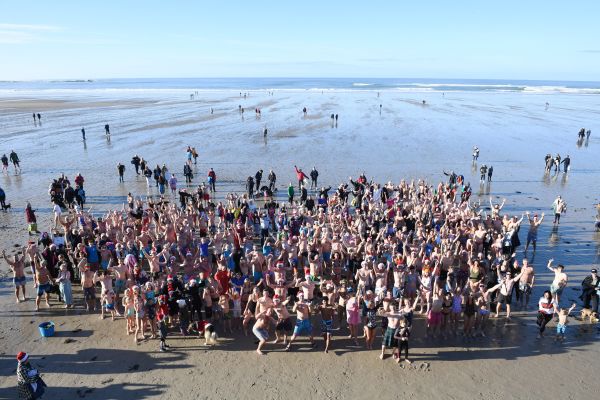 Christmas events in Jersey.
A Claus for celebration.
If you're planning to spend a good chunk of time on the island throughout November and December, there are a host of events to entertain the whole family during your Jersey Christmas break.
Soak up the spectacle of the festive light switch-on, illuminating St. Helier with Christmas cheer, make like some of our sea-loving locals and take part in the 12 bays of Christmas in Jersey winter swimming challenge, the Christmas day swim or dine with Ebenezer Scrooge at a Christmas Carol immersive dining experience.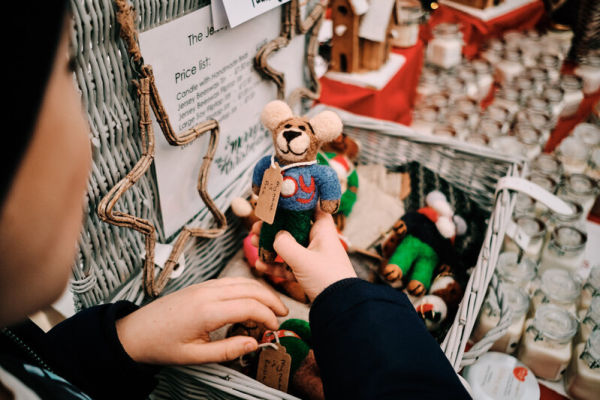 Christmas in Jersey, for the whole family.
Festive family fun.
Dive into a world of yuletide wonder with a Santa sack-full of family festive fun. From meeting Father Christmas in all his jolly splendour to getting lost in the luminous magic of a Christmas tree maze. Embark on a journey across the island, discovering the best and brightest houses, decked out in their festive finery, or create Christmassy crafts and DIY decorations with Jersey Heritage.
Add some magic sparkle to your little ones' Christmas holiday to Jersey.
Festive feasting.
Eat, drink and be merry.
Celebrate the most wonderful time of the year with a hearty dose of festive feasting and yuletide tipples during your Christmas break in Jersey. As the holiday season descends upon our charming island, so does the spirit of merriment and culinary delight. 
Tuck into a fabulous festive feast at one of our island's restaurants. With the Christmas decorations up and groups of friends and family gathered to enjoy the magic of the season, it's a special time to dine out in Jersey.
From traditional Christmas dinners served in cosy country pubs to warming mulled wine and delicious mince pies at many merry gatherings, Scandi-inspired winter domes and beachside bars offering festive cocktails with a view, there's something to suit every festive occasion.
Christmas dining and drink experiences.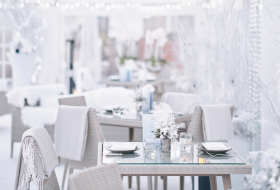 Winter in style and immerse yourself in an elegant ice white dining experience at L'Horizon Beach Hotel & Spa. Step into the Atlantic Room as you've never seen it before as it is transformed into a glistening ice white winter wonderland. Breathtaking views and dazzling décor ensure that this is a winter dining experience like no other.
from £32
Booking needed
Nov 25 2023 ‐ Dec 30 2023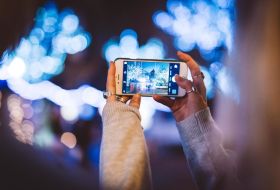 Gather your friends and family and immerse yourself in Christmas cheer at this year's Genuine Jersey Simply Christmas market in St. Helier's Royal Square. Showcasing over 50 of Jersey's finest artisans, Simply Christmas brings you a labyrinth of stalls oozing with festive magic, beautiful gifts and tasty treats.
Free entry
Free for children
Nov 25 2023 ‐ Dec 10 2023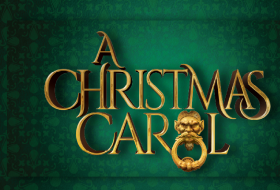 An immersive theatre show about Christmas spirit and having a good old-fashioned knees-up couldn't be a more perfect way to warm a cold winter's evening. A Christmas Carol Jersey: The Immersive Dining Experience will be running throughout December at Scrooge's Parlour, Bath Street, St. Helier.
from £48
Booking needed
Dec 06 2023 ‐ Dec 24 2023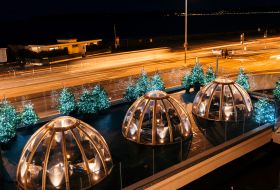 The Domes are returning and this year they're set to be the most sparkling and shimmering yet! The Terrace at Grand Jersey will once again be transformed into a glittering and glamorous drinking and dining destination from 3rd November until 31st December.
from £100
Booking needed
Nov 25 2023 ‐ Dec 31 2023
Fabulous festive feasting.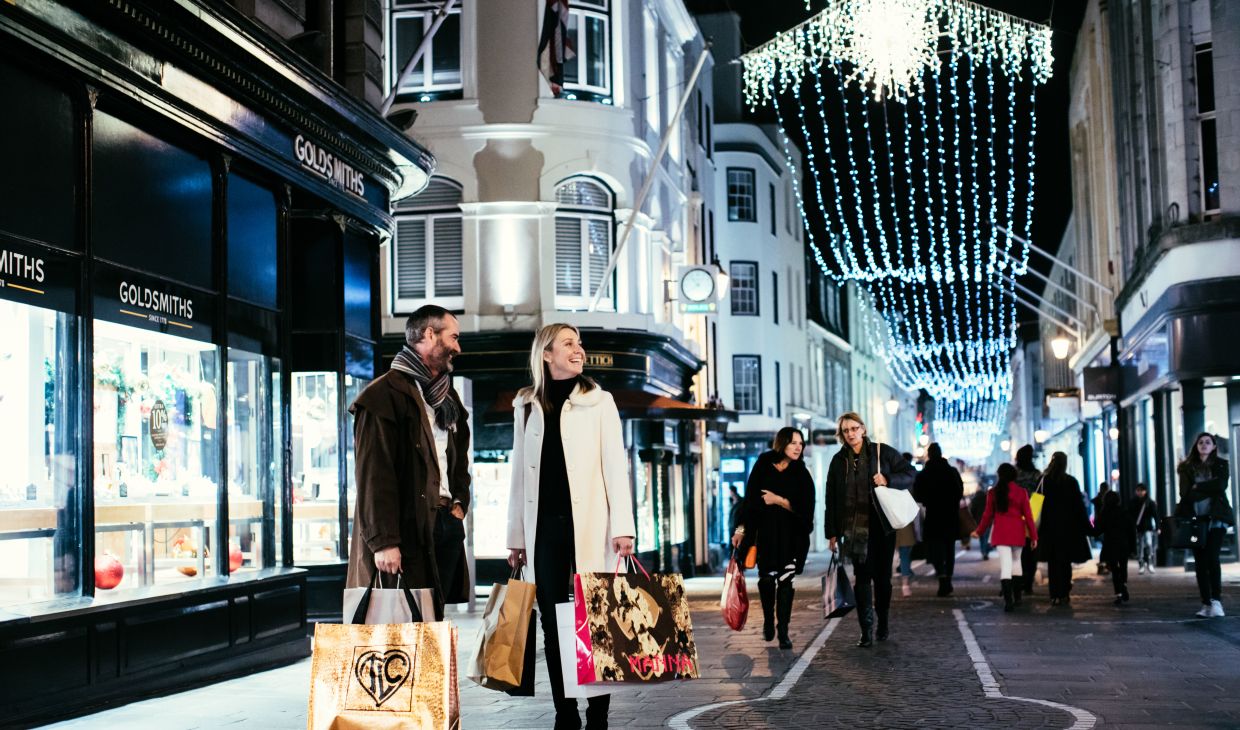 Pick up your pressies.
Christmas shopping in Jersey.
Our high street, in the vibrant market town of St. Helier, is very much alive and kicking, making Jersey the ideal destination for a short Christmas shopping break. With an ideal mixture of independent shops, high street favourites and locally-owned department stores, Christmas shopping in Jersey is a delightful must. St. Helier's shops will open their doors to eager shoppers for extended hours in the run up to Christmas, including late night shopping on Thursday evenings and on Sundays. Perfect for those wanting to purchase gifts, or for those who just want to enjoy the hustle and bustle, sipping a mulled wine or two!
Places to stay on your Jersey Christmas break.
Discover the best hotels, guest houses and self-catering lets to hang your stocking this festive season. Whether you're coming for a flurry of weekend festivities or a glorious Christmas family gathering, explore all the possibilities here.
Plan your perfect Christmas break.
Meet the tour operators who can sprinkle a little Christmas magic into your plans and create a festive holiday to remember.
Fill your Christmas stocking with Jersey memories.
Spreading Christmas cheer from Jersey.
Share your festive photos with us by tagging them with #visitjerseyci.