As the only place in the British Isles occupied by German forces during WW2, the Channel Islands have a unique wartime history, which is best discovered by visiting some of Jersey's historical landmarks. This is where Liberation Route Europe comes into its own. It's a certified Cultural Route of the Council of Europe that connects people, places, and events to mark Europe's liberation from occupation during WW2. Spanning hundreds of sites and nine countries – Italy, France, Belgium, The Netherlands, Luxembourg, Poland, Czechia, Germany and the United Kingdom – the route links the main regions along the advance of the Allied Forces in 1943-1945.
The Occupation of Jersey during WW2 left lasting marks on Jersey's landscape. So explore the places that tell the island's wartime story and discover tales of courage, defiance, suffering and resistance.
The Forced Workers Trail.
Remembering the experiences of forced labourers.
The Liberation Route Europe, Visit Jersey and Jersey Heritage have recently announced a new addition to Liberation Route Europe – the Forced Workers Trail. The trail introduces visitors to 20 locations linked to the experiences of forced foreign labourers on the island during WW2.
During the island's occupation from 01 July 1940 until Liberation Day on 09 May 1945, German forces brought 6,000 foreign workers to Jersey to work as forced labour in the construction of concrete German fortifications which formed part of the larger Atlantic Wall.
While these workers came from many different countries, their treatment varied. Labourers from Western Europe and North Africa were conscripted as paid labourers. While Eastern Europeans were used as slave labour and were often treated with brutality. Many Islanders put their lives and livelihoods in great danger to shelter escaped labourers and this new route tells these moving personal stories.
Following in their footsteps
Jersey's liberation route Europe map.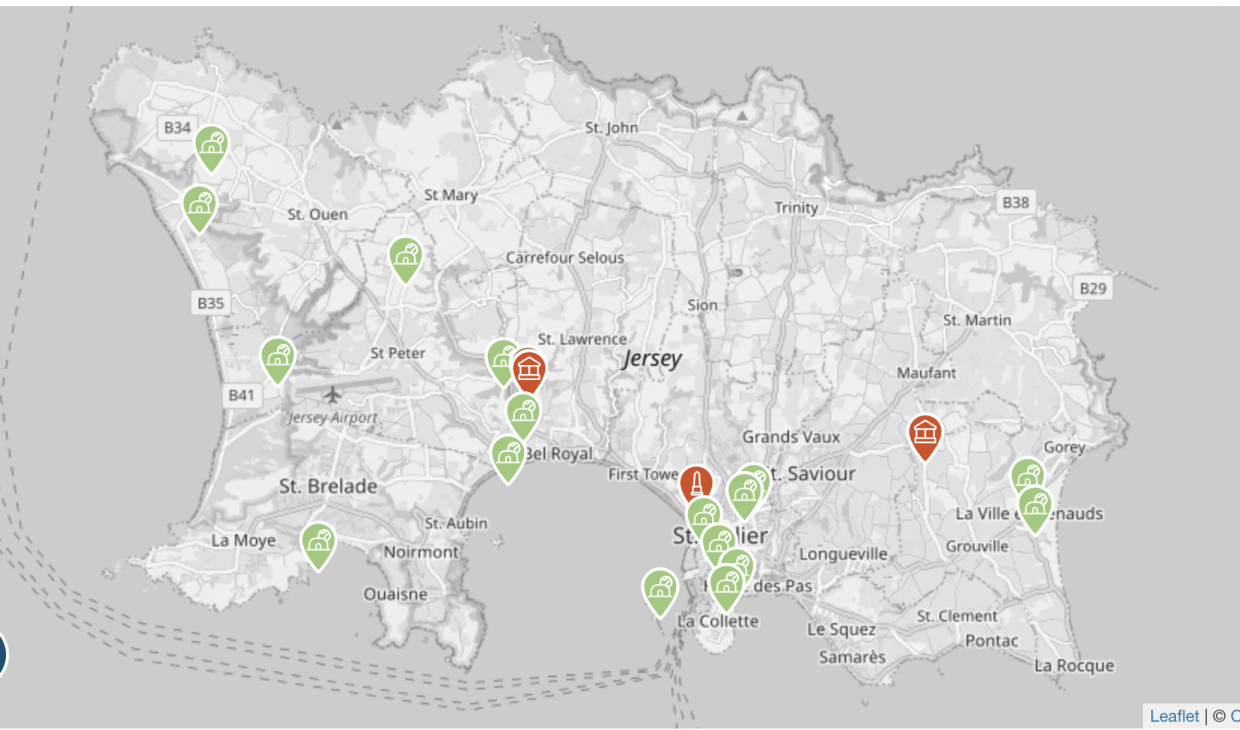 Sites of significance.
Jersey War Tunnels tells the true story of wartime Jersey in a way that no other visitor attraction does. It's the best place to get a true picture of what life was really like in Jersey during WWII. The exhibition is housed within an underground tunnel complex, built by the Germans using slave labour.
La Rocquaise (Claude Cahun's House) 
During the German Occupation, La Rocquaise was the home of French half-sisters Lucy Schwob and Suzanne Malherbe. They were avant-garde Surrealist artists and life partners also known by their pseudonyms Claude Cahun and Marcel Moore.
Memorial to the Forced Workers (La Hougue Bie Museum) 
The Memorial to the Forced Workers is located at La Hougue Bie Museum, within a former German command bunker. The space is now dedicated to the suffering and courage of the thousands of men and women who were brought to the Channel Islands as forced workers, and to the undeniable freedom and dignity of the human spirit.
La Fontaine (Former Home of Louisa Gould) 
In late 1942 Louisa Gould and her sister Ivy Forster began sheltering a fugitive Russian slave worker named Fyodor Burriy in their home in the Parish of St. Ouen, which was also a village shop. The now-famous story of Louisa Gould exemplifies the sacrifices lots of local people made to do what was right.
Westmount Memorial at the Jersey Crematorium 
The Westmount Memorial at the Jersey Crematorium commemorates the former Strangers' Cemetery where forced and slave workers were buried during the German Occupation of Jersey.
Site Curator at Jersey Heritage.
Meet Chris.
As Sites Curator at Jersey Heritage, Chris Addy works on museum interpretation at all six Jersey Heritage visitor sites – this includes creating new content such as films and displays, or focusing on maintaining existing interpretation such as signage. He takes an interest in every aspect of the appearance of the sites and also looks after a team of 20 costumed 'living history' interpreters.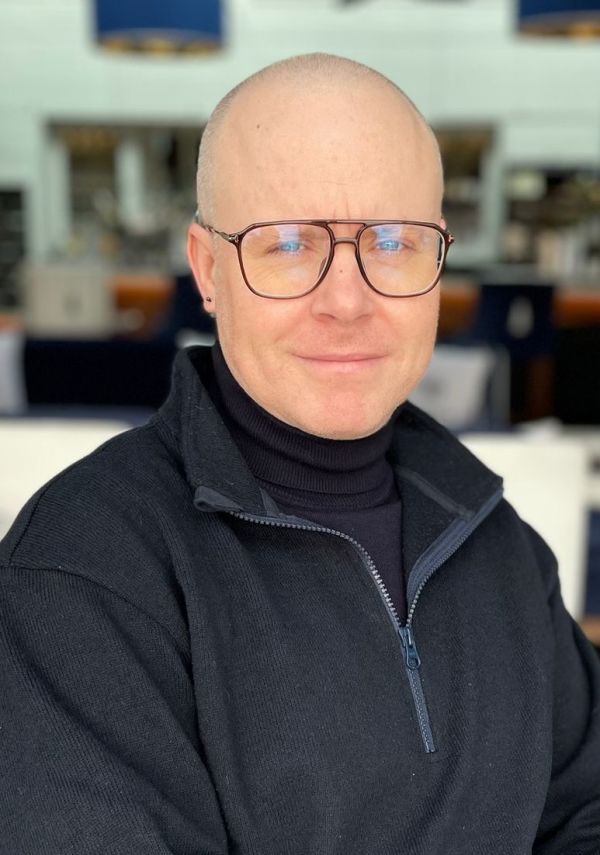 What does the Liberation Route Europe mean to you and why do you think it's important for Jersey to be included? 
Membership of the Liberation Route Europe has allowed us to raise awareness of the Channel Islands' unique wartime experience as the only part of the British Isles to be occupied during the Second World War. So far this has been achieved through the creation of two themed trails, the Liberation Trail and the Forced Workers Trail, which can be accessed via the website where they are set within the broader context of European events. From a personal perspective, having spent almost a decade working at Jersey War Tunnels after arriving in Jersey in 2002, the plight of the forced workers is a subject that remains close to my heart, so creating a trail dedicated to telling their stories is something that I'm proud of.
Can you tell us something surprising about Jersey's war years? 
Day-to-day life revolved around making the very best of one's very limited resources, so creative thinking became a necessity for survival. Islanders foraged for ingredients to act as substitutes for store cupboard supplies, such as carrageen moss – a type of seaweed – which was used as a thickening agent for desserts, seawater was evaporated to produce salt, the grated carrot was used as a substitute for tea and ground acorns for coffee. Sugar beet was boiled and pressed in homemade devices to extract syrup to take the place of sugar. Potatoes were grated and soaked in water before being drained and the residue was dried to produce potato flour for baking. The list goes on…
What are Jersey's must-sees for history lovers? 
Discover 400 years of history at Elizabeth Castle, which was heavily fortified during the German Occupation.
Enjoy the 13 panels of the Occupation Tapestry at the Maritime Museum – they took more than 33,000 hours to complete.
Learn about the men and women who were forced to construct the Occupation-era fortifications at the Memorial to the Forced Workers at La Hougue Bie.
Find out what Jersey was really like during WWII in a fascinating exhibition set within an underground tunnel complex built by forced and slave labour – Jersey War Tunnels.
Bear witness to the dramatic artillery direction and range-finding towers at Noirmont Point (Batterie Lothringen), La Corbière and Grosnez.
Take a walk on the vast sandy St. Ouen's Bay, which is lined with immense concrete anti-tank walls and bunkers.
Following The Forced Workers Trail in St. Helier.
Visit key landmarks on foot.
Walk around St. Helier and discover some of the landmarks from the Forced Workers Trail in Jersey's capital.
Start at Fort Regent which still dominates the St. Helier skyline. Although it was built in the early 19th century, during the occupation it was used to house political prisoners of various nationalities. Explore the grounds of the fort and take in the far-reaching views before making your way down the hill and heading out to Elizabeth Castle – a castle built on a rocky islet in St. Aubin's Bay.
From 1942 to 1943, Elizabeth Castle was used partially as a detention camp for military defaulters. It's understood that Russian (including Ukrainian and Belarus) slave workers who had escaped from their camps were taken there as a punishment, having been first held at the Military Detention Centre at South Hill, St. Helier.
Once you're back on the island, you can explore the area of St. Helier harbour known as English Harbour. The English Harbour was the location of a wooden railway bridge which was part of the Organisation Todt railway. The railway was built to enable the movement of materials required for the fortification of the Island.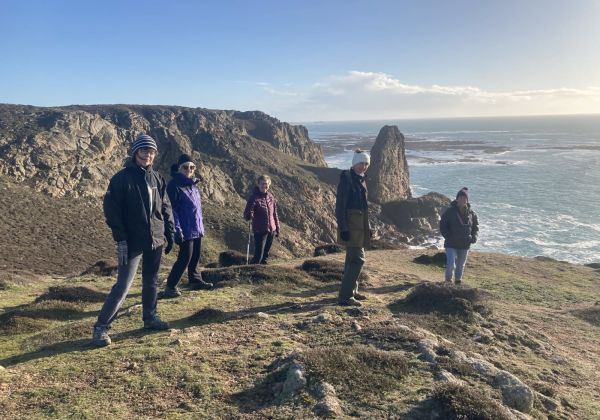 Knowledgeable local guides.
Learn more about Jersey's unique history and heritage.
You might also like...