Jersey is not just an island. It's a natural playground where one of the largest tidal ranges in the world continuously changes the island's landscape – almost doubling in size twice a day. Explore Jersey's tides with activities in, on and around the rise and fall of the tide – just remember to stay safe and only walk out at low tide with an expert guide.
When the tides rolls out, seize your chance to visit these 'far out' Jersey landmarks.
Tread in the footsteps of history and take the ancient causeway out to the 16th century Elizabeth Castle when it's fully uncovered at low tide. Stay and explore the fortress and watch reenactors fire cannons and muskets. If you're returning at high tide, catch the Castle Ferry – an amphibious vehicle fondly known as a 'Duck' back to shore, it's all part of the experience. For a unique adventure, trek across a low water wilderness to discover historic Seymour Tower, nearly two miles off the island's south east coast. This 18th century tower stands in the middle of an internationally-recognised Ramsar Wetlands site. Look out for tiny porcelain crabs, anemones and cushion stars on the way through this lunar low tide landscape.
Located on the south west tip of Jersey and only revealed at low tide, walk the causeway out to La Corbière Lighthouse to discover a landscape of secret beaches and rockpools. La Corbière Lighthouse was described by Victor Hugo as 'the herdsman of the waves'. Keep an ear out – the tide races in extremely fast and an alarm warns visitors when it's time to leave the causeway.
Make sure to stay safe when exploring Jersey's tidal landscapes. It's always best to venture out with an experienced guide like Jersey Walk Adventures.
Sea food… and eat it.
Head to Grouville Bay along the eastern coastal road and, at extremely low tides, you'll see the rows of oyster beds uncovered by the sea – they're the largest oyster beds in the British Isles. Take a closer look with a guided low water walk out to the oyster fishery and mussel beds with a local expert. Don't fancy getting your feet wet? Look out for Jersey oysters at local restaurants around the island.
Explore hidden worlds revealed at low tide.
Some of Jersey's beaches are only fully revealed when the tide falls, leaving a crescent of smooth sand and shallow water ready to be explored. Plémont Bay is at its most beautiful at a low tide where hidden caves and waterfalls are all waiting to be discovered. At other beaches warm rockpools are left teeming with life – from tiny crabs and fish to colourful anemones. Stay still and keep quiet, and adventurous rock poolers will be rewarded with glimpses of sea creatures at their feet.
Try Grève de Lecq and Green Island at low tide for easy access rock pooling – just don't venture too far out. Those keen to conquer their own deserted island can walk out to l'Île au Guerdain when the tide drops at Portelet Bay, a tiny grass-topped island and Martello tower in the centre of the bay. Known locally as 'Janvrin's Tomb' after a returning sea captain with the plague was buried there, it's an intriguing space to explore.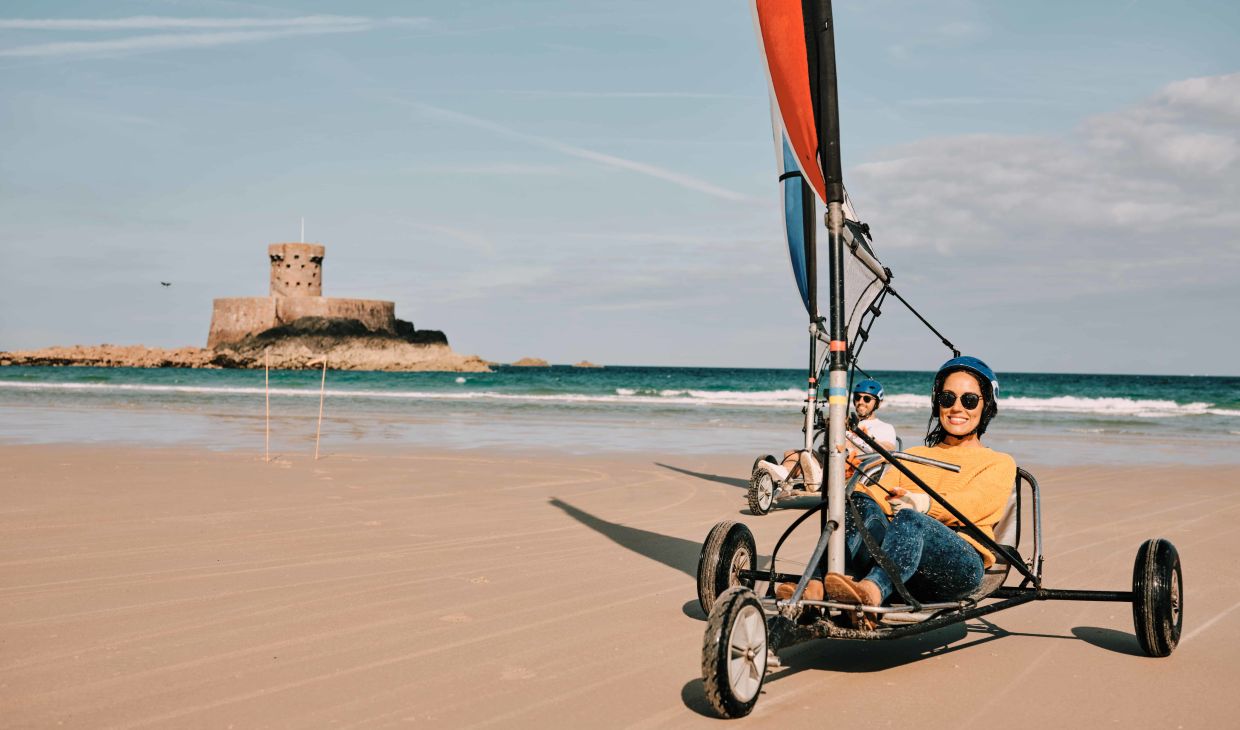 Blokart the cobwebs away.
Take one wide stretch of sand at low tide, add a good westerly blowing in from the Atlantic and you've got the ingredients for an adrenalin-packed, high speed blokart ride on St. Ouen's Bay. These go-kart style land yachts are steered like a bike and are easy to master after a short safety and technique tutorial. Try it out with Jersey Adventures or Absolute Adventures. Discover more ways to get active in Jersey's great outdoors…
You might also like...