The gentle evolution of the slow food movement has developed into a concept known as 'Slow Travel'. Slow travel is best described as an outlook that inspires travellers to take the time to really immerse themselves in a destination. You can do this in a variety of ways, but the main idea is to slow down and allow yourself the space and time to properly rejuvenate – to fully experience the journey, rather than simply getting from A to B.
What better way to embrace the art of slowness than to take your sweet time and explore our island at your own pace? Here are 10 ways to explore Jersey responsibly.
Eat in nature.
With its stunning coastline and intimate, rural landscape, Jersey is awash with picnic spots where you are free to be together. Who can think of a greater pleasure than lazing on a picnic rug on a sunny afternoon and feasting on fresh crab sandwiches and delicious strawberries, whilst hearing the distinctive cry of oystercatchers in the background?
Experience Jersey's 'Hedge Veg' trail.
Immerse yourself in our locally farmed cuisine. By meandering our network of peaceful green lanes you can take pleasure in the buying, preparing and sharing of a fulfilling meal with zero food miles.
Slow ways to get around.
When there's no need to hurry, choose a mode of transport that's going to allow you to immerse yourself in nature and soak up your surroundings. Whether moving around on land or sea, here's a few eco-friendly ways to do it on your island break.
See the sights by bike.
Jersey is proud to be celebrated as one of the top walking destinations in Europe, and with good reason. For an island that may be small in size, it's perfect to allow for the slow adventurer to explore all we have to offer.
Explore by foot.
Jersey is proud to be celebrated as one of the top walking destinations in Europe, and with good reason. With miles of stunning coastal paths and an extensive network of pretty green lanes, Jersey has much to offer the slow traveller keen to explore by foot.
SUP your way around the bays.
Slow living is about being steady and balanced, what better way to practise these philosophies than with your body and mind on the water; whether you SUP, kayak or swim.
Green power.
Enjoy your journey discovering the island break with zero emissions. If you wish to embark on an epic road trip exploring our green lanes, you can easily do so in an electric car or on an electric bike, whether it is a rental with Evie or your own. The Grand Hotel and L'Horizon Hotel both have charging points for electric cars.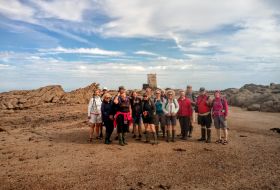 Enter a world where the ocean disappears to the horizon, and we are all visitors. Explore rock pools on a guided walk into Europe's largest rocky inter-tidal zone. Walks to Seymour Tower are also called "moonwalks". Discover Jersey's wilderness with local guides who have explored this wonderful coast for many years.
from £12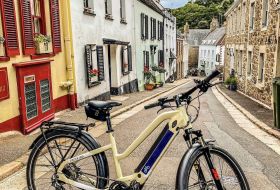 Explore JERSEY by ⚡️ Electric Bike ⚡️ and let the adventures begin! We are proud to offer the best quality e-bikes on the island to provide you with a wonderful experience that you will remember for years to come. Book online today!
from £50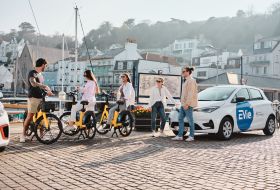 Access electric bikes, electric cars, cargo bikes, taxis and more using the EVie app. EVieBikes are available across the island instantly from just £1. Hire cars by the hour from just £12. Heading out for cocktails? Grab a Home James taxi using the EVie app.
from £1
Travel with purpose.
Purposeful travel is about creating better places to live in and visit. This sits at the heart of Durrell, who invite visitors on their journey to create a wilder, healthier and more colourful world. Explore the beautiful grounds of Jersey Zoo and learn about their work saving creatures from extinction.
The island retreat.
Drift Retreats provides a unique wellbeing experience through an all-inclusive, long weekend retreat. This includes surfing, stand-up paddle boarding, yoga and three healthy meals a day, plus juices and raw snacks. The retreats are located within Jersey's National Park in St. Ouen's Bay, staying in the historic Kempt Tower. Connect with the environment and nature and savour locally sourced food.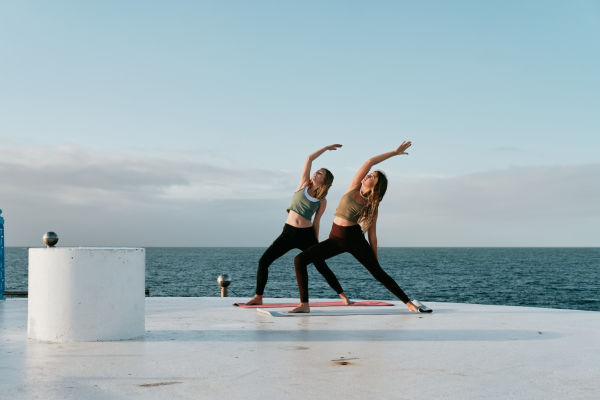 Go with the flow.
To learn to live slowly, sometimes you need to take a break from the fast lane and practise your purposeful practice. What better way than with yoga? Our island is brimming with perfect spots to take a moment to yourself and connect with the great outdoors.
Stay somewhere unique.
Don't just come and stay with us, we want you to live with us and experience our island more completely. Stay somewhere truly special and learn to sit back and fully connect with our island from dusk to dawn. With much of the island located within the Jersey National Park, why not stay in Archirondel Tower and see the sun rise, or the Barge Aground and breathe in the sunset?
You might also like...